Op-Ed: Harvard may discriminate against Asian Americans, but its preference for legacy students is the bigger problem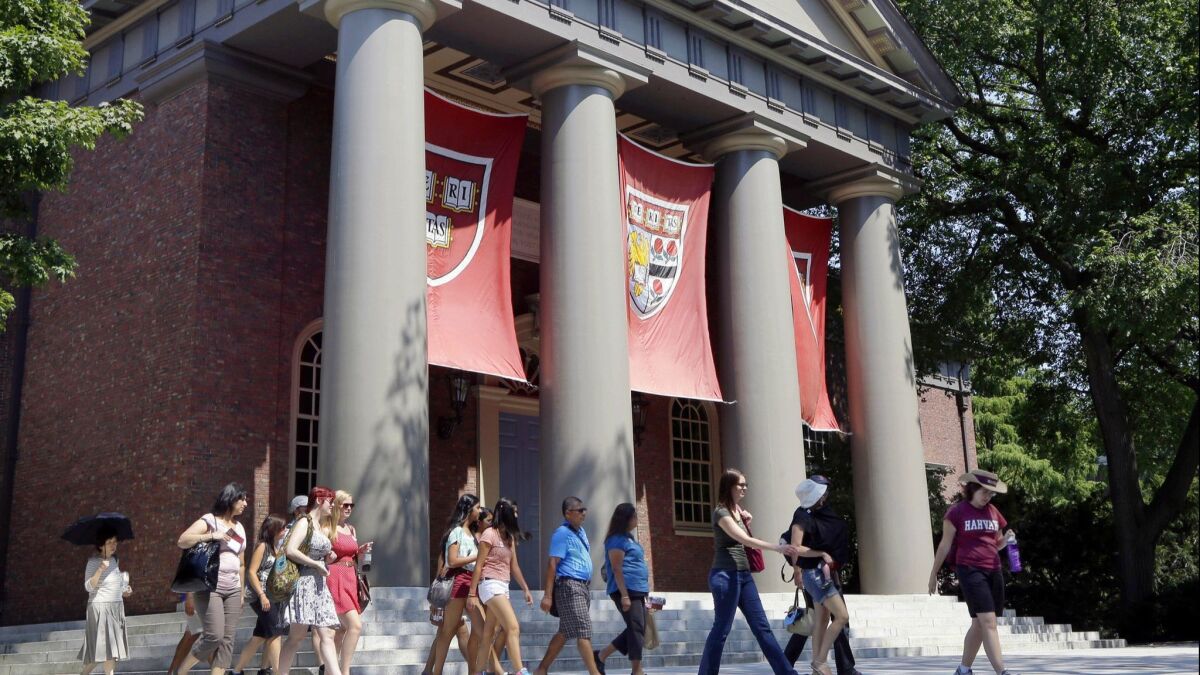 Court documents filed last week show that Harvard consistently gave Asian American applicants lower personal ratings as part of its closely guarded admissions process. As news reports noted, an applicant's so-called personal rating incorporates scores on traits such as likability, courage, integrity and something called "positive personality."
The documents, released as part of an ongoing lawsuit alleging the university discriminates against Asian American students, sparked widespread outrage, and rightly so. That Asian American applicants scored higher than all other groups when it came to grades and test scores, but poorer on personality traits, seemed to confirm the existence of a stereotype that Asian Americans are technically strong but socially weak. The revelation hit home for many Asian Americans, myself included, who battle such stereotypes every day.
But the newly released records were at least partially misinterpreted. Analyses of the admissions data included in the court filings reveal a far more consequential bias affecting Harvard's admissions decisions: The preference for legacy applicants.
Harvard's preference for legacies places almost all non-white applicants at a distinct disadvantage.
The admissions data that made headlines last week were not properly contextualized. Although "positive personality" is indeed a trait that Harvard's admissions officers rate, it is merely one of many metrics that go into an applicant's personal rating.
The personal rating incorporates numerous factors: intended career, whether an applicant has a parent who attended an Ivy League school, whether she has a parent who attended Harvard, whether she has a deceased parent and so on. The assessment of various personality traits is only part of this broader category. The personal score is one of four overarching categories of ratings — the other three being academic, athletic and extracurricular.
Across these four categories, there are a number of observable trends. For instance, on average, Asian American women received higher personal ratings and extracurricular ratings than Asian American men. Asian American women also received higher ratings than Asian American men in multidimensional excellence, meaning they exhibited high scores in at least three of the categories. In fact, analyses of the data show that Asian American women had a small advantage over white women, although the difference was not statistically significant.
But the clearest trend concerned legacy applicants, or candidates with at least one parent who attended Harvard. The data show that legacy students have a significant advantage over non-legacy students.
From 2010 to 2015, Harvard's admission rate for legacies was 34%, while its admission rate for non-legacies was 6%. In other words, legacy applicants are nearly six times more likely to be admitted than applicants who do not have a Harvard-educated parent. The advantage is even greater for double legacies, or those with two parents who graduated from Harvard.
Not surprisingly, legacy applicants are likely to be white. More than one-fifth of white applicants admitted to Harvard between 2010 and 2015 were legacies. By comparison, only 4.8% of African American students admitted were legacies. The rate was only slightly higher among Asian American students (6.6%) and Hispanic students (7%). The number of white legacy students admitted to Harvard exceeded the number of African American, Hispanic and Asian American legacy students combined.
Harvard's preference for legacies places almost all non-white applicants at a distinct disadvantage as they vie for a spot at the university, where the overall admission rate recently dipped to a historic low of 4.59%.
Enter the Fray: First takes on the news of the minute from L.A. Times Opinion »
While the debate over whether Asian Americans are subject to bias in the college admissions process rages on, this preference for legacies goes unchecked. This despite two reports that clearly document the power of the legacy effect — one by Richard D. Kahlenberg, a senior fellow at the Century Foundation, the other by Peter S. Arcidiacono, a professor of economics at Duke University.
The reports were commissioned by the Students for Fair Admissions, the group that filed the lawsuit against Harvard. But rather than pointing to the glaring evidence of the school's preference for legacies, the plaintiffs have focused on the weaker argument about alleged bias against Asian Americans.
Dismantling Harvard's institutional preference for legacies would increase the chances of admission not only for Asian American applicants, but for a broad range of students from different class backgrounds, including the pioneers who hope to be the first in their family to attend college.
Jennifer Lee is a professor of sociology at Columbia University.
Follow the Opinion section on Twitter @latimesopinion or Facebook
Life is stressful. Our weekly mental wellness newsletter can help.
You may occasionally receive promotional content from the Los Angeles Times.