Op-Ed: Paul Manafort is guilty and truth is still truth — for now, anyway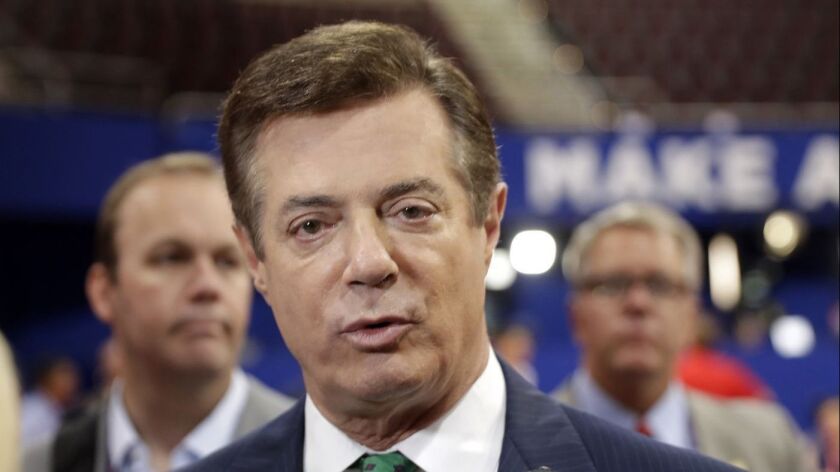 Having turned the Paul Manafort trial into a morality play about the Russia probe and his integrity, President Trump now stands rebuked by the convictions returned Tuesday afternoon by a jury in Alexandria, Va.
After four days of deliberation, the jury of six men and six women returned a verdict of guilty on eight counts. The jury was deadlocked on the remaining ten, and Judge T.S. Ellis III declared a mistrial on those counts. But however Team Trump may try to spin it, the partial verdict subtracts only slightly from special counsel Robert S. Mueller III's victory. The convictions included five counts for felony tax fraud and two counts for felony bank fraud, which carry the strongest penalty. Moreover, at sentencing, all of Manafort's conduct, including the conduct that formed the basis of the deadlocked counts, will be under consideration.
For almost a year, the special counsel has been pursuing a serious probe of great national importance. Trump's incessant response has been to redouble his criticisms of the probe and Mueller himself.
Nobody who knew Mueller or the Department of Justice could credit these inarticulate squawks or doubt Mueller's probity. Indeed, the president's comments had that peculiar Trumpian quality of being all the more strident for their obvious falsity.
But they have served their coarse purpose among the general public, sowing doubt about the famously honorable Mueller and inflaming the sense of grievance that animates Trump's loyal base. They produced an overall impression that maybe Mueller's work was just more politics. In the already classic words of Rudy Giuliani, "truth isn't truth."
In achieving this effect, as in all matters in his presidency, Trump was abetted, shamefully, by a Republican-controlled Congress that appears content to acquiesce in all of the president's constitutional abuses, so long as it permits them to remain in power.
As the Manafort trial proceeded, Trump doubled down on his attacks, tweeting out sympathy for Manafort and contempt for Mueller. Just Sunday, as the jury was deliberating, he tweeted that the probe was a "Rigged and Disgusting Witch Hunt." Given that the jury was not sequestered, that public statement amounted to attempted jury tampering, demonstrating once again Trump's contempt for the rule of law.
Had Trump's improper public comments succeeded in swaying the jury, there would have been no remedy: The acquittal would have stood, the prosecutors barred from revisiting Manafort's crimes by the constitutional doctrine of double jeopardy.
Instead, Manafort, and Trump, took it on the chin. Mueller's team assembled and presented a methodical case that marched through a 10-year stretch of lie after lie by Trump's former campaign manager. When he was making millions from lobbying work for Ukrainian President Viktor Yanukovych, a Russian puppet, Manafort lied to cheat on his taxes; when Yanukovych was chased out and the money stream dried up, Manafort lied to appear richer than he was to obtain loans that would sustain his extravagant lifestyle.
What is so gratifying about the verdict is that Mueller played it by the book — and he still won. He investigated fairly and thoroughly, uncovering a brazen series of frauds. Then he put his evidence to the test in front of 12 jurors, who unanimously found Manafort guilty beyond a reasonable doubt.
This happens every day in courts across the country. What doesn't happen is that the process is impeded and attacked by the president. But notwithstanding Trump's attempt to put his thumb on the scale, the jury did its job.
Mueller now looks ahead to Manafort's second trial next month. The political operative will face a separate batch of charges, including conspiracy to defraud the United States, failure to register as a foreign agent, witness tampering and making false statements. The Washington trial will more directly address Manafort's work during the Trump campaign, which came up only obliquely in the just-completed proceeding.
There is every reason to think Mueller's case will be no less formidable and Manafort's defense no less feckless. The upshot is that the 69-year-old Manafort, already facing an estimated 10- to 12-year sentence, will be given yet more prison time. He may never get out.
Will that effective life sentence be the pressure that at long last induces Manafort to cooperate with the Mueller probe? Unlikely. He has been facing permanent confinement ever since the day he was ordered to jail to await trial. And the trial showed that he never had any reasonable strategy for beating the charges. So it's hard to see why the conviction would bring an end to his obduracy.
Of course, if Manafort's strategy was to lie flat and let Mueller's train run him over in the hope of a presidential pardon, that might yet come to pass.
And while it's ever tempting to dream that we at last have reached the point where congressional Republicans will reject Trump's ongoing assault on the Constitution, to date their fidelity to political power appears bottomless. History will judge them harshly, as, hopefully, will the electorate.
All of that is secondary, though, next to the buoying effect of seeing the criminal justice system work as intended. Twenty months of Trump have dulled us to the daily outrage of his dishonesty. A truly foul leader who wakes up lying and lies all day, Trump has had a disheartening degree of success in bending core political institutions to his will. So the result in the Manafort trial presents Trump with the most terrifying possible portent: that truth is truth, and the truth wins out.
Harry Litman, a former deputy assistant attorney general, teaches constitutional law at UC San Diego.
Enter the Fray: First takes on the news of the minute from L.A. Times Opinion »
Notwithstanding Trump's improper attempt to put his thumb on the scale, the jury did its job and returned the only fair verdict.
Follow the Opinion section on Twitter @latimesopinion or Facebook
---
Life is stressful. Our weekly mental wellness newsletter can help.
You may occasionally receive promotional content from the Los Angeles Times.