Column: Trump's Alice-in-Wonderland approach to the Iran deal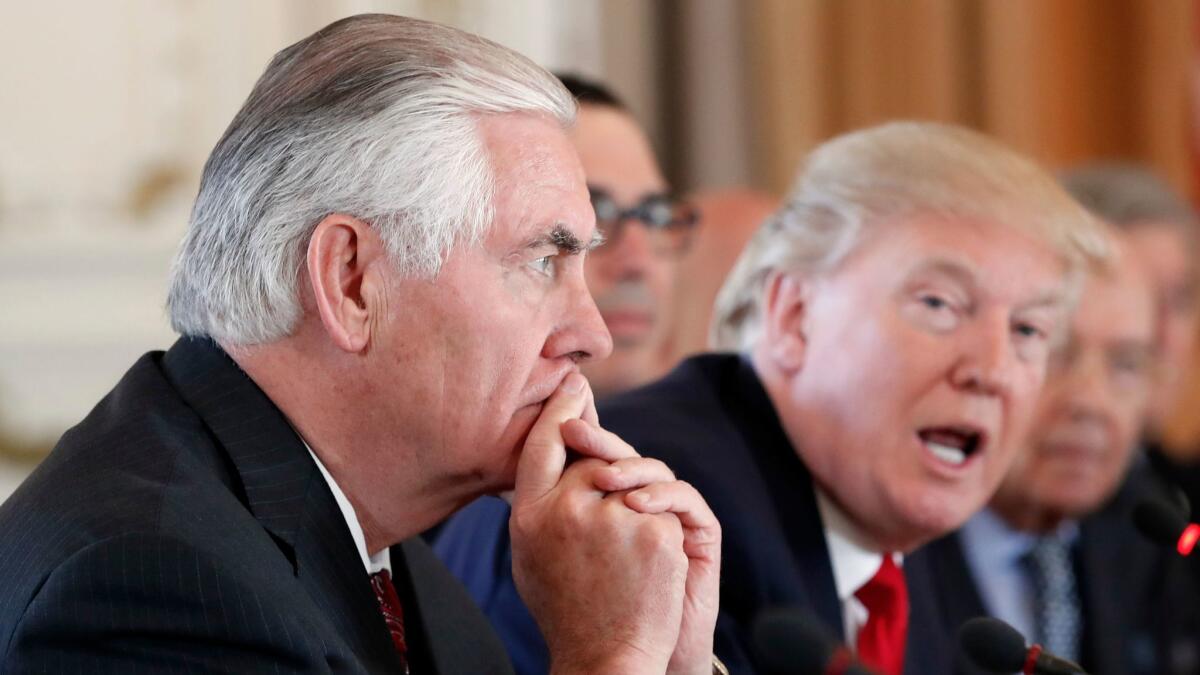 Here's an international crisis you can, unusually, put on your calendar ahead of time: In October, President Trump wants to declare Iran in violation of the 2015 agreement to limit its nuclear program — a decision that would allow the United States to reimpose tough economic sanctions on anyone trading with Tehran.
It's a bad idea. The nuclear deal isn't perfect — it doesn't end Iran's nuclear research, only limits it for a period of years — but it's much better than nothing. Before the agreement, Tehran was believed to be less than a year from making nuclear weapons that would have threatened Israel and Saudi Arabia. Thanks to the accord, that doomsday problem has at least been postponed.
That hasn't stopped Trump from calling the pact "the worst deal ever" and ordering aides to supply him with evidence that will allow him to declare it invalid. The most likely moment for his decision will come in October, the next time he is required to notify Congress whether Iran is in compliance.
"If it was up to me, I would have had them noncompliant 180 days ago," Trump told the Wall Street Journal last month. Next time, he added, "I do not expect that they will be compliant."
[Trump] ordered his staff to begin work on a new study — one that will supply him with the excuses he needs.
The president didn't offer any substantive reason to declare Iran out of compliance with the deal — because there isn't one. His own aides told him last month that, while Iran has tested the edges of the agreement, none of its actions was a "material breach," the legal standard that would allow sanctions to snap back.
When Trump was warned that he couldn't simply walk away from the deal, "he had a bit of a meltdown," an official told the New York Times. He chewed out the secretary of State, Rex Tillerson, who apparently brought him the bad news. And he ordered his staff to begin work on a new study — one that will supply him with the excuses he needs.
That's an Alice-in-Wonderland approach to foreign policy: Verdict first, evidence later. And it's not likely to work.
No matter what the president thinks, the facts will get in the way. U.S. officials say Iran has been carefully upholding its main obligations under the nuclear agreement: reducing its uranium stocks and limiting its enrichment program.
And none of the other six countries that negotiated the deal agree with Trump that the accord should be abrogated.
"The deal … is working, and we believe it represents the best option for the international community," British Foreign Secretary Boris Johnson wrote last month (and his government is friendlier to Trump than most).
As a result, if Trump declares in October that Iran is in breach, most of the world — including Britain, Germany and France — will blame him for the consequences, not Tehran.
That will create a major obstacle for the next step in Trump's course, which is to reimpose U.S. economic sanctions on foreign businesses that deal with Iran. (The nuclear deal didn't affect the embargo between the U.S. and Iran, which remains in effect.)
If the United States is viewed as responsible for breaking the deal, other countries may refuse to go along with Trump's unilateral sanctions, making them largely toothless.
"Nobody else wants the deal to fail," said Elizabeth Rosenberg of the Center for New American Security, who worked on sanctions in the Obama administration. "If the U.S. is the only one that walks away, who is going to enforce new sanctions? You could easily see European leaders deciding to defend their own companies instead."
Last month, the French energy giant Total signed a contract for a $5-billion natural gas project in Iran. If Trump tries to impose sanctions on deals like that, the result won't be merely a confrontation with Iran; it will be a clash with the EU.
There is an alternative Trump could try. It's called diplomacy.
He could press for stricter enforcement of the nuclear agreement, beginning with the restrictions Iran has placed on international inspectors' access to military bases.
He could seek stronger international sanctions on Iran for its ballistic missile tests, which aren't covered by the nuclear deal.
And he could begin negotiations toward a new agreement to maintain the curbs on Iran's nuclear program after 2026, when the current limits begin to expire.
But the president hasn't pursued those options, even though they've been offered to him by his own aides. Instead, he appears hellbent on fulfilling a bad campaign promise he should now have the wisdom to abandon. (That's a prayer more than a hope.)
Tearing up the deal won't bring down Iran's regime — most of Tehran's ruling clerics welcome the enmity of the United States — but it will set up a collision between the Trump administration and most of the world, including China, Russia and U.S. allies in Europe.
The most likely losers would be the Western alliance, already battered by Trump's disdain, and whatever remains of the United States' tattered claim to international leadership.
And the most likely winner, oddly enough, would be Vladimir Putin's Russia, the beneficiary of yet another wedge between United States and its NATO allies — this one driven by Trump alone, without Moscow's help.
Twitter: @DoyleMcManus
Follow the Opinion section on Twitter @latimesopinion or Facebook
A cure for the common opinion
Get thought-provoking perspectives with our weekly newsletter.
You may occasionally receive promotional content from the Los Angeles Times.