Op-Ed: Trump is getting it right on Venezuela. In fact, he needs to double down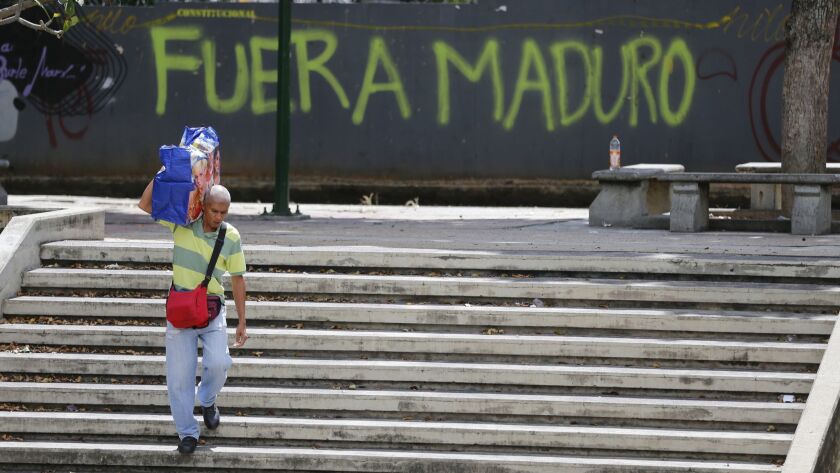 With President Trump publicly denouncing the "turmoil" in Venezuela last week, the United States is inching further toward a showdown with President Nicolás Maduro's regime. It's a confrontation the Trump administration cannot afford to lose.
The Maduro regime is financing chaos and corruption throughout the Americas. Its civilian and military leaders are suspected of looting $300 billion in oil revenue. Some 15 to 20 tons of cocaine are moving to the U.S. from Venezuela every month, according to U.S. officials, much of it controlled by Venezuelan government and military officials. This organized-crime spree is destabilizing the region and fueling illegal migration, including at the U.S.-Mexico border.
The Trump administration has surprised critics by working in concert with dozens of other governments to find a constitutional and democratic solution to the crisis. Since early in his term, Trump's team at the Treasury Department has used financial sanctions to freeze at least $2 billion in the hands of corrupt Venezuelan leaders, amassed from embezzlement and narcotics trafficking. In late January, the Treasury Department prohibited Citgo, a U.S. subsidiary of Venezuela's state-owned oil company, from sending profits back home.
Governments that have committed to restoring democratic order in Venezuela must complete this urgent mission.
These sanctions will hurt the regime's ability to pay off its supporters. But to truly stop Maduro and his cronies, the Trump administration must do more.
Maduro is holding on to power through corruption, blackmail, ruthless repression — and assistance from other states. Cuban advisors have micromanaged the destruction of the private economy and creation of a police state backed by armed gangs. Russian weapons and Chinese financing bolster the regime's anti-democratic agenda. Colombian narco-terrorists and Hezbollah operate in Venezuela with the regime's complicity.
More than 50 nations, including the U.S. and key Latin American countries, consider Maduro illegitimate because of a largely rigged election he staged last May. Instead, these countries recognize Venezuela's only democratically elected institution, the National Assembly, as the legitimate representative of the Venezuelan people.
Last month, the Assembly's presiding officer, Juan Guaidó, assumed the powers of interim president of the republic, responsible for organizing free elections to choose a successor. He has rallied massive street demonstrations calling on Maduro to yield power.
Guaidó has also called on the international community to provide humanitarian aid to millions of Venezuelans who are barely surviving in the collapsed economy. Millions more are pouring into Colombia, Brazil and other countries in search of food, medicine, jobs and security. Maduro is blocking international aid from reaching desperate people, closing a major bridge on the Colombian border and deploying paramilitary groups to impose his will.
Trump warned last month that "all options are on the table," but a U.S. invasion appears unlikely. U.S. officials are expecting that Venezuela's army, enticed by an offer of amnesty, could rebel against Maduro to restore constitutional order.
Emboldened by strong U.S. support for Guaidó, the internal opposition has been coaxing members of the military to oust the Maduro regime. But hurdles remain.
Last year, after the regime discovered that some military officers were organizing a rebellion, the plotters were jailed and tortured to set an example. The international community, and especially the U.S., must ratchet up pressure on the regime and convince powerful military commanders of Maduro's demise.
Maduro has been under U.S. investigation for drug trafficking and money laundering for years, along with his wife, Cilia Flores, and his key henchmen, Vice President Tareck El Aissami and Diosdado Cabello, a top figure in Maduro's party. American prosecutors should be encouraged to issue or unseal indictments of these individuals and offer significant monetary rewards for their capture.
Enter the Fray: First takes on the news of the minute »
Moreover, the regime's income from drug trafficking and other sources can be choked off by ramping up U.S. law enforcement and military assets in the region, together with nearby allies such as Brazil and Colombia.
Last Friday, Venezuela's legitimate Supreme Court of Justice, now operating in exile, called upon Guaidó to authorize a humanitarian corridor within the country, through which a military coalition and peace mission would be permitted to deliver aid. The U.S. should work with other willing governments to honor this request.
Finally, the Cuban regime must be held accountable. Governments should demand the expulsion of Cuban advisors from Venezuela and hold Havana responsible for any violence committed by Cuban-trained groups. Raul Castro's son-in-law, Luis Alberto Rodriguez Lopez Callejas, and other conspirators should face penalties and possibly sanctions for aiding and abetting human rights abuses and narco-trafficking in Venezuela.
Some 30 million Venezuelans need to be rescued from Maduro's lawless regime. Governments that have committed to restoring democratic order in Venezuela must complete this urgent mission.
Roger F. Noriega is a former U.S. ambassador to the Organization of American States and a former assistant secretary of State for Western Hemisphere affairs. He is a visiting fellow at the American Enterprise Institute.
Follow the Opinion section on Twitter @latimesopinion or Facebook.
---
A cure for the common opinion
Get thought-provoking perspectives with our weekly newsletter.
You may occasionally receive promotional content from the Los Angeles Times.