Op-Ed: Jane Smiley: The deaths at Santa Anita remind me why I don't miss horse racing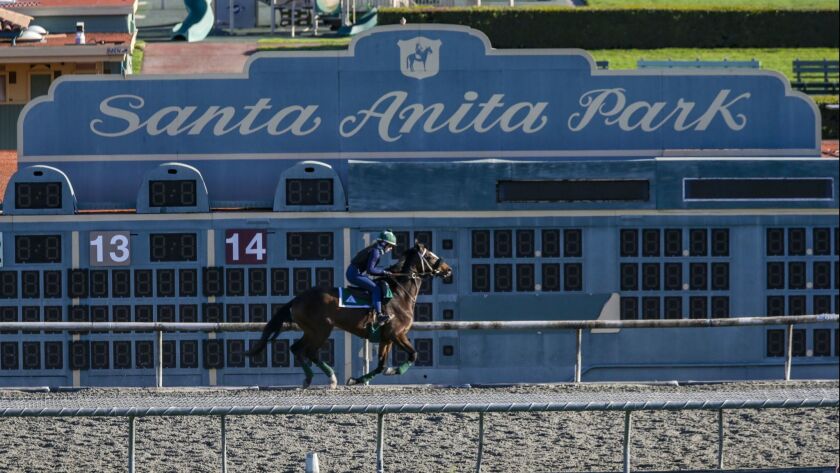 I first heard about the unusually high number of horses dying at Santa Anita Park — which led to the temporary closure of the racetrack last week — from a friend at the barn where I keep my horses. She is still interested in horse racing. I am not.
Like a lot of former fans, I never loved racing for the betting — I loved it for the beauty of the animals. What drew me was their beauty, their individuality, their pleasure in their job, whether it was running, jumping or standing still. But after breeding some, sending them to an honest and caring trainer, and writing a novel about the racetrack — a microcosm of capitalism itself — I backed away.
I suspect that in the 1960s when I was growing up in St. Louis, things were worse than they are today. All winter long, horses who had run in the spring, summer and fall had their legs blistered and pin-fired (yes, cruel treatments), were stuck in stalls for weeks, and then girls like me walked them up and down the aisle of the barn until they were ready to go back into training.
I do not know whether racing can be saved, or whether it should be saved. I'm no longer a fan.
The first horse I bought as an adult was the one who inspired me to start breeding racehorses in the mid-1990s. He was 9 when he left the track, after 52 starts and $165,000 in winnings and was still perfectly sound at age 14 when I bought him. I decided to breed distance runners like him — horses that didn't run as fast, and, in the case of one of my horses' grandsires, ran 40 races, came away sound, and lived into his 30s. I thought that was the model. But it isn't, at least not in the United States.
I have another friend, an American woman who trains racehorses in France. Conditions are much different there. The horses don't start racing so young, and they don't run as fast as they can around an oval track, pushed harder and harder because the bettors like speed. My friend trains her horses in a wooded area on different types of footing, and the races have that kind of variety, too. The footing is less uniform and more natural, and how they go is more interesting than how fast they go. Her horses race for several years and retire in good health.
When I look at the horses I own and ride now, the last two I ever sent to the track, I still see the personality and beauty and willingness that drew me to racing. But I also regret many things, and not only that one of my other horses did hurt herself when, at Santa Anita, she galloped onto the dirt track from the turf track and broke a bone in her pastern (she survived). My favorite horse, the one I ride every day, seemed to understand racing better than I did at the time. She was willing to have a nice gallop, but not to compete, not to try hard, not to put herself in danger.
I love thoroughbreds — the horses that racing has given us. Two hundred and fifty years of breeding for the track has produced a graceful, strong, intelligent and fascinating set of equines who are full of idiosyncrasies but also full of personality and willingness. They are easy to connect with and they like to get out and get moving.
Enter the Fray: First takes on the news of the minute from L.A. Times Opinion »
No matter what mood I'm in when I wake up, no matter what ups and downs I have during the day, riding a horse, sensing his or her mood, feeling his or her movement in my own body, understanding what he or she is thinking about perks me up, helps me accept whatever else is going on.
I know that plenty of trainers, jockeys, exercise riders and owners feel the same way. They like the winning and they like the money — but the reason they can't quit the track is the unfolding mystery of horseness.
I do not know whether racing can be saved, or whether it should be saved. I'm no longer a fan, and my trainer friend in France is not hopeful. American racing has made small attempts at reforming drug rules, footing, training rules, breeding, but evidently those reforms aren't good enough. Without the betting, there is no money in it, and the betting pushes the authorities to overlook mistreatment. The 21 deaths at Santa Anita in two months are shocking and sad. Perhaps they signal the coming end, and there are plenty of Americans who won't be sorry to see it go. Maybe I'm one of them.
Jane Smiley is the author of 14 novels, including "A Thousand Acres" and "Horse Heaven."
Follow the Opinion section on Twitter @latimesopinionand Facebook
---
A cure for the common opinion
Get thought-provoking perspectives with our weekly newsletter.
You may occasionally receive promotional content from the Los Angeles Times.