Op-Ed: The NFL wants you to think Colin Kaepernick isn't being sidelined by politics. The NFL is wrong — again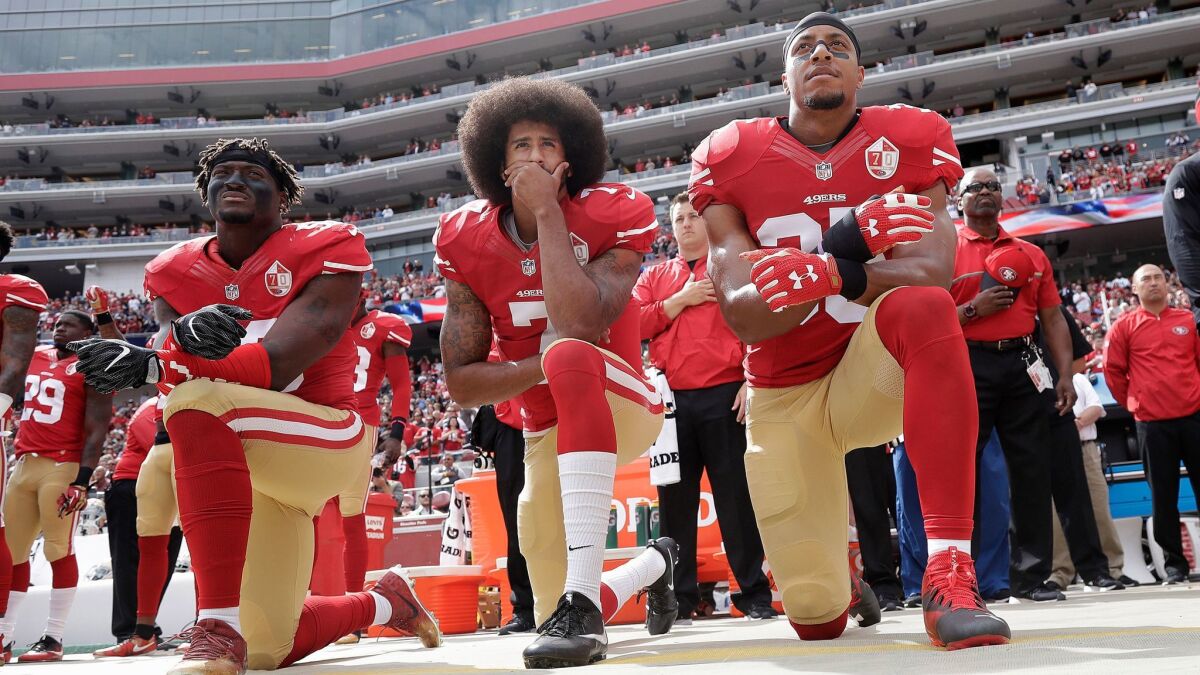 Charles Goodell was a Republican senator from New York and the father of National Football League Commissioner Roger Goodell. The elder Goodell represents one of the last of a now-extinct species known as liberal Republicans, and he made President Nixon's enemies list in 1969 after introducing legislation to defund the Vietnam War.
In 1973, having been driven from office, Charles Goodell wrote "Political Prisoners in America," a remarkably bracing treatise about the legacy of state repression in the United States and the importance of dissent in American life.
"I have come to see," Goodell presciently wrote, "that our legal and political institutions are dangerously unresponsive and unyielding to the impassioned grievances of our own people. … When words of appeal fall upon a seemingly inert system, words give way to action."
I don't know whether Roger Goodell ever read his father's book, but this is certain: Neither he nor the team owners he represents have taken its lessons to heart. The National Football League has yet to sign free agent quarterback Colin Kaepernick for the 2017 season, and the reasons are obvious: It is punishing a player for practicing political dissent.
Kaepernick's unemployment has turned into a public relations nightmare.
Last year, Kaepernick, playing for the San Francisco 49ers, made international news by taking a knee during the national anthem to raise awareness about racism and police violence. He inspired similar protests on other NFL sidelines, in Texas middle schools, and at a baseball game in Oakland, where an entire school band knelt during its performance of the anthem. But he also received a torrent of criticism — and death threats — for his efforts.
Amid the maelstrom, Kaepernick threw for 16 touchdowns and just four interceptions in 12 games, and he led the league in quarterback yards per carry, averaging 6.8 yards every time he ran the ball. Despite playing for his third coach in three seasons on a team that was among the league leaders in dropped passes, he had his best personal passer rating since 2013. But a league that signs players who have been involved in murders, violence against women and dog-fighting has found standing up to racism to be a bridge too far.
Kaepernick's unemployment has turned into a public relations nightmare, and now the NFL is pushing back against the conventional wisdom that a blackballing has taken place.
Just this past week, as the season got underway, we saw general managers under the veil of anonymity express their belief that Kaepernick's politics have nothing to do with his job prospects: He simply isn't good enough to play. This thesis was trotted out in the New York Times by Colin Fleming, who wrote a maddeningly ignorant piece called "Maybe Colin Kaepernick Is Just Not That Good."
Phrased as an authoritative statistical defense of the idea of "merit," Fleming argued that Kaepernick hasn't been signed because he lacks talent. Yes, someone who does not watch film or study tape for a living has a definitive position that Kaepernick is not good enough to play. And toward the end of the piece, Fleming admitted, "The older I get, the less I care about football." I can't tell if that is a sign of shamelessness or sloth.
The people who play professional football disagree with Fleming. They think it's absurd that Kaepernick is without a team. Not only is Kaepernick unsigned, there are quarterbacks on rosters who were retired last season, threw for negative yards in college or are best known by phrases like "butt fumble." As Green Bay Packers star quarterback Aaron Rodgers said last week, it is "ignorant" to think that Kaepernick is unemployed because of his play.
"I think he should be on a roster right now," Rodgers told ESPN's Mina Kimes. "I think because of his protests, he's not." Rodgers is not alone.
The rash of anonymously sourced articles trashing Kaepernick's play came just days after several thousand people rallied in front of Goodell's NFL headquarters on Park Avenue in New York City: a demonstration that loudly called out a league dependent on the physical punishment of black bodies, a league that — in the words of the Rev. Jamal Bryant — is "more comfortable with concussions than someone having a conscience."
The NFL seems to believe that shutting out Kaepernick will be like a crack of the whip across the backs of its players, stamping out dissent, keeping everyone in line. But the opposite has been the case. During the preseason, and in the wake of events in Charlottesville, Va., more and more players stepped forward to sit, take a knee or raise a fist during the anthem, and they are not shy about telling the world why. Unlike last season, white players also have involved themselves in these protests.
For most of the protesting players I've talked with, Kaepernick is not a "distraction" but a friend, a colleague or a teammate, and one whose fellow 49ers voted to give him the team's "courage award" at the conclusion of last season. NFL owners want Kaepernick to be a ghost story to scare players from speaking out. Instead, his absence haunts the NFL far more effectively than if he were where he deserves to be: on an NFL roster. Charles Goodell could have seen this coming from miles away. His son could not.
Dave Zirin is sports editor of the Nation and author of eight books on the politics of sports. He is working with Seattle Seahawk Michael Bennett on Bennett's autobiography.
Follow the Opinion section on Twitter @latimesopinionand Facebook
MORE FROM THE OPINION SECTION
Why won't the U.S. use its full sanction power against North Korea?
This just in from the West Side: Who knew a nightmare election would wind up being such a gas?
Life is stressful. Our weekly mental wellness newsletter can help.
You may occasionally receive promotional content from the Los Angeles Times.