11 Images
10 reasons to salute L.A.'s promising transportation future
Union Station
Metro chief Arthur Leahy remembers entering a virtually abandoned Union Station as a young bus operator in the early '70s in search of a bathroom. Today, Union Station is buzzing with commuters from the Gold, Red and Purple lines, MetroLink, Amtrak, Flyaway to LAX and the bus routes through Patsaouras Transit Plaza.
Located between Chinatown and downtown near where the city was founded, the potential for transit-oriented development is being carefully considered so that Union Station can be maximized. The hope is that Union Station will be a world-class historic facility around which development can occur and thrive. Every new and existing business, housing unit and civic space in the area can benefit from Union Station.
(Los Angeles Times)
CicLAvia
Los Angeles' 5th
CicLAvia
festival shattered even the planners' expectations last year when more than 100,000 bicyclists hit the streets of downtown on Oct. 7.
It is amazing to see how many bicycles can fit on a six-lane road, and how much quieter 100 bikes are than a few cars. Through the event, riders are empowered to claim their right of way, engage in heart-healthy exercise and see that bicyclists are far from alone in their desire to ride. CicLAvia is the powerful cultural engine necessary to generate buzz around the planning and policy efforts of the city such as the
County of L.A. Bicycle Master Plan
and
L.A. City 2010 Bicycle Plan
.
(Los Angeles Times)
Westside subway extension
In order for public transportation to thrive, the benefits of taking public transportation need to outweigh the benefits of driving. The Westside subway will meet this criteria. The 101, 10 and 405 freeways are drastically congested during rush hour, and the east-west arterial streets of the Westside are impractical places for cars. The pedestrian-friendly small businesses that line Santa Monica and Wilshire boulevards are development centers around which transportation can succeed -- not to mention that this line will connect the Westside and downtown nightlife. When the Purple Line extends to Westwood and beyond, it will fundamentally change the way Los Angeles thinks of itself. UCLA to downtown in about 25 minutes may be worth the projected $6.3-billion price tag.
(Los Angeles Times)
The Expo Line
This line has not only been a success because it attracts tourists and ridership swells on USC football game days; its daily ridership has smashed expectations and is still rising.
One of the primary roles of a transit service provider is to connect the cultural dots of a city. As the second-biggest city in the U.S., home of Hollywood, arts and entertainment, beautiful beaches, industry and commerce, Chicano history and a hub to some of the nation's most breathtaking national parks, Los Angeles is a global tourist destination that has struggled to provide access to its riches. The Expo Line touts an impressive list of landmarks that it touches from downtown and L.A. Live to the USC campus and beyond to Culver City, but it is also providing occasion for Angelenos to familiarize themselves with the system en route to museums, USC and the restaurants of Culver City. In 2015, the line is expected to extend to Santa Monica with commute times of about 46 minutes.
(Los Angeles Times)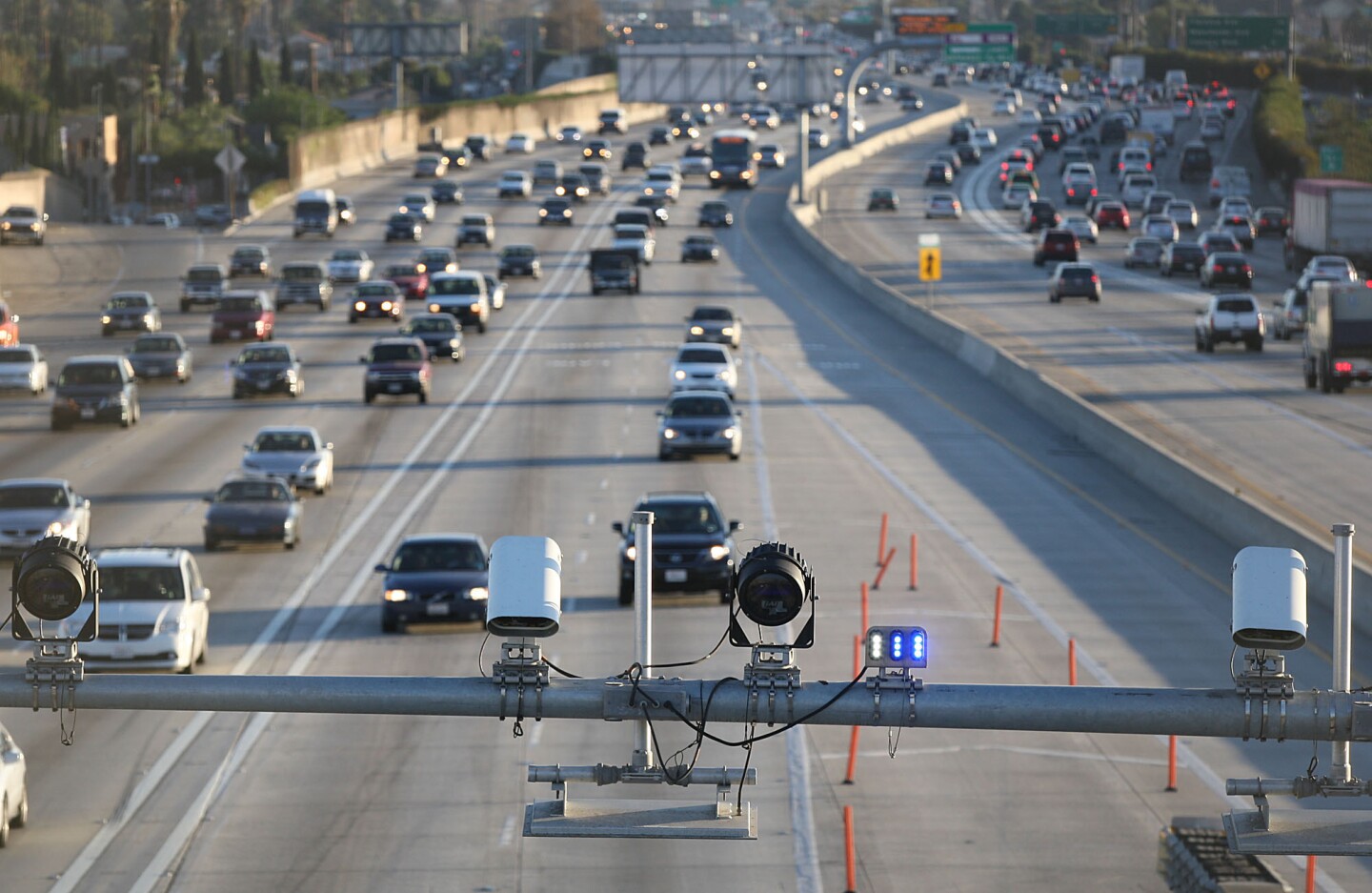 ExpressLanes on the 110 and 10 freeways
The new High Occupancy Toll, or HOT, lanes on the 110 and 10 freeways are a prime example of the types of forward-thinking carbon-use fees that will not only work to mitigate carbon use but also provide disincentives to driving.
The message is clear: Driving will continue to get more expensive at the pump and at the toll.
HOT lanes create a profound economic choice between choosing to drive and choosing to take public transportation. The congestion pricing model on the 110 and 10 ExpressLanes cost a minimum of $.25 per mile and a maximum $1.40 per mile, while the Silver Line and Expo Line both cost less than $3 one-way and run parallel to the 110 and 10 freeways, respectively.
(Los Angeles Times)
High-speed rail
Whether for or against high-speed rail, Los Angeles is better for the debate because it demonstrates a healthy vetting process. The debate concerning the viability of the high-speed rail project is bringing questions of economic land use and connectivity into the civic forum, not just of Los Angeles but of Orange County, San Diego, the Central Valley and the Bay Area. A more connected California would help alleviate the congestion to and from the airports and along the interstate highways, as well as bring many Californians into downtown L.A. without cars. In the meantime,
Megabus
began offering service with fares starting at $1 from Union Station to San Francisco, Riverside, San Jose, Sacramento, and Las Vegas this winter.
(Associated Press )
The proliferation of transit IT
There are many tools available to help find service, plan trips and execute plans that were not available five years ago, let alone in the mid-1800s and early 1900s when the bulk of the New York subway system was built.
While the apps are imperfect, transportation agencies are determined to improve riders' information sources. Available resources that are being constantly improved and re-tuned include mobile apps, social media, digital and analog signs at stations, fare vending machines, transit blogs,
511
,
Trip Planner
and
Nextrip
. The 511 hot-line is especially useful because it consolidates multiple sources of transportation alerts, updates and information into one source. Through 511 or on the mobile app, Nextrip uses a simple code posted at bus stops from all the different agencies and can be used to find out when the next few buses will reach your stop. These efforts consistently strive for fluidity, connectivity and easy, intuitive understanding. For those who find this too complicated, the paper schedules still exist and do the trick.
(Los Angeles Times)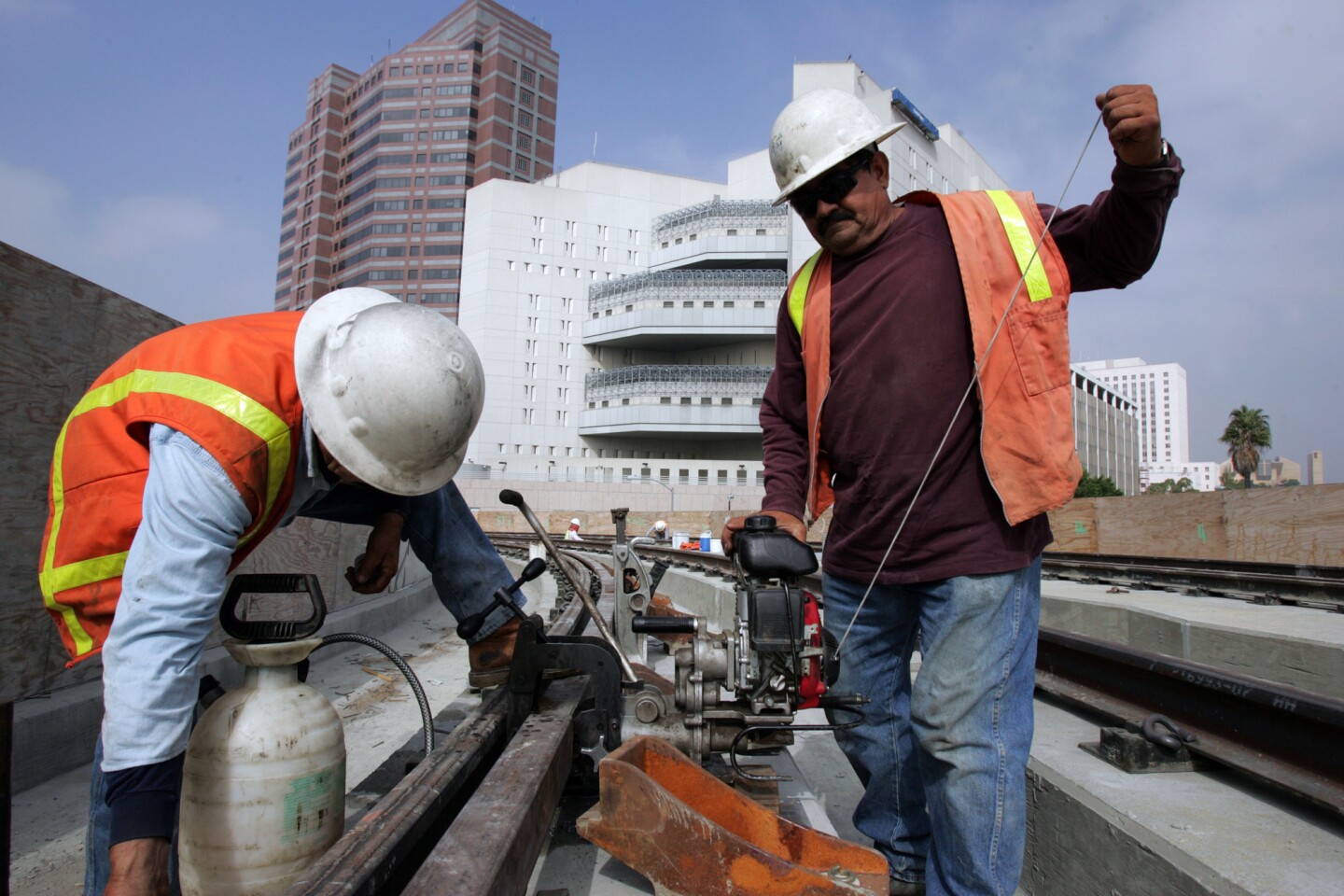 Measures R, J and a commitment to local funding
Measure R
, a countywide half-cent sales tax that passed with a two-thirds majority in 2008, committed an expected $40 billion toward 30 years of transportation projects. Running on a similar platform of creating jobs to stimulate the local economy and improve infrastructure,
Measure J
went on the ballot in November to extend the tax 30 more years. Measure J was intended to accelerate Measure R projects to completion within 10 years, but it fell just short of the two-thirds majority with 66.11% of the vote. Nevertheless, public support for Measure J is a good sign. It demonstrates a desire for improved transit options and infrastructure. The campaign process helped voters educate themselves on the types of projects in the works. Because the initiative polled well, it popularized transportation in the political debate and has prompted many politicians at the state level to propose lowering the voter threshold from two-thirds to 55%.
(Los Angeles Times)
The regional connector
This
creative squiggle of a rail line
through downtown will be up and running relatively soon, hopefully by 2018. This line will connect the Blue and Expo lines to the Gold Line, making the entire transit system more fluid and connected. The goal of this project is to provide riders with a one-seat ride along east-west and north-south arteries. When commuters are deciding whether to drive or ride, the amount of vessels they will have to take to reach their destination factors heavily. The regional connector will make all of the rail options more attractive.
(Los Angeles Times)
The 6th Street Viaduct
In Los Angeles, many drivers feel that they have a right to get to their destination faster than pedestrians, so the fact that the new 6th Street Viaduct will place an emphasis on pedestrians and bicyclists is a monumental statement. The 80-year-old bridge between Boyle Heights and downtown is one of Los Angeles' most famous and filmed landmarks, but it is no longer up to seismic snuff and must be replaced.
The design process incited competition from international firms to ensure that the best ideas of the private sector were brought forth to the public realm. Competing architects considered many factors including aesthetic, form and functionality, community development and engagement, interplay with the L.A. River and history. The team of HNTB, Maltzan, and AC Martin won the bid for the project, estimated at $400 million, with a design that will aim not just to transport people to their destinations but to be a destination and civic space in its own right.
(HNTB / Michael Maltzan Architecture / AC Martin Partners)
In Case You Missed It...Photos