Opinion: The public is still owed an accounting on John Deasy's iPad emails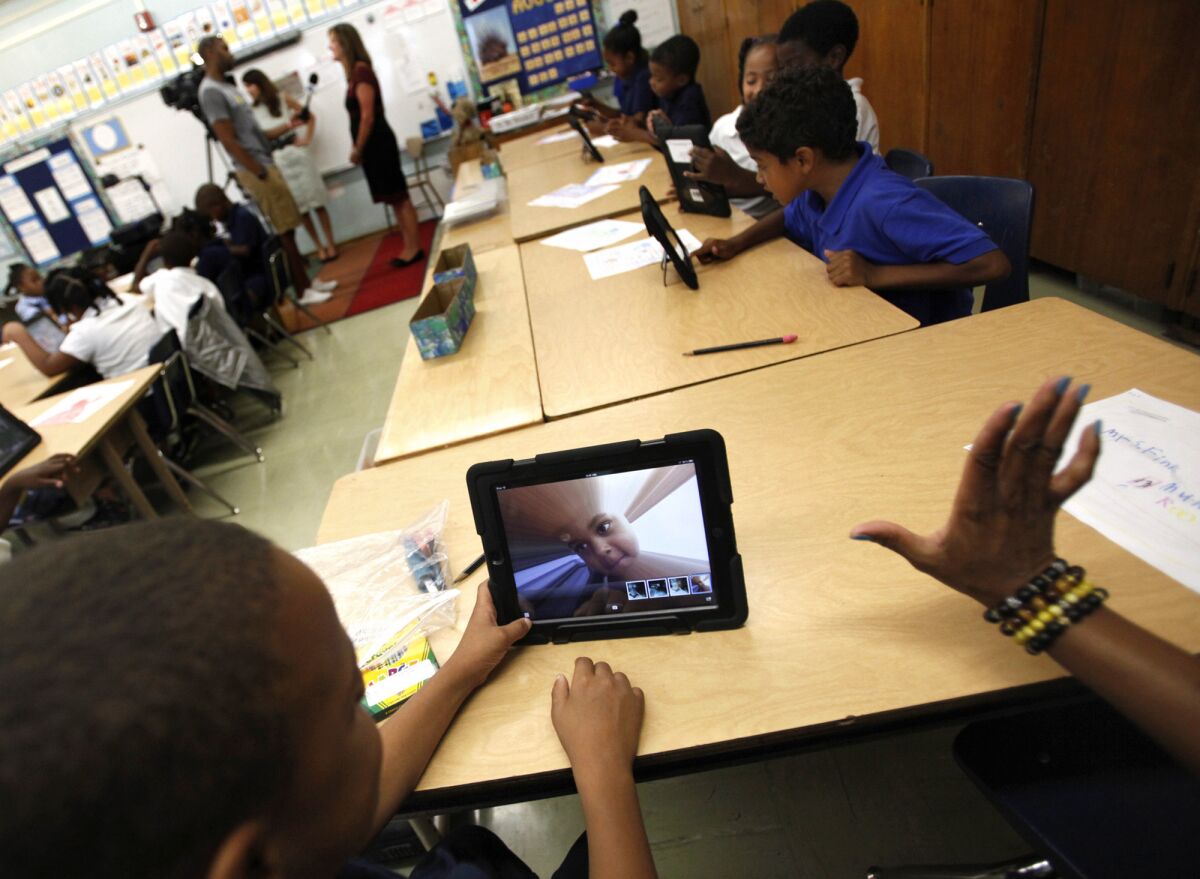 Will the public eventually find out the truth regarding the question-raising emails between John Deasy and the two companies that won the contract to provide iPads to students in the Los Angeles Unified School District? The terms of the separation agreement and the blithe, happy-talk announcement from the board make that look less likely than ever. That would be a completely unacceptable outcome.
Up to this week, the situation was that the district's independent inspector general was investigating the emails, which predate the bidding by a year and appear to indicate a close relationship between the departing superintendent and Apple and Pearson. There have been concerns that Deasy and his then-top deputy Jaime Aquino might have been at minimum guiding the two companies to produce the product the district would want, long before other bidders had a chance to devise their own proposals. Deasy has said that this was all about a very small pilot project involving a small number of students and that there was no attempt to steer the contract toward the two companies.
Then on Tuesday the board refused to make public the previous inspector general's report, which covered only the bidding process. Because it's an investigation, not an audit, it isn't automatically a public record. It's not believed that there are any smoking guns in that report, but still: Shame on the board, when there is so much public interest in this, for not being more transparent. In fairness, their lawyer had advised that the report not be released, but on the grounds that it could become fodder for a lawsuit. Under that kind of reasoning, no documents would ever be released by anyone; anything could become part of a lawsuit. If there were an active lawsuit on the issue, it would be a different matter.
The announcement of Deasy's departure came Thursday. In the separation agreement, there is wording about the district "discharging" Deasy — as in not taking any action against him — for anything he might have done during his tenure. He in turn does the same for the district. That's fairly standard in severance agreements; an organization can't hold a former employee responsible forever for things that might have happened during his or her tenure.
The language might not have been noticed if not for the school board's strange statement that it "does not believe that the superintendent engaged in any ethical violations or unlawful acts."
Why is the board voicing anything about its belief system while a second investigation is ongoing? There have been rumors that Deasy wanted this investigation to go away as part of his agreement; Deasy vehemently denies that. Although the inspector general is an independent office within the district, the board still has authority over the office's budget, and there shouldn't be anything that could be perceived as pressure on the investigation to go one way or another. The appropriate response from the board? Radio silence until the investigation is complete and reviewed by the district attorney's office, as state law requires.
The problem is that, although the investigation might well find that nothing criminal happened, what if it finds some ethical issues? The board has promised to take no action against Deasy on that, which makes sense; probably the worst it would have done to him was ask him to leave, so the issue is moot. It could still take action against any employees remaining, but it's unclear who those would be. Aquino's already gone.
Unless the board decides to make both reports public, the rest of us will never know whether there was a problem with the way this was handled, or whether Deasy and Aquino were utterly exonerated. Both would be equally important to know. United Teachers Los Angeles President Alex Caputo-Pearl, during a meeting with the Times' editorial board Thursday, was already talking about Deasy's "bid-rigging," without so much as a qualifier, as though Caputo-Pearl had some kind of criminal divining rod. Reminded that we're a long way from knowing whether there was anything wrong with those or any other emails, much less something criminally wrong, he corrected himself, adding a couple of "allegeds" to his words. There would always be a cloud over Deasy's head, always these conversations in which he is "convicted" by words on an utter lack of evidence, unless an investigation is made public that clears him.
Or the opposite. Before the project was slowed, diversified and then suspended, the public almost spent half a billion dollars on iPads that were about to be made obsolete by new models, with software that hadn't yet been completed. If there were ethical breaches, the public has a right to the truth in every detail.
The board's appropriate response to an ongoing investigation should have been to say nothing except, "We look forward to a complete and unstinting investigation that we promise to make public." Deasy's departure shouldn't alter the district's commitment to the public in any way.
Follow the Opinion section on Twitter @latimesopinion
Life is stressful. Our weekly mental wellness newsletter can help.
You may occasionally receive promotional content from the Los Angeles Times.