Newsletter: America has plenty of problems. Its Constitution isn't one of them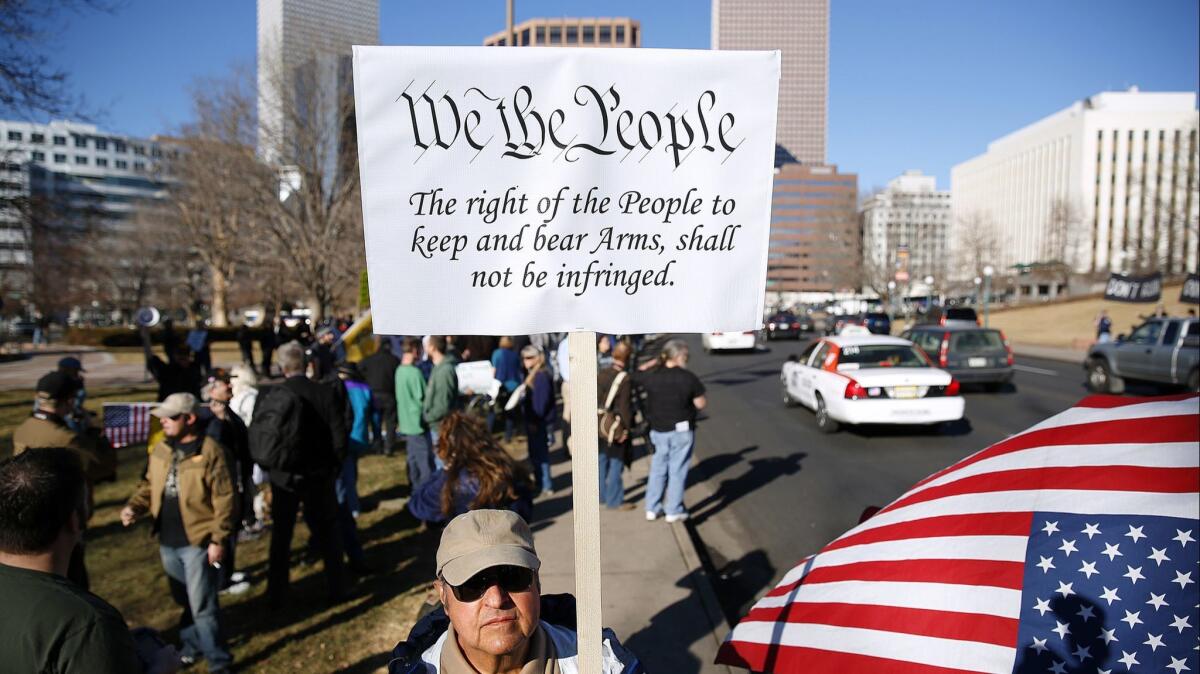 Good morning. This is L.A. Times Opinion digital editor Matthew Fleischer, filling in for Paul Thornton.
Last weekend, students across the nation took to the streets following the deadly Parkland school shooting to demand gun control. Their efforts were powerful and inspirational. For a moment, change felt as inevitable as after the Sandy Hook massacre.
The vast majority of Americans want immediate gun restrictions. But how do we get it done? For decades — despite one massacre after another — even the mildest of gun reforms has been swatted aside with ease by the hands of the powerful gun lobby.
Is the problem one of incrementalism? Are universal background checks and assault rifle bans too unambitious in their sweep? Perhaps it's time to fully eliminate the 2nd Amendment — a position gaining traction in left-wing circles, and one that even former Supreme Court Justice John Paul Stevens lobbied for this week.
Going after the 2nd Amendment isn't only unnecessary, counters op-ed contributor and NYU law professor Michael Waldmanit, it would turn the political hill we have to climb on gun control into Everest.
Dozens of lower federal courts have carefully considered gun laws. Sometimes they limit government action. But overwhelmingly they have upheld safety regulations, even bans on semiautomatic assault weapons enacted by New York and Connecticut after the Newtown, Conn., massacre of schoolchildren. The Supreme Court justices have declined to take another 2nd Amendment case, thus allowing this consensus to take root.
If the Constitution makes it unnecessary to erase the amendment, politics makes it unwise, even self-defeating. There's a reason the NRA calls itself the country's "oldest civil rights organization." Far better to be seen as championing the Bill of Rights than defending guns, ammunition and mayhem. Even among those who support strong gun safety laws, there are many who would feel queasy about deleting one of the first 10 amendments. The reality is that the United States has gun rights because millions of Americans believe in those rights.
It's time to think big about the gun issue. The remarkable demonstrations by hundreds of thousands of people, led by high school students, show a pent-up demand for action to regulate firearms. It's as if an entire generation shook off the compromises and acquiescence of their elders. As with the #metoo movement or the drive for marriage equality, sometimes social mores can shift sharply and quickly. What has held the country back is not the Constitution or court rulings, but legislatures in thrall to the intense minority of gun rights absolutists. Now a new group of passionate advocates has emerged. Let's see if they rebalance the political world.
A call to repeal the 2nd Amendment is a gift the NRA doesn't deserve. It gives cover to the false notion that gun control advocates want to "take our guns." We should fight, instead, for the true reading of the Constitution: We can have freedom and safety at the same time.
Lack of compassion and loathing for the homeless isn't a phenomenon of the modern era. Cicero called famously called homeless Romans "the poverty-stricken scum of the city." And yet such sentiments seem to have reached their zenith in contemporary Southern California, which has the resources to end homelessness but largely chooses not to thanks to the stonewalling of its NIMBYs. That can no longer stand, writes Erik Skindrud on the op-ed page: "Homelessness cannot be an issue defined by loudmouthed residents, politicians and ignoramuses. If good people stay quiet, nothing will change." L.A. Times
How ridiculous is this: Los Angeles bans people from sleeping in their vehicles on most city streets, but allows them to sleep on the sidewalks at night. That's right, city policy demands homeless people living in their RVs and cars abandon the safety of their vehicles at night to set up shop on the concrete. City leaders promise a "safe parking" program to help resolve this obvious quandary is in the works. And yet, after a year of arguing, we still aren't close to an actionable plan. These aren't the Paris Peace Talks, says The Times editorial board. Get it done already. L.A. Times
Asian Americans disproportionately value prestige when it comes to higher education. That's because elite credentials are seen as a safeguard against discrimination in the labor market. Unfortunately, they're not, write op-ed contributors Jennifer Lee and Karthick Ramakrishnan. Asians with Ivy League-caliber credentials still face a glass ceiling in the workplace. L.A. Times
A large and powerful state is in open revolt against the president over its sovereignty. Sound familiar? It does to the editorial board of the Houston Chronicle, which argues that after eight years of haranguing President Obama, Texas — which sued Obama's administration 48 times —has ceded the mantle of states' rights to California. There's nothing wrong with the "resistance" stealing the Lone Star state's playbook, so long as it's done in the name of intellectual honesty and not partisan hackery. Houston Chronicle
Why is it that America's biggest hawks (ahem — John Bolton — ahem) always seemed to have skirted combat duty when it was it was their time to serve in the military? Inquiring L.A. Times readers want to know.
Follow the Opinion section on Twitter @latimesopinion and Facebook
A cure for the common opinion
Get thought-provoking perspectives with our weekly newsletter.
You may occasionally receive promotional content from the Los Angeles Times.