Opinion: Mass killing in Oregon: Yes, we've been here before -- too many times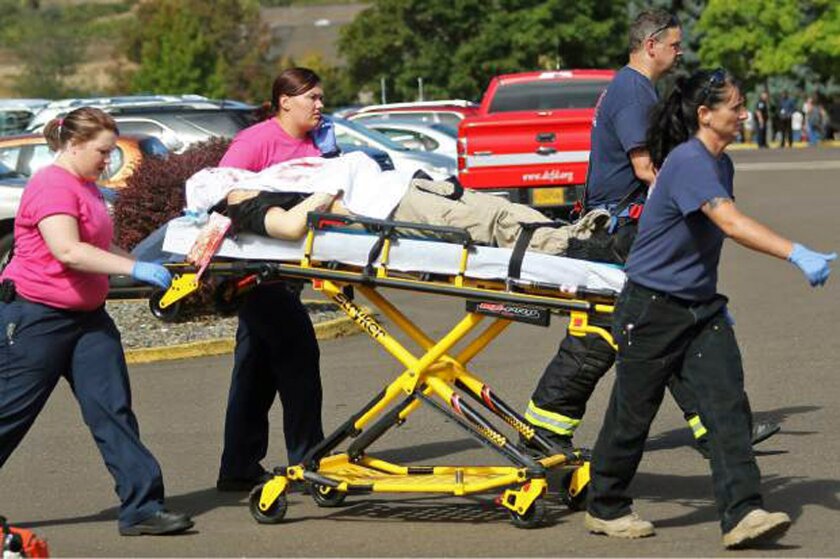 Seven dead? Ten dead? Thirteen? Another 20 or so wounded? Do the numbers really matter?
Today's mass shooting at an Oregon community college brings us once again to the national crisis that we, as a democratic society, keep proving we're incapable of resolving.
There will be the predictable seesaw of reactions, from grief to outrage and demands for gun control to the inevitable pushback by the pro-gun folks and discussions of insufficient support for the mentally ill, interspersed with stories of heroism inside Umpqua Community College and interviews with teary and stunned witnesses, followed by heartrending obituaries of people who had so much to look forward to, and capped by solemn coverage of funerals.
Yeah, we've been here before. Or rather, we're always here. And to answer my own question, the numbers do matter because each one reflects someone who was just killed or maimed by gunfire. Each number reflects a life that will be mourned, or will be changed, by the actions of (apparently) one person with a gun and a drive to use it to kill others.
But the numbers also don't matter because, within the framework of the nation's sick approach to gun violence, the dead never seem to count.
Nine dead in Charlestown sparked no change.
Four dead in Chattanooga sparked no change.
Eight dead near Houston sparked no change.
Eight dead across Missouri sparked no change.
Nine dead in Waco sparked no change.
Four dead in San Francisco sparked no change.
Five dead in Troup County, Ga., sparked no change.
Five dead in Minneapolis sparked no change.
You get the idea. And those are just a smattering of the mass killings in the U.S. since the start of the year.
Yet, as a nation, we do nothing.
Any minute now you're going to hear the gun lobby say that this is the wrong time to talk about gun control. But with this steady drumbeat of unconscionable violence, it's hard to find a quiet moment in which to discuss an issue that ravages our families and communities from coast to coast.
It's harder still to find political leaders with the will to do much more than press their lips together grimly, send condolences to yet another sudden community of grieving families, then move on. Until the next one.
And there will be a next one. There always is.
That is our communal, and political, failure. And our collective guilt.
Follow Scott Martelle on Twitter @smartelle.
ALSO:
Why the U.S. is No. 1 -- in mass shootings
Timeline: Deadliest U.S. mass shootings
---
A cure for the common opinion
Get thought-provoking perspectives with our weekly newsletter.
You may occasionally receive promotional content from the Los Angeles Times.