Opinion: JFK was America's most glamorous president. Roz Wyman helped make him a superstar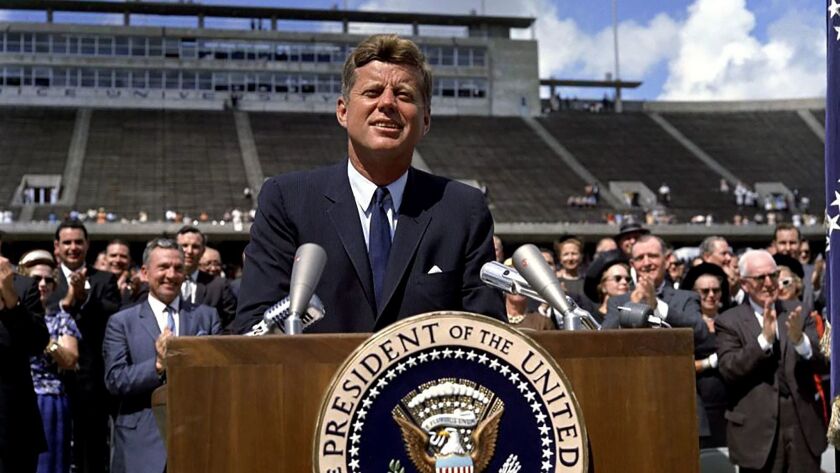 The most glamorous and tragic president of the 20th century was born 100 years ago this Monday. John F. Kennedy was 46 when he was assassinated; the world has now lived longer without him than it did with him.
His decisive step toward the White House happened in the most glamorous city in the nation — Los Angeles, home of Hollywood and, in July 1960, of the Democratic convention that nominated JFK.
In 1960, Roz Wyman was young too — 29 years old and already a big noise in politics. At 22, she'd been elected the second woman and the youngest-ever Los Angeles city council member. She'd already spent nearly a decade working in Democratic party politics, so when the Kennedy campaign began working in earnest for the 1960 nomination, she was on board.
JFK's local "think tank" convened at his sister Pat Lawford's beach house, and when he came to L.A., "boy, he went to work," Wyman remembered. "He asked you what was going on in California, and no fooling around: He really wanted to spend what time he had with you to know what you thought were the issues. That was done all over America. I've been in every presidential campaign since '52 but I never saw anything like that, and I thought that was brilliant."
She saw in Kennedy a leader she did not see in the party's two-time nominee Adlai Stevenson. Both men were smart, but JFK, Wyman was convinced, was decisive, "really businesslike — and handsome as the devil!"
Wyman had already been a motive force to bring the Dodgers to Los Angeles, and she helped to do the same to land the 1960 convention for Los Angeles. Once the convention opened for business here, Wyman swung big.
She suggested something unprecedented: that Kennedy take his acceptance speech out of the confines of the Sports Arena to thousands of just-folks to rally at the massive Los Angeles Coliseum.
"I approached Bobby [Kennedy]. Bobby was the [campaign] boss. I said, Why don't we take him outside, in the Coliseum? Bobby looked at me. He never called me by my first name; he said, Wyman, it's 100,000 people!"
He said he'd sleep on it, and the next day, Bobby Kennedy — feet on his desk, smoking a cigar — told her, "I'm going to say yes but — I'll never forget this — he said, you're young, but if you're wrong, this is the end of your political career. I was petrified!"
JFK looked at the guest list and demanded, 'Did we get anybody who voted for me invited?'
Wyman and the convention director, Leonard Reinsch, concocted a plan to block off half of the Coliseum, cutting the space to 50,000 seats. And fill them she did. Security wasn't what it is now, of course, and Wyman got on the phone to every women's group in the state.
"I didn't know if they were Democrat, Republican, whatever they were. Then I called every union from the top of the state to the bottom, and said, get a bus, put some food on it — you gotta fill this Coliseum!"
They did. Some 50,000 people turned out to see JFK accept the party nomination, after a two-hour entertainment program with Frank Sinatra, Vincent Price, Steve Allen, Mort Sahl, Sammy Davis Jr. and other stars. All those performances were eclipsed by JFK's speech during that hot July sunset; it came to be known as the "New Frontier" speech.
Wyman worked for JFK throughout the campaign too. Once, on the Kennedy private plane "Caroline," she handed him hundreds of pages of California briefing material. "He was a speed-reader. His secretary, Evelyn Lincoln, leaned over to me and said, You be prepared — he's going to ask you questions, which he did."
For some reason, he was obsessed with his showing in Fresno — perhaps because his rival, two-time Democratic nominee Adlai Stevenson, had done well in the Central Valley town before. "Stevenson carried it," she remembered him saying, "Why shouldn't we?" Wyman suggested that he make a stop in Fresno itself, but the campaign couldn't shoehorn it in. "On election night, Bobby called and said, How are we doing in Fresno? I said, We're losing Fresno!"
Of her small, telling moments with JFK himself, she remembers him on crutches, showing her around the Oval Office. At one point, an aide handed him a guest list his wife had assembled for some gala. He looked at the list and demanded, "Did we get anybody who voted for me invited?"
And poignantly, Wyman recalls how it was that JFK died owing her $10. "We were on our way to a big luncheon at the Beverly Hilton hotel and we passed a Catholic church, and he says, Oh, I want to light a candle. He said, anybody got any money? I was the only person in the car with money — all of $10— and I said, here's 10, Jack.
"He ran into the church, was there very briefly, came back out and said, I'm really glad I did that. I said, Senator, now you owe me 10 bucks. But then he died."
Follow the Opinion section on Twitter @latimesopinion and Facebook
MORE FROM OPINION
California has long placed teacher rights over student needs. A fair compromise is finally on the horizon
Why are small banks disappearing?
What happened when a 64-year-old liberal attended his first NRA convention
---
A cure for the common opinion
Get thought-provoking perspectives with our weekly newsletter.
You may occasionally receive promotional content from the Los Angeles Times.