Opinion: Hollywood goes from snarky to classy in one botched Oscars moment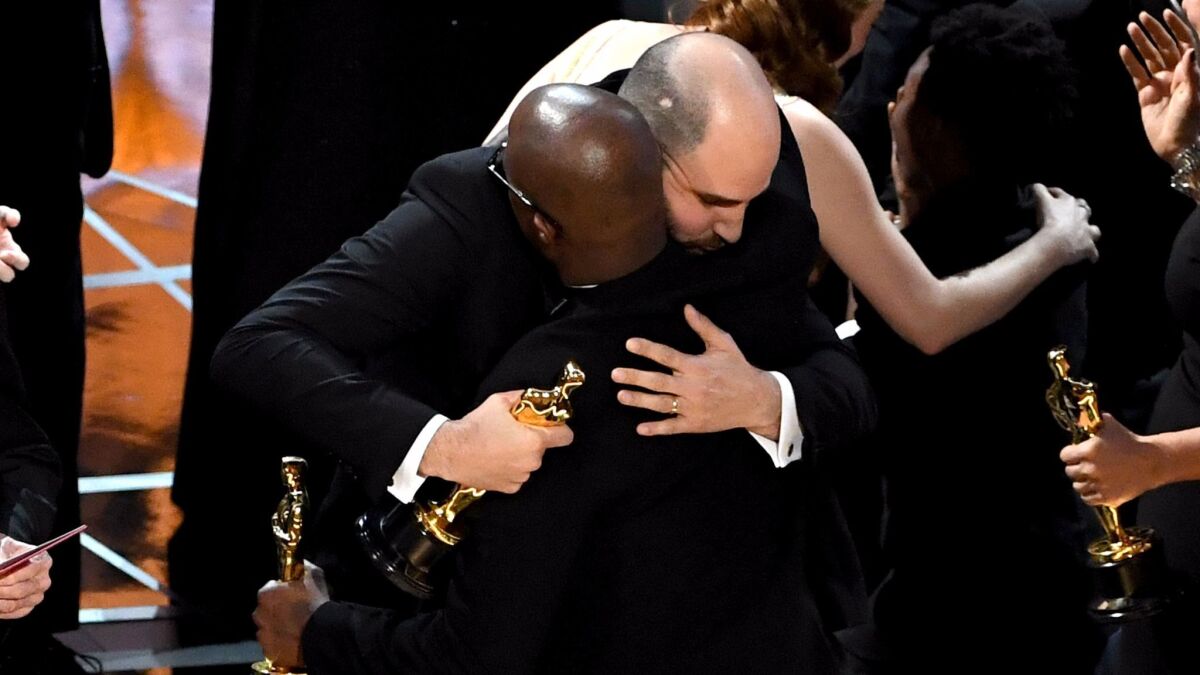 On Oscar night, it was "Moonlight," the antithesis of a stock Hollywood movie, that turned out to have a stock Hollywood ending — the disappointing loss, the sudden twist of fate, the happy ever after in La La Land ending of winning the best picture Oscar. And yet, the classic Hollywood ending was one of the most extraordinary, unexpected moments ever at the usually predictable Oscar show.
But it took a botched best picture announcement to send an exhilarating frisson through the Dolby Theatre, newsrooms tracking the show, and living rooms everywhere. As Los Angeles Times movie critic Kenneth Turan wrote, "it proves the lasting watchability of live television." And watchable it was — the dropped jaws in the audience, Warren Beatty onstage trying desperately to explain how he and co-presenter Faye Dunaway announced the wrong winner.
But it also revealed something else. In a town known for snarkiness and harshness and actors hewing to PR-scripted answers on everything, it showed Hollywood capable of genuine, in-the-moment grace and class. Those are the only words to describe "La La Land" producer Jordan Horowitz's onstage announcement of the mistake and elegant handoff of what he thought was his Oscar to the "Moonlight" team. Nor is there any other way to describe the "Moonlight" producers, actors and director Barry Jenkins — who were robbed of the luxury of basking in their win onstage — who spoke movingly of how gracious Horowitz and the rest of the "La La Land" folks had been. Horowitz and Jenkins embraced during the surreal seconds that the people who made "Moonlight" mingled with the people from "La La Land" on the same stage. Certainly, there weren't too many options for the "La La Land" producers. Had they sulked or balked or asked for a recount, they would have been excoriated from one social media site to the next. But, still, there was something elegant about the way Horowitz beckoned the producers of "Moonlight" and Jenkins to the stage and praised their movie.
And, indeed, it was a great win for "Moonlight," a phenomenal, universally praised film about a black youth coming of age against a backdrop of poverty and homophobia — the kind of story that rarely gets told in Hollywood. It was also a nice moment of grace in Hollywood — something that is rarely seen.
Follow the Opinion section on Twitter @latimesopinion and Facebook
Life is stressful. Our weekly mental wellness newsletter can help.
You may occasionally receive promotional content from the Los Angeles Times.