Opinion: Silicon Valley, forget the apps and fix our voting system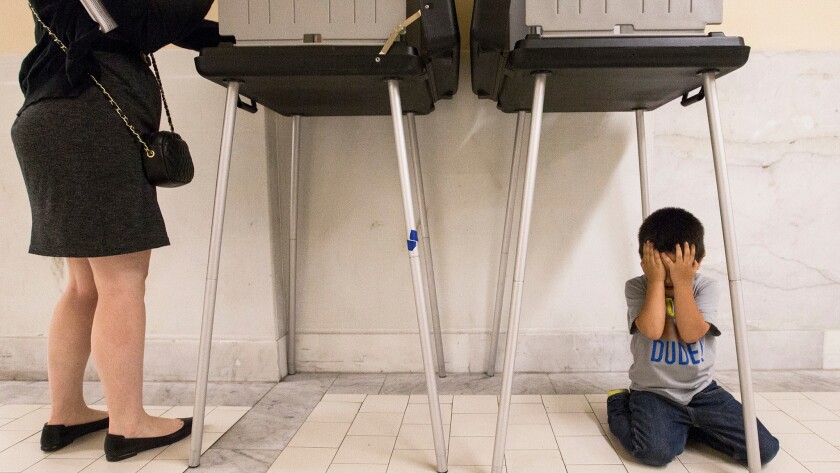 Millions of Californians walked into a polling place Tuesday and some of them came out pretty annoyed. The vote-counting machines were broken. Their polling sites opened late or had been moved. They weren't on the voter rolls. Complaints accumulated throughout the day: in polling stations, on Twitter, on Facebook and around the proverbial water cooler. Because of the veritable smorgasbord of issues encountered across the state, lots of voters ended up having to cast provisional ballots. And some of them shuddered, certain that writing their vote on that little pink envelope was akin to putting a letter in a bottle, casting it into the sea and trusting it would reach someone -- anyone -- who could carry it to its intended recipient. For those who raced out of the office or got up early to vote, the uncertainty about whether those votes would be properly tallied was frustrating.
Each person walking around California with a smartphone carries a ridiculous amount of computing power on their person. They have the ability to play games with strangers on another continent, comment on the baby photos of someone they haven't seen in 10 years or take slow-motion videos. We are living in a time of rapid technological innovation, so we expect things to work. Imagine walking into a polling station and realizing that they don't have your name on an official list printed in an official binder -- even though you registered -- because another piece of paper was misplaced somewhere along the way from the county registrar's office. So now you've got to write your vote on this piece of paper that won't be counted by a human until after the initial results are announced.
Imagine you're a Bernie Sanders supporter who walked in already annoyed by the Associated Press' early call that Hillary Clinton had wrapped up the Democratic nomination for president. We could have predicted that people would be angry. In this case, they have the right to be. Voting is a participative experience, and because of preventable issues Tuesday, many Californians felt that they were unable to fully participate.
Voting is a participative experience, and because of preventable issues Tuesday, many Californians felt that they were unable to fully participate.
Dan Schnur, the director of USC's Jesse M. Unruh Institute of Politics, believes the challenges to California's electoral system are significant. "You have a historic increase in number of newly registered voters, antiquated voting machines, complicated rules for no party preference voters, and you've got a recipe for all sorts of problems," Schnur says.
It's difficult to compare the volume of complaints year over year, as the rise of communication technologies and social media has given a greater voice to Californians. In past years, individual gripes have simply had less reach. Complaints lodged over social media are harder to verify and to collect than those sent directly to election officials.
California Secretary of State Alex Padilla has made a few necessary improvements since taking office in 2015, after a sleepy decade for electoral reform here. Voter registration is at a record high in the state, and he has led initiatives that help nonnative English speakers and younger people access the system in higher numbers. At a conference in February, Padilla acknowledged that the state government still faced major obstacles in electoral administration. "Some California counties have old voting systems and then others have old, old voting systems," he said.
When it comes to smooth voting systems, "L.A. is leading the state, but the state is lagging the country," Schnur said. Yes, California -- the state that birthed the self-driving car and the polygraph machine and the space shuttle Endeavor -- is having a really hard time tracking the little pieces of paper they send in the mail from one location to another. That's making its systems glitchy when volunteers at the polls try to figure out who you are and what kind of ballot you should receive. Perhaps in addition to creating apps to make our lives more comfortable, Silicon Valley could donate a bit of its attention to revamping California's voting system.
Follow the Opinion section on Twitter @latimesopinion and Facebook
---
A cure for the common opinion
Get thought-provoking perspectives with our weekly newsletter.
You may occasionally receive promotional content from the Los Angeles Times.