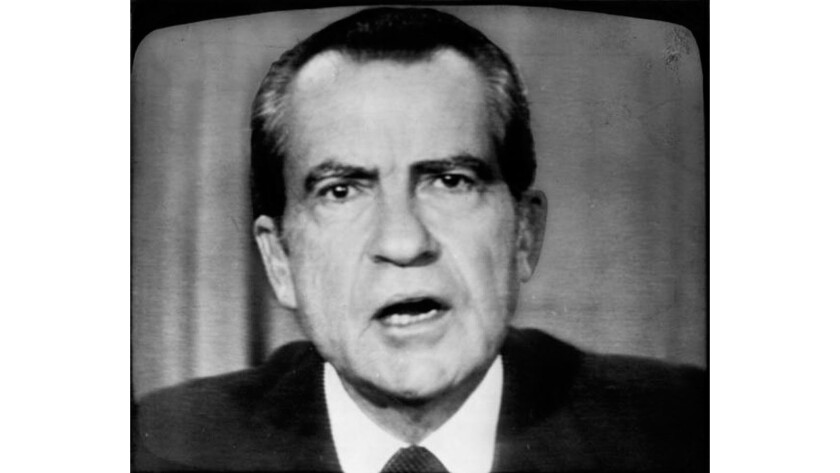 Forty-five years ago, on June 17, 1972, five men wearing suits and surgical gloves were arrested on the sixth floor of the Watergate Hotel in Washington. Their crime? Stealing files from the Democratic National Committee to help the reelection campaign of their boss, Richard Nixon.
For some, the controversy regarding Trump and Russia bears eerie resemblances to Watergate. As Nixon fired Archibald Cox — the special prosecutor charged with investigating him — so Trump fired FBI director James Comey. Parallels like these have alarmed people like James Clapper, the former director of national intelligence, who said Watergate "pales" in comparison to the conflict surrounding Trump today.
Some officials, including California congressman Brad Sherman (D-Porter Ranch), have argued that Comey's testimony provided sufficient grounds to begin impeachment proceedings against Trump. The Times editorial board argued instead for moving slowly and carefully, noting that Robert Mueller's Justice Department investigation into alleged Russian interference in last year's presidential election is still ongoing. While Trump may have entered the "zone" of impeachment, it is not yet time to move forward.
Interestingly, the board preached similar caution 44 years ago when it considered whether Nixon should be impeached. It took The Times nearly two years after the Watergate break-in before it finally concluded that impeachment was necessary.
Unlike Trump, Nixon had received the endorsement of The Times. Indeed, the paper had long supported Nixon during his rise through California and national politics. Nevertheless, on Nov. 2, just days before the 1972 election, the Editorial Board urged Nixon to come clean about the burglary and its aftermath.
Despite such concerns, Nixon was reelected in a landslide. But it took only a few months before his remaining credibility began to crumble, as White House aides G. Gordon Liddy and James W. McCord Jr. were convicted of conspiracy, wiretapping and burglary in connection with Watergate on Jan. 30, 1973.
The Times continued to urge temperance. On April 27, Times editorial writer Ernest Conine argued in a column that an impeachment trial would distract Congress from important matters of governing, such as the "crying need for national health insurance."
Conine worried about what Henry Kissinger had adroitly called an "orgy of recrimination." And a month later, on May 27, Yale historian Gaddis Smith wrote an Opinion piece for The Times titled, "Impeaching a President: What Does It Take?" reminding readers to remember how the Founding Fathers viewed impeachment.
On July 13, Alexander Butterfield, a former White House secretary, revealed in congressional testimony that Nixon had taped all of his own conversations. When special prosecutor Archibald Cox subpoenaed the tapes, Nixon fired him. Cox's dismissal on Oct. 20, 1973 became known as the "Saturday Night Massacre" as Atty. Gen. Elliot Richardson and Deputy Atty. Gen. William D. Ruckelshaus also resigned.
The following Monday, the board wrote this response to the "Saturday Night Massacre."
A week after the so-called "unnecessary crisis," an NBC news poll showed that, for the first time, a plurality of citizens supported impeaching Nixon, with 44% in favor and 42% against. In the days that followed, multiple members of Congress introduced articles of impeachment against Nixon.
It would take the Times six more months to come out in favor of impeachment. It waited until the White House turned over edited transcripts of the tapes that Alexander Butterfield had revealed. On May 10, 1974, just one day after the House Judiciary Committee began impeachment hearings, The Times wrote the following editorial:
On July 27, 1974, the House Judiciary Committee voted to impeach Nixon by a vote of 27-11, with six Republicans joining. Before the full House had a chance to vote on it, Nixon resigned on Aug. 8.
Despite the popular comparisons to Nixon, no Trump aides have been caught red-handed in a similarly clear act of criminality. Those who see echoes of Nixon in Trump should remember that, if history is any guide, finding sufficient grounds to impeach a president doesn't happen overnight.
Follow the Opinion section on Twitter @latimesopinion or Facebook
---