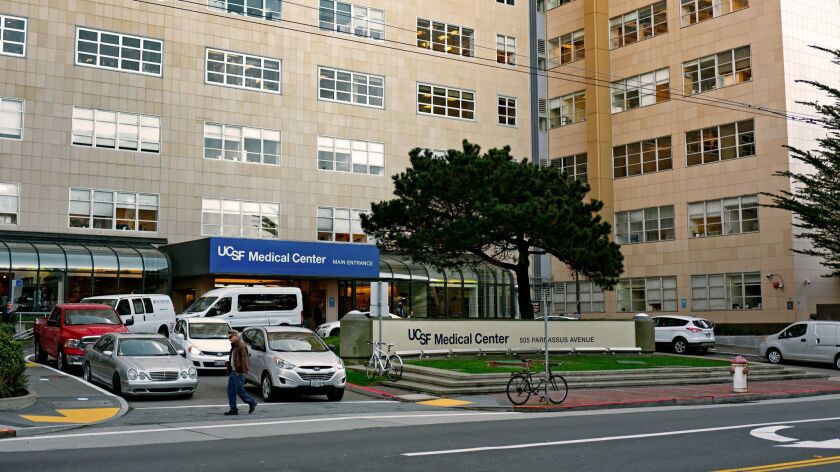 To the editor: UC San Francisco should not partner with Catholic hospital chain Dignity Health.
Columnist Michael Hiltzik mentions that Dignity Health facilities don't offer some crucially important medical services to women and the LGBTQ community.
On March 15, my 83-year-old husband, a retired professor at the University of Redlands, was able to take advantage of the California End of Life Option Act. After a biopsy on Jan. 30 showed a glioblastoma brain tumor, all he ever said to a consulting oncologist was, "I want to die as soon as possible."
Had he been treated at a Dignity Health hospital, he may have had to endure an undignified end.
As Hiltzik emphasizes, science and some religions' version of God don't mix. Patients at Dignity Health hospitals cannot preserve their autonomy and control at the end of their lives if they choose to do so.
Jane Roberts, Redlands
..
To the editor: Hiltzik is spot on.
The University of California Board of Regents works on behalf of a taxpayer-supported institution. Thus, any partnership between UCSF and Dignity Health, a Catholic hospital chain that does not offer abortion or certain treatments that people from the LGBTQ community need, should not be allowed.
Seemingly, this a classic breaching of the doctrine of "separation of church and state," embodied in the 1st Amendment of our U.S. Constitution.
Perhaps it's time that the regents enhance their higher education with a course in Political Science 101.
Bob Teigan, Santa Susana
Follow the Opinion section on Twitter @latimesopinion and Facebook.
---