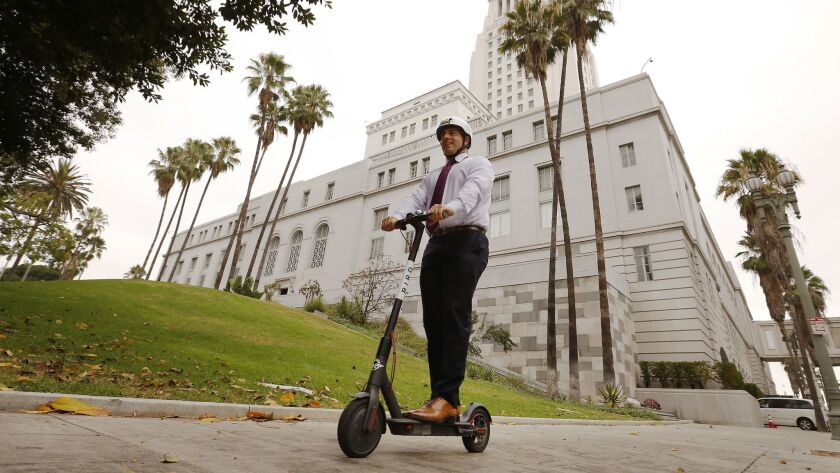 To the editor: While he is quoted as admonishing scooter riders, "Don't ride on the sidewalk," Los Angeles City Councilman Joe Buscaino is pictured actually riding a scooter on a sidewalk next to City Hall.
The city's new regulations for motorized scooters and dockless bikes don't go far enough. Why not require the scooter companies to police their own riders with safety patrols that can disable violators' scooters?
As someone who was nearly run down by a scooter in a pedestrian crosswalk, I would like to see policy solutions as creative as the companies that deposited the scooters all over our public sidewalks. Simply posting rules on their apps and scooters that not even a councilman can be pictured observing is not enough.
Requiring taxpayers to shoulder some of the burden of policing this menace does not cover the true cost of these scooters and bikes. Requiring the companies to pay for safety patrols does.
Bernie Resser, Pacific Palisades
..
To the editor: Here's a quiz.
What's the difference between homeless folks sleeping on public sidewalks and scooters occupying public sidewalks? There is no difference — well, except that the scooters are using public space to generate revenue for private companies.
Bryan Baker, Apple Valley
Follow the Opinion section on Twitter @latimesopinion and Facebook
---