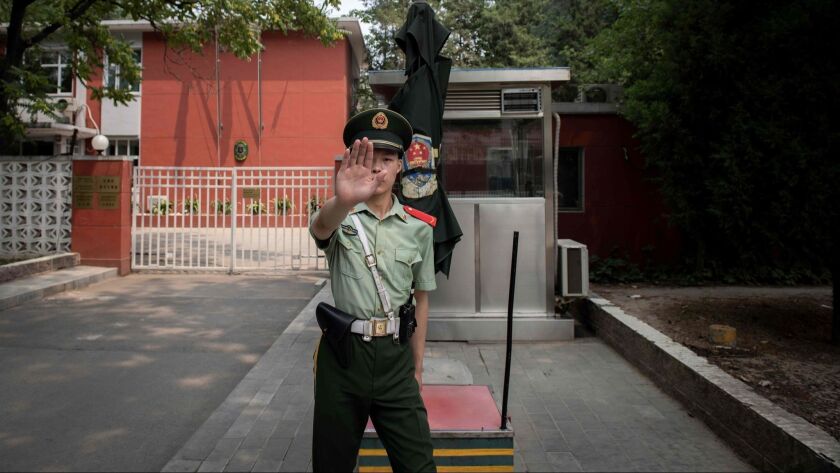 To the editor: Jonah Goldberg rightly points out that President Trump and his administration, as well as most politicians of both major political parties, do not focus enough on the brutal attempts of the government of the People's Republic of China to suppress the Muslim minority Uighur people of Xinjiang. As he says, "the Chinese are pursuing the largest attempt at cultural annihilation of the 21st century." Goldberg's observations show but a narrow view of the modern Chinese government's regional oppression.
Decades ago, elements of the Red Chinese army marched into Tibet and began their systematic coercive attempts to eradicate Tibet's ancient Buddhist culture, which continue to this day. The exemplar of the surviving culture in exile is the Dalai Lama, the Tibetan Buddhist religious leader widely known for his efforts to promote peace throughout the world. Goldberg opines about the "moral" laxity of politicians who charge China with economic crimes while ignoring its government's cruel efforts to imprison dissenters. But Goldberg would do more service to readers to encompass more countries and regions where human oppression is pronounced, and not just by China.
The immigration humanitarian crisis at our own country's southern border is a manifestation of this. The current phenomena of "economic nationalism" that Goldberg attempts to elucidate does not adequately explain away the terrible examples of cruelty and violence exhibited by one group of people toward another. We would be more wise to look within ourselves for the roots of these most human traits.
Chuck Hackwith, San Clemente
Follow the Opinion section on Twitter @latimesopinion and Facebook
---