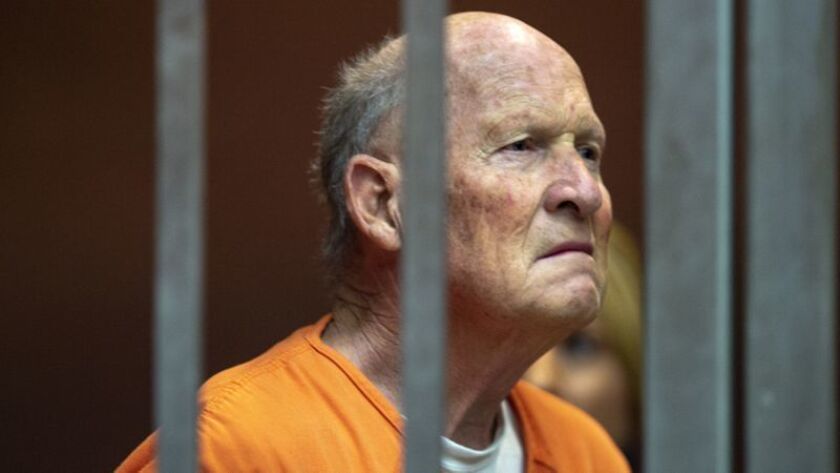 To the editor: George Skelton's consternation over the impact of Gov. Gavin Newsom's death penalty moratorium on the fate of the alleged Golden State Killer is misguided.
The death penalty is not ultimately subject to the "will of the people," but to the Constitution. Given the constraints of the 8th and 14th Amendments, I cannot imagine a scenario in which a 73-year-old defendant would ever be executed if convicted, regardless of the governor's moratorium.
The four district attorneys who voted to seek the death penalty know that this defendant will never be executed. They also should know that it is a prosecutor's duty to seek sentences that can actually be carried out.
A death sentence does not satisfy the community's legitimate demand for justice, but it does make a flashy political point for a campaign advertisement. By seeking an absurd and impossible death sentence, these district attorneys seek to use the victims' justifiable grief and sorrow as a means to serve their own political ends.
The governor has nothing to do with it.
Charles Kohorst, Glendora
..
To the editor: Skelton hit the nail on the head regarding Newsom's death penalty moratorium.
As the father of a murder victim whose killer is currently on death row, I find it appalling that the governor effectively overruled the juries, the judges, the appellate courts, the California Supreme Court and the voters just to appease his conscience. The governor's decision restarted nightmares for many victims' families.
Shame on you, Gov. Newsom, and thank you, Mr. Skelton.
Steve Herr, Anaheim
Follow the Opinion section on Twitter @latimesopinion and Facebook
---