Readers React: We need more jurists like Judge Aaron Persky who are willing to make unpopular decisions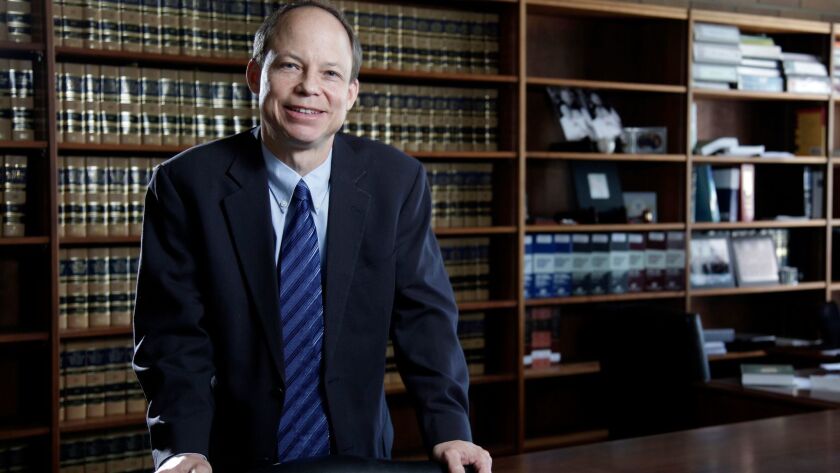 To the editor: Robin Abcarian writes that recalling Judge Aaron Persky of the Santa Clara County Superior Court "will send a powerful message that the abuse of women — by men or by courts — will no longer be tolerated by Californians." Abcarian misses the mark. ("The judge who gave a light sexual assault sentence to a Stanford swimmer now faces a reckoning with voters," Jan. 26)
Judge Persky's sentence in the case of a defendant convicted of sexual assault was entirely lawful. He sentenced Brock Turner in accordance with applicable statutes and in line with the California Department of Probation's recommendation. If people are unhappy with the sentence, the Legislature is the appropriate body to make change.
In addition, Judge Persky had particular insights into the evidence of the case since he presided over the trial. He used his best judgment in handing down the sentence, which is what judges are supposed to do.
Although the sentence Judge Persky imposed is unpopular, that is no reason to recall him. In fact, we need more judges who are brave and follow the rule of law rather than the court of public opinion.
Melissa Weinberger, Los Angeles
The writer is a criminal defense attorney.
..
To the editor: The Stanford law professor pushing the recall effort is not qualified to offer any opinion on Persky.
Michele Dauber is not a practicing lawyer. I did a search. She is not part of the California Bar Assn. and has not ever picked a jury or argued a probation report.
I tried a case with Persky when I lived in San Jose. My client was convicted, and Persky gave a fair sentence.
Leonard Craven, Indio
Follow the Opinion section on Twitter @latimesopinion and Facebook
---
A cure for the common opinion
Get thought-provoking perspectives with our weekly newsletter.
You may occasionally receive promotional content from the Los Angeles Times.