Readers React: Reader reviews for the updated LACMA are in: 'Really just an eyesore,' 'a travesty'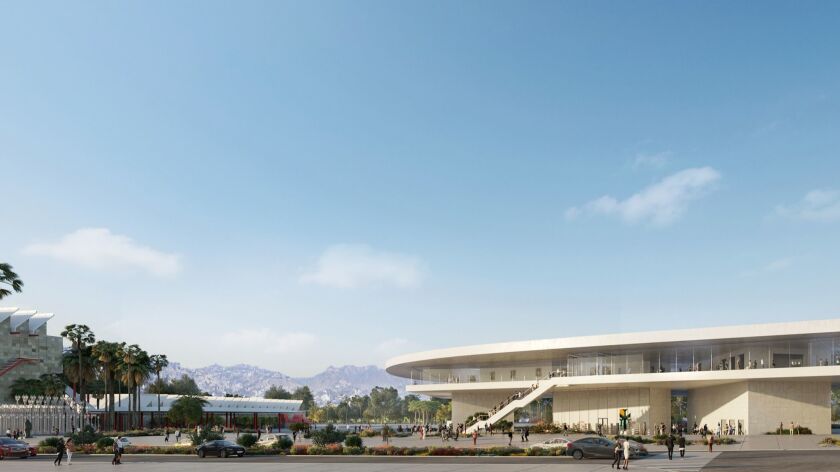 Art and culture arguably touch people's lives more frequently, and in ways both obvious and inconspicuous, than politics. And yet, on the L.A. Times' letters page, you'll find far more discussion on the latter than the former (in no small part because the part of the newspaper that covers art and culture has its own letters section).
Since last week, however, more than three dozen readers have sent us letters about the updated plans for the new Los Angeles County Museum of Art in Miracle Mile, and all but one expressed disapproval of the smaller, single-story structure cantilevered over Wilshire Boulevard.
The renderings over the years of an updated LACMA — originally proposed as a sprawling ink-blot-shaped structure, an homage to the adjacent La Brea tar pits — have polarized our readers since they were first unveiled in 2013. The latest drawings of a shrunken, boomerang-shaped museum have resolved that polarization, but not in LACMA's favor.
Bonnie Voland of Los Angeles wants the County Board of Supervisors to take action:
I've been a LACMA member since I moved to Los Angeles more than 30 years ago. Our museum has only a few rivals in the breadth and depth of its collection. Even when I was struggling financially, I kept up my membership.
So I am very distressed by LACMA's plans to destroy the current campus and put up a building that will substantially reduce the gallery space. The only way this horrible plan can be stopped is if the Los Angeles County Board of Supervisors votes it down.
To cut both the gallery space and replace the current Bing Auditorium with a hall that will have substantially fewer seats is a travesty and a serious misuse of taxpayer money.
San Marino resident Richard Keating doesn't want a building hanging over Wilshire:
Buildings that hang over public streets with an extensive underside never produce a positive experience. The new LACMA structure will be very similar to the California Plaza extension over Olive Street in downtown L.A.
A bridge is one thing, but a building presents serious issues having to do with brightness and darkness for the motorists and pedestrians below. Most people who walk or drive on Wilshire will not visit the museum, but they will be subjected to this affront to their quality of life daily.
Jeff Gordon of Los Angeles wasn't the only reader to liken the new LACMA to a motel:
After seeing the proposed new design for the remodeled LACMA, I was incredibly disappointed and rather shocked. The new structure looks like a motel that you'd find somewhere on Sunset Boulevard in the 1950s or '60s.
Perhaps more attention should be paid to the design of the interior and to increasing the amount of available exhibition space. The building's exterior should be attractive and modern, but it should allow for a larger exhibition space than what currently exists.
The proposed design is just really an eyesore and is really below the quality and appearance that this city deserves.
Follow the Opinion section on Twitter @latimesopinion and Facebook
---
A cure for the common opinion
Get thought-provoking perspectives with our weekly newsletter.
You may occasionally receive promotional content from the Los Angeles Times.