Readers React: Usually reluctant to criticize police, readers want change after the Trader Joe's tragedy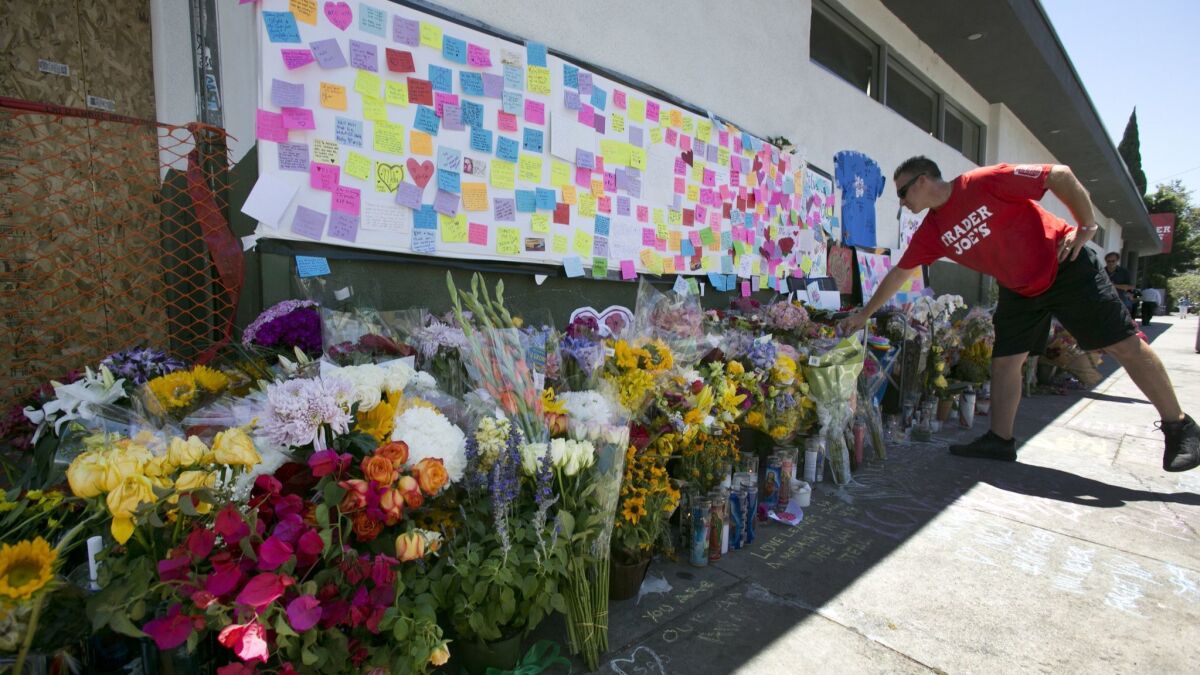 Police shootings tend not to prompt more than a handful of readers to write letters to the editor, even when they are the subject of multiple articles in the Los Angeles Times. Perhaps it's because such incidents are common enough to ignore, or readers tend to withhold their immediate reaction to the conduct of police officers.
The letters on the car chase and firefight on July 21 at the Silver Lake Trader Joe's do not fit this pattern. In fact, most of the readers who wrote to us expressed serious concerns about Los Angeles Police Department officers firing at the fleeing suspect as he entered the Trader Joe's; store manager Melyda Corado was killed by a police bullet in the crossfire.
We've already published a few letters on the tragedy, including the only one defending the LAPD that we had received by the time of publication. Here are a few more reactions, including one that gives police the benefit of the doubt.
Norah Cunningham of Pacoima praises the Silver Lake community:
I heard reports on television that the hysterical and wounded suspect was calmed down by the people in the Trader Joe's, who treated him with empathy. An interview with a relative revealed that the shooter had been hospitalized for mental problems several times when he was younger.
Silver Lake is known as a bastion of "liberal" values like support for immigrants, nonviolent child-rearing and restorative justice. When the shooter gave his gun to a hostage and surrendered to police, I was amazed there were no additional shootings. When it was later reported that a Trader Joe's manager had been killed, I initially suspected a bullet fired by an officer had struck her.
Incidents like these happen all the time, all over our country. I know there are many solutions.
Listening to the police, I can't stop thinking of the old Vietnam War line: In order to save the village, we had to destroy it.
— Maureen Milliken, Belgrade Lakes, Maine
Michael H. Miller of Los Angeles urges public patience:
With officer training and experience in mind, we must view the situation in the context of what can happen during the heat of the moment. This may reveal significant problems, or it may not. What might look bad from a Monday morning quarterback point of view does not always reflect reality.
The LAPD may learn some lessons from what transpired, or it may not because of all the circumstances of a high-pressure, dangerous and urgent situation.
Los Angeles resident Tiemo Mehner suggests an alternative to police pursuits:
Another police chase ended tragically, this one with the avoidable death of Melyda Corado. There is a very simple way to avoid those deaths entirely by simply abandoning the chase.
This should be the default practice anywhere, especially in an era when license plate scanning and other surveillance can find any car in Los Angeles quickly. Yes, abandoning a chase may result in a bad guy with or without a gun getting away briefly, but that's nothing that good police work couldn't fix.
Maureen Milliken of Belgrade Lakes, Maine, believes the LAPD failed to protect:
While I understand police have fractions of a second to make a decision, it seems like all they accomplished here was putting more bullets in the air. It's hard to understand how anyone was made safer, and now someone's dead for no reason.
Listening to the police, I can't stop thinking of the old Vietnam War line: In order to save the village, we had to destroy it.
---
Life is stressful. Our weekly mental wellness newsletter can help.
You may occasionally receive promotional content from the Los Angeles Times.