Readers React: A federal judge's anti-Obamacare ruling is a major gift to Democrats for 2020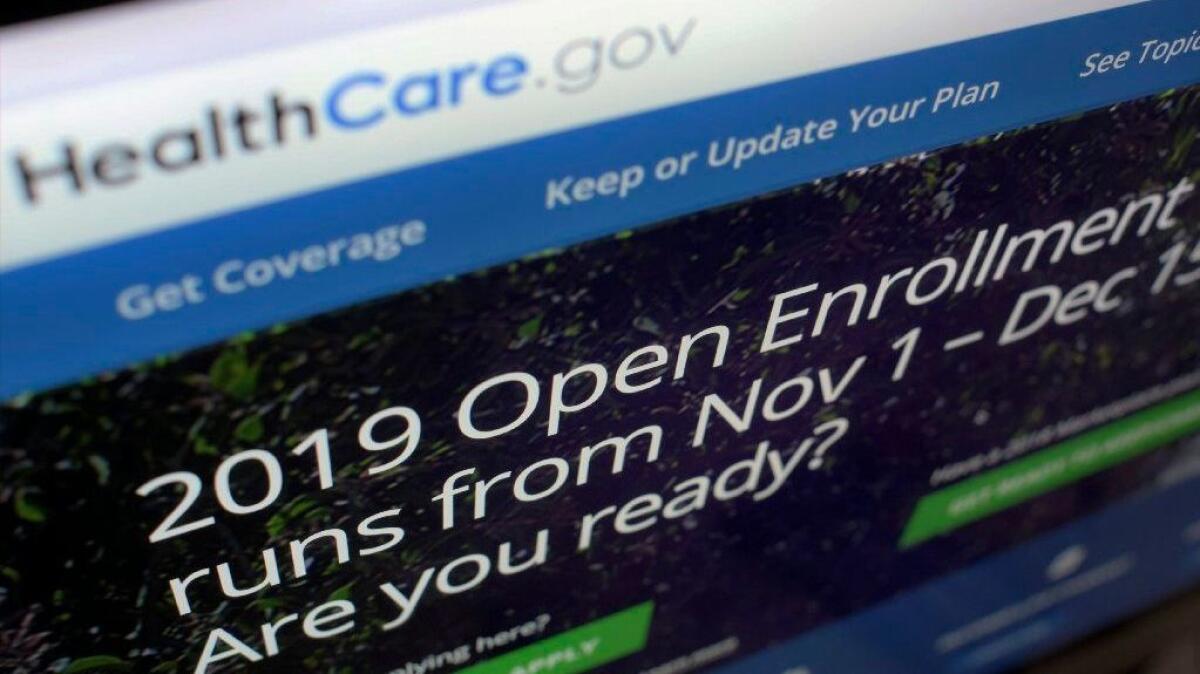 To the editor: It's rare to find a move as politically cruel and stupid as the lawsuit by Republican state attorneys general and governors to overturn the Affordable Care Act, also known as Obamacare.
Now that a federal district judge in Texas has found the entirety of Obamacare unconstitutional, millions of those Republican officials' constituents could lose access to affordable healthcare. They may also lose protections such as no denial of coverage for preexisting conditions.
Despite this, and despite having no plan to replace Obamacare, President Trump called this ruling a "big victory." Given the widespread devastation that this decision may cause, the only likely winners will be those political operatives who have been handed a gigantic cudgel with which to repeatedly bludgeon the GOP as the 2020 election approaches.
I'm no political strategist, but I'm guessing that ripping away Obamacare's protections from millions of voters will not make for an effective GOP rallying cry in 2020.
Matthew Singerman, Newbury Park
..
To the editor: You decry the Obamacare ruling only because you disagree with its political result.
Why not compare it to the right to an abortion, something that the Supreme Court found in the Constitution, thereby overturning laws passed by the states? Or what about the ability to marry a person of the same gender, another court-divined constitutional right that overturned local laws?
Senators now fight over Supreme Court appointments to protect previous decisions they would fail to duplicate with a law. Indeed, it's quite strange to find a right that is not enumerated in the Constitution.
Douglas M. Chapman, Santa Ana
..
To the editor: The federal district judge's decision is reckless. Although the Affordable Care Act's individual mandate tax penalty was previously repealed, the healthcare law's remaining components must be upheld because the law is critical to the success of California's small businesses.
The law has provided quality, affordable health coverage to California small firms and entrepreneurs that once struggled to access insurance. In fact, about 370,000 self-employed entrepreneurs in California purchased their health insurance through the state insurance marketplace, and more than half of all marketplace enrollees nationwide are small-business owners, self-employed individuals or small-business employees.
Ending the Affordable Care Act would be a disaster for California's entrepreneurs: It would cause a rapid rise in healthcare costs and create substantial economic instability. For the good of California's job creators, this decision must be overturned and the constitutionality of the law must be upheld.
Xiomara Peña, Sherman Oaks
The writer is the Small Business Majority's deputy director for California.
Follow the Opinion section on Twitter @latimesopinion and Facebook
A cure for the common opinion
Get thought-provoking perspectives with our weekly newsletter.
You may occasionally receive promotional content from the Los Angeles Times.