Readers React: Yes, osteopaths are doctors — Larry Nassar just happened to be a manipulative, amoral one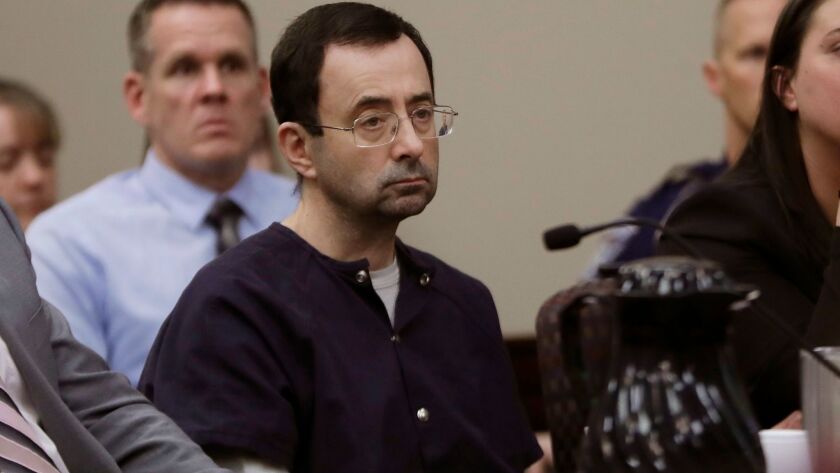 To the editor: Virginia Heffernan writes that Larry Nassar received a doctorate in osteopathic medicine and "passed as a doctor." ("Dr. Larry Nassar was not a doctor," Opinion, Jan. 26)
Doctors of osteopathy (DO) take the Medical College Admissions Test, the same entrance exam that is used to admit students into Stanford or UC San Francisco, among other schools. They take the same medical courses that are offered at these prestigious colleges, with one exception: We have an additional 500 hours of musculoskeletal manipulative training, including extensive education on anatomy and physiology.
Osteopaths also take the same medical board exams that are required of MD physicians. Osteopathic physicians are able to become primary-care doctors, surgeons, psychiatrists or specialists in any other field available to MDs.
As a board-certified physician as well an osteopathic physician who practices osteopathic manipulative medicine, I am horrified by Larry Nassar's use of his station to abuse children; he has been rightfully charged and sentenced. However, Nassar was in fact a doctor — just one who lacked morals, good judgment and character.
Anna Ekstrom, DO, Clovis, Calif.
..
To the editor: Thanks to Heffernan for stating the truth: Nassar was not an MD, he was a DO.
Osteopathy and chiropractic are two so-called healing practices that are completely unsupported by any medical science. The treatments may feel good, but they don't do any good.
At least osteopathy also now incorporates traditional medicine, whereas many chiropractors still claim to be able to treat anemia or asthma by spinal manipulation, without any scientific evidence.
In the 19th century, osteopathic massage therapy and chiropractic manipulation may have been safer than traditional medical treatments, but that is obviously no longer true. Now these remnants of a pre-scientific past remain in society as "alternative medicine," having used political manipulations to gain insurance coverage and, in the case of Michigan State University, a state-funded osteopathic medical school.
And the gymnasts have paid the price.
Daniel Fink, MD, Beverly Hills
..
To the editor: The American Osteopathic Assn. (AOA) released a statement calling Heffernan's piece a "cheap, defamatory article" and an "attack on the integrity of our profession."
Indeed, osteopathic medicine is still used as an important piece of diagnosis and treatment of patients, and research has shown it to be useful in a variety of conditions, including low-back pain and Parkinson's disease.
However, I believe the AOA missed the major point of Heffernan's article: that Nassar used osteopathy to protect himself, and people believed him because he was a doctor. There were clear signs, such as the lack of documentation of his "procedures," that should have been red flags for administrators and law enforcement when the first allegations of sexual misconduct were reported years ago.
Daniel Kersten, Huntington, N.Y.
Follow the Opinion section on Twitter @latimesopinion and Facebook
---
A cure for the common opinion
Get thought-provoking perspectives with our weekly newsletter.
You may occasionally receive promotional content from the Los Angeles Times.