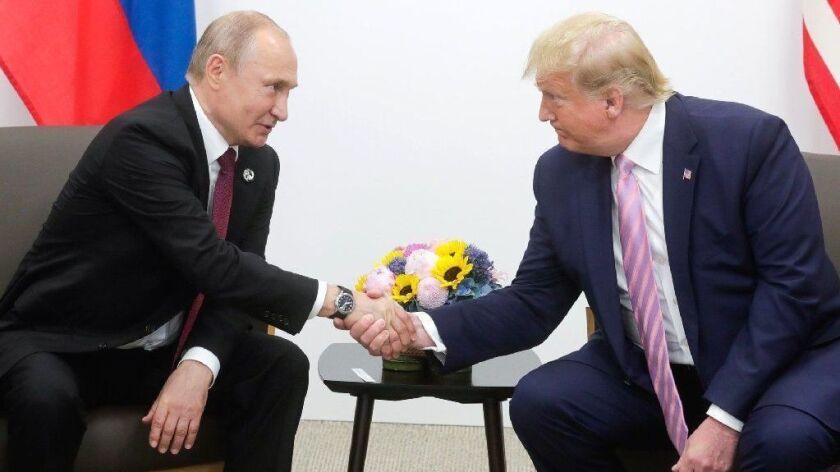 To the editor: The great tragedy of this country is that just when we really needed another Ronald Reagan, we got Donald Trump. ("'Don't meddle in the election,' Trump tells Putin with a smile," June 28)
President Trump's deep ignorance is particularly showcased in his chummy behavior toward autocrats such as Russian President Vladimir Putin who hate the United States but have earned Trump's respect, apparently because of the simple fact of their autocratic power, which Trump seems to admire.
You can say what you want about Reagan, but he wasn't the dummy Democrats made him out to be. This doesn't seem to be the case with Trump.
Patrick M. Dempsey, Granada Hills
..
To the editor: Apparently our president and his secretary of State, who laughed at Trump's halfhearted admonition of Putin, think Russia's meddling in our election is a big joke.
As Trump brands the Democrats as "socialists," he embraces the Russian method of dealing with journalists: Get rid of them. The bedrock principle of any dictatorship is to silence the media.
Does the president not realize that by embracing an ex-KGB officer, he is in effect casting his vote for socialism on steroids? If we give this guy another four years in office, the joke will be on us, and it won't be funny.
Alvin S. Tobias, Torrance
..
To the editor: Again, Trump accuses the media of putting out fake news.
For once I agree with Trump, but only because by covering almost all of the president's lies, the media are in fact repeating fake news. The bigger the lie, the more coverage Trump gets, and the president loves seeing himself on TV. Will it ever stop?
The media would do the public a great service by, just for one day, refusing to cover one word Trump utters or tweets.
Theodore Ury, San Juan Capistrano
Follow the Opinion section on Twitter @latimesopinion and Facebook
---