Readers React: A rape survivor's courage helps guide the way toward full equality and respect for women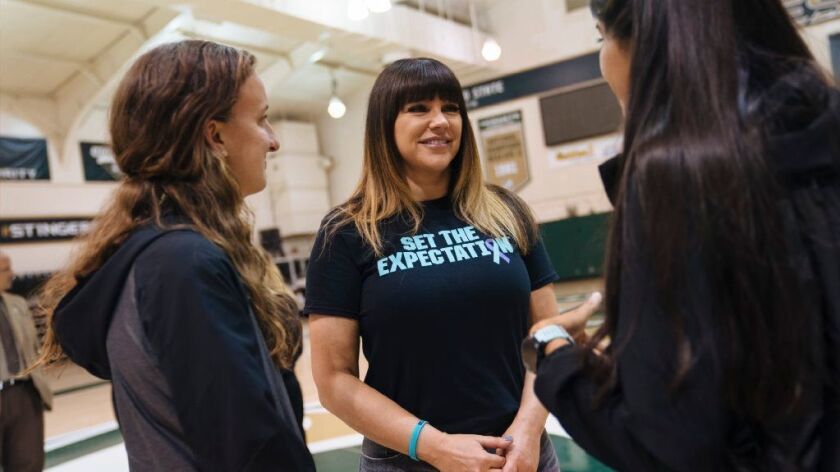 To the editor: Brenda Tracy is an amazing and strong woman, motivated to share her story with college athletes by the sense of enduring pain from the horrific sexual attack perpetrated against her more than 20 years ago.
There are so many other stories that could be told, but not all victims have the special mindset and guts to do what she has been doing.
I used to think it was mostly Mother Nature's fault, giving males all that testosterone and physical strength so they could reproduce and therefore keep the species alive. But I realize now it is far more than that. This goes beyond the #MeToo movement — it is the continuing evolution of females into the culture, demanding their rights and societal acceptance at a level equal to men.
Kudos to Tracy and those like her who bravely lead the way.
Bette Mason, Corona del Mar
..
To the editor: Thank you for reporting Tracy's story on the front page. I cried as soon as I started reading it and never stopped. What a brave young woman she is to share her awful story in an effort to educate others.
How sad that our judges and legislators are largely older white men who in their youth may have committed something that was passed off as merely harassment. Rape is a horrible crime that never leaves its victim, while the perpetrator often walks away unpunished.
Mike Riley, the Oregon State football coach who after Tracy's rape defended the players arrested in connection with the assault, should have known better. That he came to "understand" the gravity of the offense years later does not absolve him of moral guilt.
Maybe at this time of the #MeToo movement, parents will raise their sons with self-respect and empathy. Where were the mothers and fathers of these young men?
Sandra Ackerman, Capistrano Beach
Follow the Opinion section on Twitter @latimesopinion and Facebook
---
A cure for the common opinion
Get thought-provoking perspectives with our weekly newsletter.
You may occasionally receive promotional content from the Los Angeles Times.