Readers React: With Rupert Murdoch exiting Hollywood, a look at the damage his businesses have done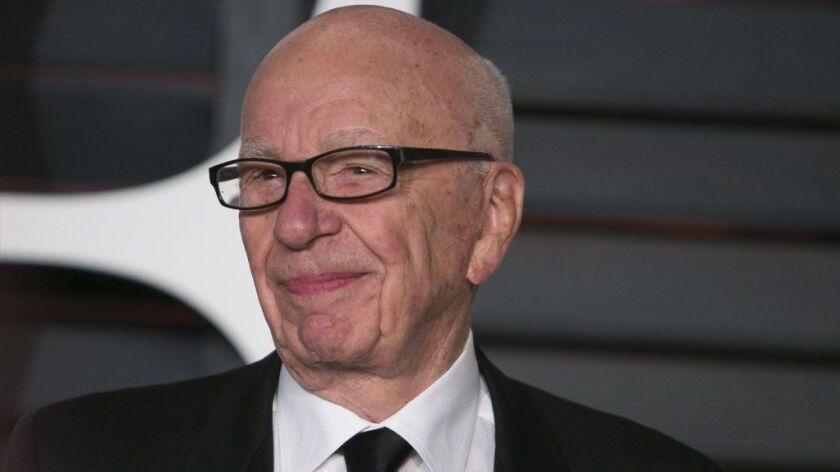 To the editor: Rupurt Murdoch is "dismantling his trailblazing empire" after attacking and dismantling ours. ("Rupert Murdoch, scrappy Fox mogul who transformed media, begins his Hollywood goodbye," March 17)
He is an Australian immigrant who made his fortune in part by broadcasting right-wing bigotry that demonized immigrants, misinformed an electorate in order to build a blindly loyal media cult, poisoned civic debate with propaganda, helped elect a malevolent man president, and sent our democratic institutions into a tailspin, all to make a buck.
I don't like what Australia has been exporting.
Elle Kranen, Carlsbad
..
To the editor: Murdoch can't say goodbye after the breakup of a 21st Century Fox empire fast enough, as far as I'm concerned. He may have built up value in his many companies, but what he doesn't have is "values."
The creation of Fox News has been the biggest disruptor of democracy in my lifetime. Talk about fake news — calling that organization fair and balanced was the biggest lie ever perpetuated in the news industry.
One can trace the hideous partisan divide in this country directly to the rise and influence of this dangerous behemoth.
Peggy Jo Abraham, Santa Monica
..
To the editor: Murdoch may well deserve his reputation as a ruthless oligarch, but I well remember his writing and hiring me as an Illinois journalism grad in 1968 to be a reporter in Sydney at one of his papers, changing my life forever.
Would many executives even bother replying to a 21-year-old on the other side of the world?
Kurt Sipolski, Palm Desert
Follow the Opinion section on Twitter @latimesopinion and Facebook.
---
A cure for the common opinion
Get thought-provoking perspectives with our weekly newsletter.
You may occasionally receive promotional content from the Los Angeles Times.