Readers React: Building more luxury apartments near transit will only worsen L.A.'s housing crisis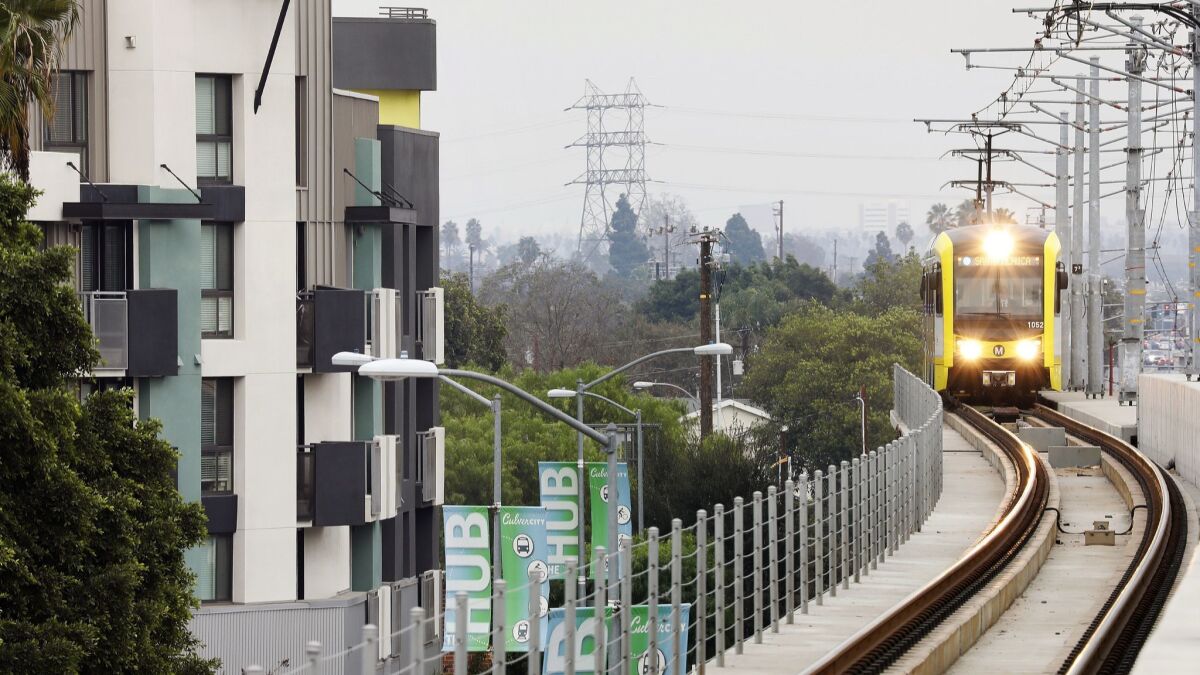 To the editor: Mark Vallianatos is right in saying that single-family-only rules carry a racist legacy. But he uses that fact to imply that SB 827 is, therefore, the solution to a housing crisis that disproportionately affects people of color. It isn't. ("L.A.'s land use rules were born out of racism and segregation. They're not worth fighting for," Opinion, April 2)
By restricting new development rules to areas around public transit, the bill would allow wealthier, whiter areas of Los Angeles that have rejected public transit to retain their strict zoning laws. That does nothing to solve the issues of segregation and unfair housing policies.
Neighborhoods around public transit should absolutely be opened up to more affordable housing, but SB 827 fails to specify that the new housing must be affordable. Even if a percentage of the new apartments had to be offered below market rates, the presence of new luxury apartment buildings often raises rents on surrounding older buildings, since those new developments signal gentrification.
Los Angeles should focus on building affordable housing and projects that house and support homeless people. If the writers of SB 827 are indeed aiming to solve L.A.'s housing crisis, they must know that they can do better than loosening regulations and hoping that the market does the work for them.
Amy Clark, Los Angeles
..
To the editor: I appreciate Vallianatos' analysis that single-family dwellings favor whites, and that the practice of zoning in their favor has been yet another form of structural racism, creating a landscape so pleasant and nostalgia-filled that we easily ignore its insidiousness.
However, SB 827 makes sense for another, simpler reason: It would take a big bite out of our mega-McMansion problem.
We all know that developers want to make money. I own a modest piece of property within one mile of a rapid transit stop, on which one family dwells. Easily, under SB 827, a dozen could occupy that same space. No matter how fancy a McMansion might be, a developer can always make a lot more money off many dwellings than off one.
Under SB 827, developers would jump at the chance to undertake such profitable projects. In this way, two problems addressed at once: Curb the one percent's appetite for unnecessary luxury, and house more people. What's not to like?
Karl Lisovsky, Venice
..
To the editor: I read SB 827. I found no exceptions to greater housing density where water mains, sewer lines and other utilities are insufficient for the proposed density. I could not find any allowance for expanding the capacity of impacted public schools or parks.
Without addressing the impacts of greater residential density, SB 827 seems to favor builders over residents.
David E. Ross, Oak Park
Follow the Opinion section on Twitter @latimesopinion and Facebook
Life is stressful. Our weekly mental wellness newsletter can help.
You may occasionally receive promotional content from the Los Angeles Times.