Opinion: Soaring trash bills are an example of how difficult L.A. has become for the middle class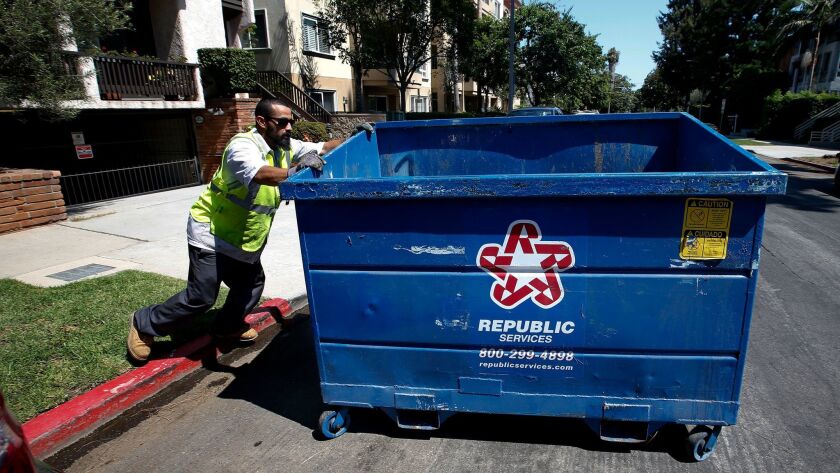 To the editor: I work as a property manager for homeowner associations and have seen how the city's new trash franchise system is hurting our communities. ("L.A.'s new recycling program has more than 28,000 complaints for missed trash pickup," Jan. 7)
This week, I received the monthly bill for one property; the new city-assigned trash hauler is charging $2,599, up from the $414 the owners had been paying. This means each owner will pay $900 more per year. Every one of my properties has had a price increase, and quite a few now pay upward of twice what they paid before.
Los Angeles used to have more than 100 trash haulers working within it, but City Hall decided to make L.A. a franchise-exclusive zone for garbage service with seven haulers. The city signs off on the charges, and the trash haulers pay the city to be allowed to work within it.
City Hall is really making it harder for lower-income and the middle-class people to live in Los Angeles. I wonder if any of the City Council members who voted for this system live in an apartment or condominium complex that has been affected by these price increases.
Our properties are suffering. We literally cannot afford these higher prices. On top of that, the haulers don't even pick up recycling half the time.
David Carmona, Woodland Hills
..
To the editor: Thanks to the Los Angeles Times for its continuing coverage of the crisis created by the city's new trash collection system.
At our nine-unit building, we have experienced the same skipped pickups and delays. In exchange for this reduction in service, our monthly fee for trash service rose from $240.69 to $418.82. That's an annual $2,138 increase in one fell swoop.
How can this be legal, and what can we do about it?
Randy Henderson, Valley Village
..
To the editor: My building's recycling bins have been overflowing for weeks because of missed pickups. The worst part is that people keep adding to the blue bins even though it is obvious they are maxed out.
This has created a potential health problem. I recently told the building manager about this, and he said the problem was occurring at other properties owned by his company too.
But I am happy to report to the mayor that, for now at least, I fixed the problem: I just put all of our recyclable waste into the regular trash bin. Problem solved.
Gary Askenaizer, Sherman Oaks
Follow the Opinion section on Twitter @latimesopinion and Facebook
---
A cure for the common opinion
Get thought-provoking perspectives with our weekly newsletter.
You may occasionally receive promotional content from the Los Angeles Times.