Readers React: Trump is doing exactly the opposite of what someone innocent of collusion would do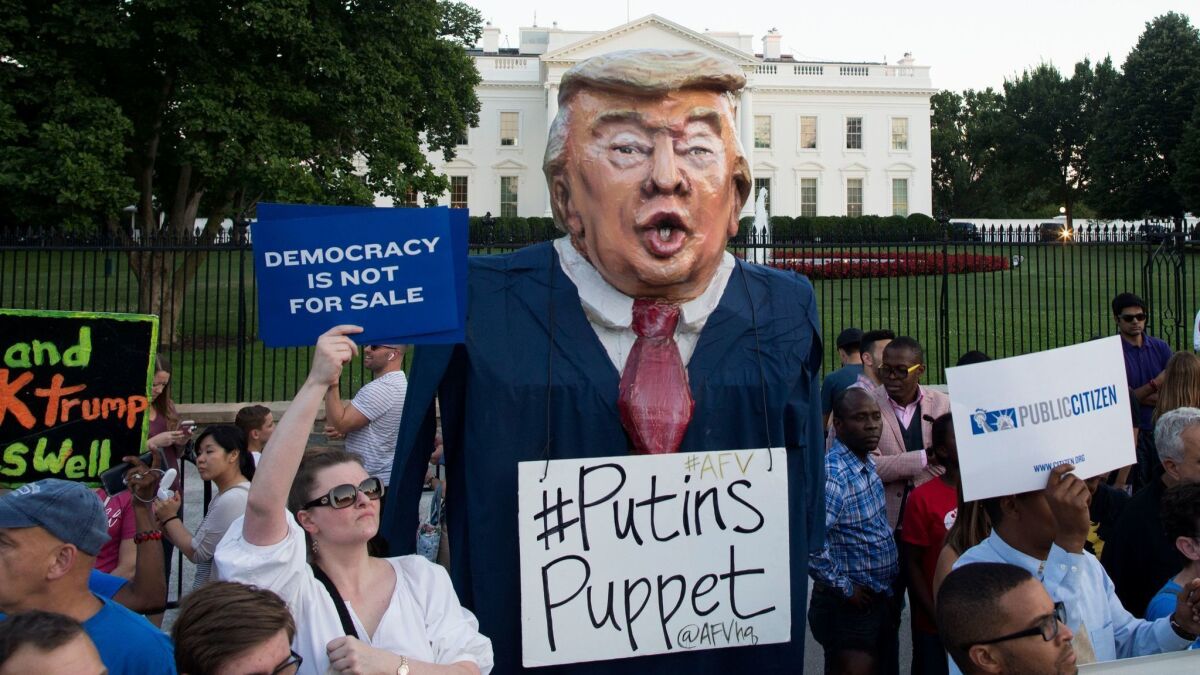 To the editor: Start with the assumption there was no collusion between the Russian government and President Trump's campaign. The president is shown evidence that Russia interfered in the election to help him. How would an innocent president react?
He must first wonder why the Russians would help him. Maybe they like the fact that he said he would try to improve relations. And it's well known that Russian President Vladimir Putin hates Hillary Clinton. So it would certainly be easy for the president to believe that Russia preferred him.
But now as president, Trump's words and acts must make clear he understands that Russia is our geopolitical foe. He must make it clear that he is not beholden to Russia now that it is evident to all that Putin's government tried to help him win.
Isn't that what any innocent person would do?
John Harduvel, Huntington Beach
..
To the editor: When Trump dubbed as "fake news" a story in a British newspaper in which he reportedly attacked British Prime Minister Theresa May for her handling of "Brexit," he said: "Fortunately, we tend to record stories now, so we have it for your enjoyment if you'd like it, but we record when we deal with reporters."
In contrast, the president did not order the recording of a critical one-on-one verbal exchange with Putin, an individual who holds the power to do a great deal more harm than disseminate an unflattering story about our putative leader.
What's wrong with this picture?
Mark Steinberg, Los Angeles
..
To the editor: Because Trump lies about everything, the obvious conclusion to draw is that Russia is most definitely targeting the U.S. and the November midterm election.
Most of us have seen Trump for what he is — a self-serving tool of the Russian government — since before he was elected. The GOP seems to be fine with this, but the rest of us must do everything we can to ensure the credibility of our electoral process.
The fate of our democracy hangs in the balance.
Nick Duretta, Pasadena
..
To the editor: The Helsinki summit between Russia and the United States has raised serious questions. Quite different viewpoints have emerged from the many words spoken before and after the meeting's conclusion.
For clarification, the basic question we all should be asking is, "Who are you going to believe, Trump or Trump?"
Dave Roelen, Torrance
Follow the Opinion section on Twitter @latimesopinion and Facebook
---
Life is stressful. Our weekly mental wellness newsletter can help.
You may occasionally receive promotional content from the Los Angeles Times.