Editorial: Death penalty's retreat is excruciatingly slow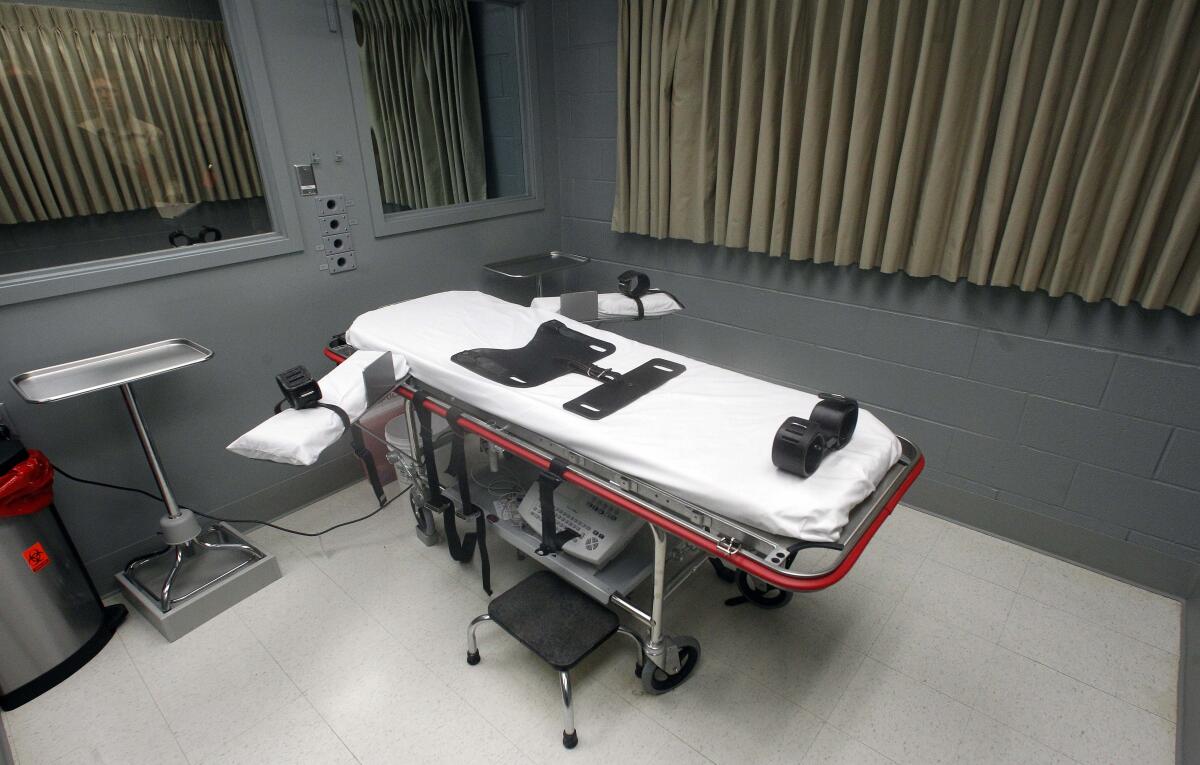 Former Nevada Gov. Steve Sisolak was right.
"The administration of the death penalty is not fair and not equitable and cannot be corrected," he said on Dec. 20, two weeks before the end of his term.
But his attempt to commute the sentences of everyone on his state's death row was too little, too late. A judge blocked the Board of Pardons from considering the proposal because victims' families had not been given sufficient time to weigh in. The man who defeated Sisolak in the November election, former Clark County Sheriff Joe Lombardo, is a death penalty supporter.
Gov. Kate Brown of Oregon was right too.
"I have long believed that justice is not advanced by taking a life, and the state should not be in the business of executing people — even if a terrible crime placed them in prison," Brown said on Dec. 14 as her term wound to its close. She commuted the sentences of her state's 17 death row inmates and ordered the lethal injection death chamber to be dismantled. Oregon already had a moratorium on executions.
Seeking to execute accused Buffalo mass killer Payton Gendron would be to answer moral repugnance with moral repugnance.
Brown's action marked the most expansive instance of death penalty clemency since Illinois Gov. George Ryan commuted the sentences of all of his state's 167 death row inmates in 2003. Arkansas Gov. Winthrop Rockefeller did the same in 1970 with his state's 15 death row inmates, and other governors in other states have periodically done something similar, in Colorado, Maryland, New Jersey, New Mexico and Ohio.
They knew it was the right thing to do, but they also knew it was politically risky in states in which the death penalty is legal and popular. Perhaps that's why governors often take such steps only after they reach the end of their tenure. Commutations are important statements against the death penalty's essential immorality and the racism, gruesome mechanics and costs inherent in carrying it out. But they are at most partial gestures, especially in states like Arkansas, where executions have resumed.
California Gov. Gavin Newsom, at the beginning rather than the end of his first term, imposed a moratorium on executions and ordered the dismantling of death chambers. But more than 700 Californians remain under sentence of death and could conceivably be executed one day, unless their sentences are commuted by the governor, and in some cases ratified by the state Supreme Court as required by state law for inmates with multiple convictions.
More than half the states still have the death penalty and a handful continue to carry it out with regularity. Missouri may kick off 2023 by executing Amber McLaughlin, even though the jury's death verdict was not unanimous.
A Kern County Superior Court judge last week ordered that a 68-year-old former farmworker, Vicente Benavides Figueroa, be released from San Quentin's death row after the local district attorney declared she would not retry him.
Yet as Sisolak, Brown and many others have noted, the death penalty is beyond redemption. It is unfair and unfixable, and it turns states into killers in the name of vengeance against killers. And it kills erratically, ending the lives not just of cold-blooded killers but of the mentally infirm and, potentially, the innocent. Seven Californians sentenced to death were later exonerated, according to the Death Penalty Information Center, as were nearly 200 others in Florida, Texas, Oklahoma and other states. More than half of the improperly sentenced people were Black.
Florida, unlike Missouri, now requires unanimous jury recommendations to impose the death penalty. That's why the killer of 14 students and three staff at Marjory Stoneman Douglas High School in Parkland was sentenced to 34 consecutive life terms in prison. Some courageous jurors — it may have been only one — rejected death. Despite the understandable anger of victims' families, the sentence of multiple lifetimes is, and should be, the ultimate punishment for such a horrendous crime. The state does not aid the victims by killing the killers.
Nor does the federal government. The confessed racist killer of 10 shoppers last year in Buffalo, N.Y., does not face death in state proceedings because New York's death penalty statute was ruled unconstitutional in 2004 and it has commuted all remaining death sentences and dismantled all execution equipment and facilities. But federal prosecutors, despite President Biden's call to end the death penalty, have not yet told the court whether they will seek death in this case.
So the uncivilized American institution that is the death penalty lingers, even as the number of death sentences handed down and executions imposed diminish. People are put to death, or not, based on the randomness of varying state laws and customs and the conscience of individual jurors and judges. And the courage, tardy and incomplete though it may be, of elected leaders.
A cure for the common opinion
Get thought-provoking perspectives with our weekly newsletter.
You may occasionally receive promotional content from the Los Angeles Times.