Editorial: Republicans' ominous strategy to thwart criminal justice reform — and democracy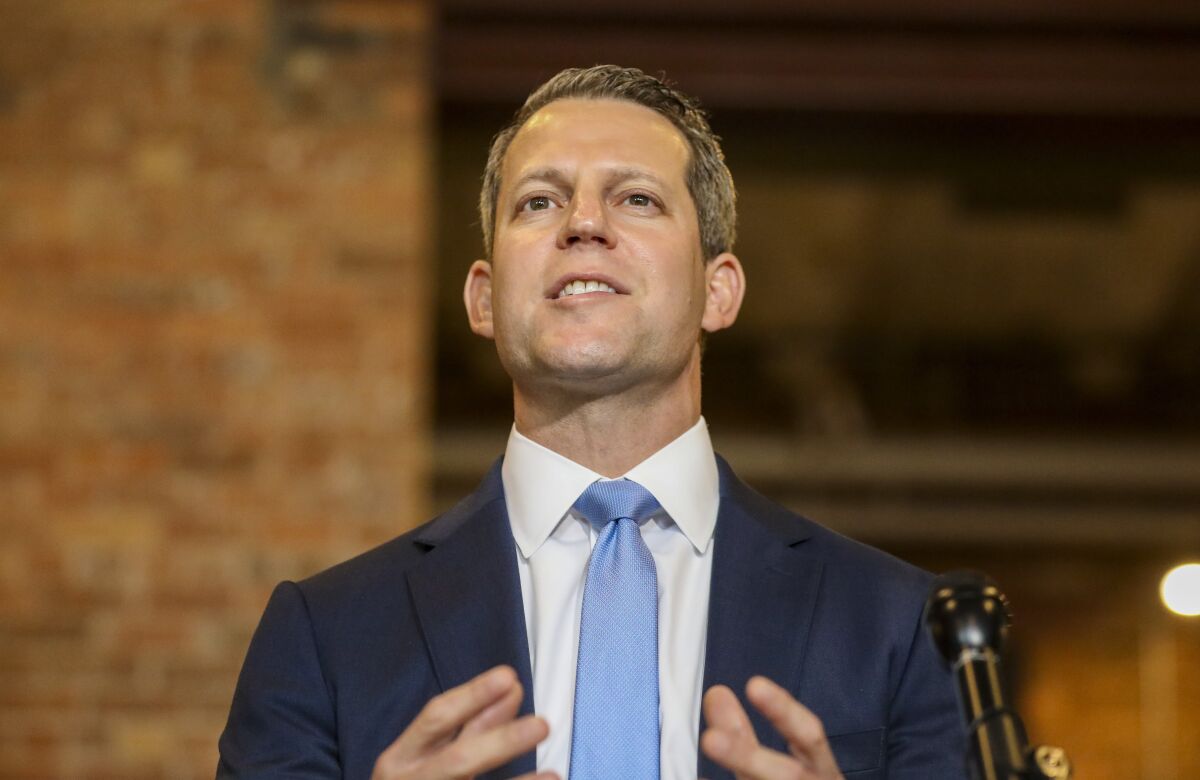 Criminal justice reformers are mistakenly finding comfort in a federal court ruling last month that took Florida Gov. Ron DeSantis to task for removing a twice-elected, reform-oriented county prosecutor from office.
U.S. District Judge Robert Hinkle said the Republican governor violated both the 1st Amendment and Florida law by ousting State Atty. Andrew Warren — a Democrat elected by voters in Tampa and the rest of Hillsborough County — for speaking out against Florida's 15-week abortion ban and proposed legislation to criminalize gender-affirming care.
But DeSantis' blatantly political and anti-democratic maneuver worked. Warren remains out of office. Voters in the historically Democratic county remain disenfranchised and are stuck with an unelected, tough-on-crime prosecutor chosen by DeSantis because, Hinkle said, there was nothing he could do to restore Warren to his office.
Reform prosecutors generally seek to divert lower-level defendants to treatment, and to reserve the harshest prosecution for the most dangerous crimes. Many reformers question the cozy relationship that more traditional prosecutors have with police, and the hands-off attitude they too often take in officer misconduct cases.
Opponents of progressive prosecutors are abusing governmental oversight powers to undermine voter decisions. But the innovative new breed of D.A.s is holding firm.
In Shelby County, Tenn., for example, recently elected reform District Atty. Steve Mulroy quickly filed felony charges against the Memphis officers caught on video beating motorist Tyre Nichols to death.
Reform prosecutors come from both major parties. But most, like Mulroy, are Democrats who represent urban areas.
Another example is Larry Krasner, a Democrat whom Philadelphia voters twice elected as district attorney. Last year, Krasner became the test case for the criminal justice counter-reformation when he was impeached by Pennsylvania's Republican-dominated Legislature. The issue is currently pending in court.
The Philadelphia and Tampa cases illustrate the Republicans' ominous strategy to thwart the reform prosecutor movement: Misuse state processes that were designed to protect against corrupt or incompetent county officials. Subvert democracy by, in effect, voiding local elections. Override liberal Democratic urban areas' elected officials with Republicans who represent or are responsive to more conservative rural parts of the state. Declare the actions to be legitimate state preemption of local decision-making in the name of public safety.
Republican politicians and their law enforcement allies are now following this playbook in cities and counties around the nation, as summarized in a January report by the Local Solutions Support Center and the Public Rights Project. Attacks against prosecutorial discretion come in the form of lawsuits, legislation and state bar complaints.
Republican lawmakers in Texas are considering bills that would empower state Atty. Gen. Ken Paxton — who, ironically, continues to hold office despite being indicted on felony charges — to block locally elected prosecutors from limiting enforcement of any criminal offense.
Iowa's Republican governor proposed restructuring state government to allow the state attorney general (currently a Republican) to take cases away from district attorneys like the recently elected reform D.A. in Polk County, who is a Democrat.
And on and on.
Left unexamined, the anti-reform movement's arguments may sound rational. For example, Virginia Republican Atty. Gen. Jason Miyares said: "Prosecutors cannot cherry pick laws to enforce and laws to ignore — that's not how our government works, and it establishes a dangerous precedent."
The barb was directed at Loudoun County Commonwealth's Atty. Buta Biberaj, a Democrat, who like many of her reform counterparts in other jurisdictions ran on a promise to focus on violent crimes and not prosecute certain traffic cases and a selection of misdemeanors like trespassing and possession of some types of illegal drugs.
Tuesday's election produced some victories for California's criminal justice reform movement despite Chesa Boudin's recall
But in fact, selective enforcement is exactly how government does and must work. State lawmakers adopt hundreds of new laws each year, and there are too many minor offenses committed in most jurisdictions to prosecute. Voters in local elections pick their district attorneys based on how they promise to use their office's limited resources.
Prosecutorial discretion can be abused — for example, if a district attorney goes after Asian shoplifters but not Latino ones. But the proper remedies in such situations are civil rights lawsuits, court orders and elections, not partisan preemption of local voters' choices.
Subversion of elections like Warren's and Krasner's is a tactic that, if successful, will not stop with district attorneys. Republicans may see their future in Jackson, Miss. The Mississippi House has signed on to a plan to carve out a new jurisdiction within the Black-majority city with judges and prosecutors who would be appointed by three state officials, all of whom are white (no Black person has held statewide office in Mississippi since 1890).
The move is ostensibly a response to crime. If it succeeds, it will in fact be a case of white Republicans assaulting criminal justice reform, local government, majority rule, Democrats and the Black vote on a scale that surpasses anything that DeSantis or other Republicans around the nation have yet attempted.
Life is stressful. Our weekly mental wellness newsletter can help.
You may occasionally receive promotional content from the Los Angeles Times.