Not all Americans mourn; some emulate the Newtown killer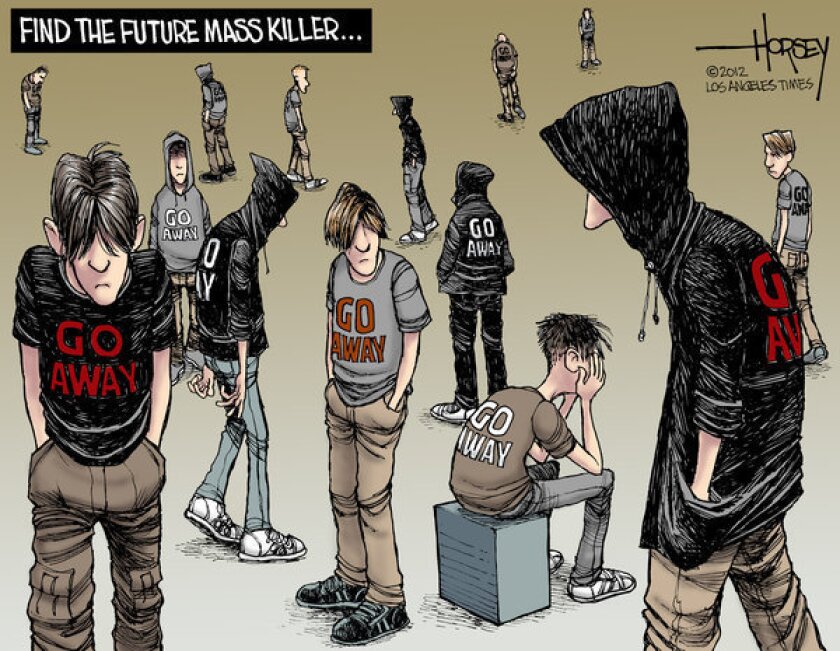 While most Americans spent the weekend in shock and mourning following the shooting deaths of 20 first-graders and six teachers and staff at Sandy Hook Elementary School in Newtown, Conn., at least a few of our fellow citizens were thinking that killing school kids is a cool idea.
On Sunday, Los Angeles police arrested 24-year-old Kyle Bangayan at his parents' house in East Hollywood. Bangayan had posted a Facebook message in which he threatened to shoot children at several elementary schools. Police found nine guns in the home.
Also Sunday, far from the tough streets of L.A. in the rural town of Sedro-Wooley, Wash., police arrested 19-year-old Korry Martinson. After praising the Newtown shooter and blaming the government for incidents of mass slaughter, Martinson wrote on his Facebook page, "If this causes our gun laws to be taken away, to the point as to where I cannot own a gun, I will personally get my sawed off double barreled shotgun and my AK-47 and go shoot up every school within a 100 mile radius of my current location."
Police in Sedro-Wooley did not find any guns in Martinson's possession, but on Friday, the same day as the shooting in Newtown, police in Cedar Lake, Ind., collected 47 guns at the home of a 60-year-old man, Von Meyer, who they say had threatened to kill his wife and shoot up the elementary school located just 1,000 feet from his home.
Also on Friday in Enid, Okla., police investigated threats of a shooting at an upcoming assembly at the local high school. Meanwhile, in Bartlesville, Okla., police arrested 18-year-old Sammy Chavez for trying to enlist his friends in a plot to lure students into the school auditorium and shoot them.
In Birmingham, Ala., on Saturday, a man walked into a hospital and started shooting. A police officer and two hospital workers were wounded before police killed the gunman.
Then, on Sunday, 19-year-old Shawn Lenz of Columbia, Tenn., posted this message on Facebook:
"feel like goin on a rampage, kinda like the school shooting were that one guy killed some teachers and a bunch of students :D"
When Maury County police arrested Lenz, they found a shotgun, shotgun shells, a rifle and a machete in his possession. On his Facebook page, 19 people have "liked" his comment and 831 others have left comments of their own, most in the aftermath of his arrest. Lenz's Facebook posts give the sense he is not a likely murderer, just an unthinking kid talking trash.
It is a little harder to figure out what Marcos Gurrola, a 42-year-old Garden Grove man, had in mind on Saturday when police say he went to the Fashion Island shopping mall in Newport Beach and shot off more than 50 rounds in the parking lot. Christmas shoppers panicked, stores were locked down and bike patrol officers took Gurrola into custody.
Apart from the ones who actually started shooting, it is anyone's guess which of the men in these weekend incidents were serious about killing people and which are just fools who lack brains and empathy. But this quick sampling of news reports indicates there are way too many oddballs among us with violence on their minds and guns within reach.
Thankfully, they are outnumbered by people who have not numbed their feelings of compassion and humanity. Among that number was Victoria Soto. Vicki was a dark-haired 27-year-old who taught first grade at Sandy Hook Elementary. Friday morning, when the killer broke into the school and started shooting, she quickly hid all her students in the cabinets and closets in her classroom. When the dead-souled young man with an assault rifle walked into her room, Vicki told him the kids were in the gym. He killed her on the spot.
A long string of Facebook pages have been set up in Victoria Soto's honor. It seems an odd thing, this new social media gathering place where, with just a few clicks, anyone can jump from the messages of aspiring killers to memorials for those who have been taken from us by a killer's gun.
---
A cure for the common opinion
Get thought-provoking perspectives with our weekly newsletter.
You may occasionally receive promotional content from the Los Angeles Times.