Stephen Colbert shows Republicans how to draw a crowd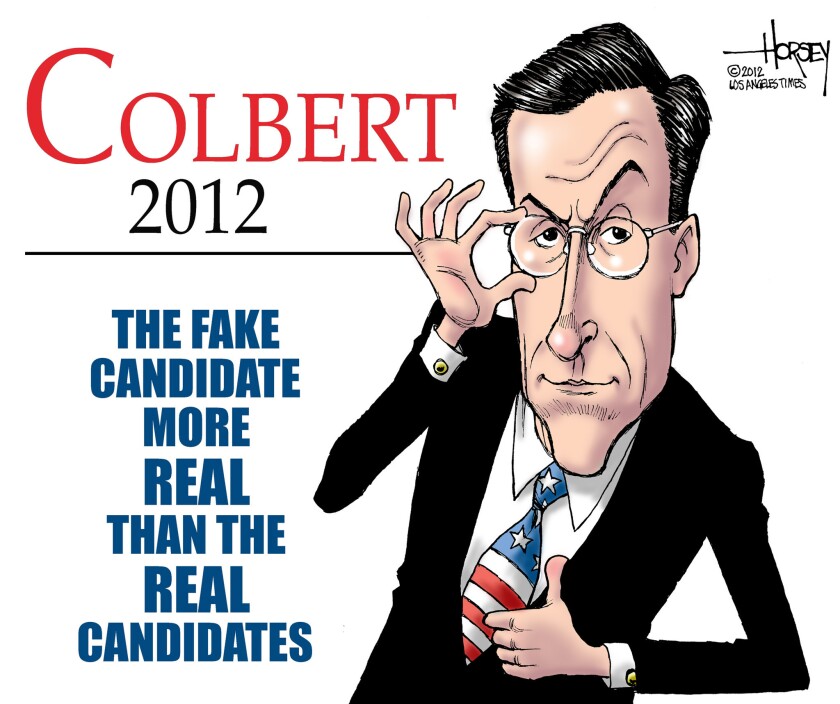 Reporting from Charleston, S.C. -- Under the looming live oaks at the College of Charleston on Friday, Stephen Colbert delivered a clinic on how to produce a whiz-bang political rally. Significantly, not one of the Republican candidates this year has exhibited the star power to bring off such an extravaganza themselves.
Thousands of students packed into the old college's walled central yard. Many had waited for hours to see Colbert and they cheered wildly when the comedy genius from Comedy Central marched in. Cheerleaders and a marching band led the way. A gospel choir was poised to sing with Colbert onstage.
An ex-presidential candidate had also been convinced to join the parade – Herman Cain, the Herminator, the Pizza Man, he of the 9-9-9 plan. Colbert's latest stunt was to urge his South Carolina fans to cast a vote for Cain, who is still on the ballot, as an expression of support for Colbert's own candidacy for "president of the United States of South Carolina."
Colbert's farcical campaign follows from his establishment of a personal "super PAC." All of this is an elaborate satire of the Supreme Court's 2-year-old Citizens United ruling that declared corporations are entities akin to people and, therefore, have the same rights to raise and spend unlimited amounts of money on political speech. The results of this decision have been abundantly evident in the 2012 campaign. Super PACs working in support of, but independent from, several candidates have spent mountains of money on attack ads trying, often successfully, to do damage to opposing campaigns.
Colbert's latest gimmick was to turn his super PAC over to his comedy confederate, Jon Stewart, and pretend the super PAC will now operate independently from Colbert's "I am Herman Cain" campaign.
In his persona as a hugely self-impressed conservative pundit, Colbert gave the crowd of students a rousing "defense" of super PACs that, of course, actually made a mockery of the Supreme Court decision. "There are cynics who say you have to be a billionaire to have your voice heard in Washington," Colbert said. "Wrong. You just have to know a billionaire."
Before Colbert delivered his satirical address, he allowed Cain a good chunk of time to give a speech very similar to one he delivered the day before to a sparse audience at the Southern Republican Leadership Conference. The multitude Colbert provided him was at least 20 times bigger, but Cain's platitudinous profundities would have been better saved for a Kiwanis luncheon. Even if sexual harassment allegations had not caught up with him, it's clear that, by now, he still would have been sidelined alongside Rick Perry, Jon Huntsman and Michele Bachmann. Colbert is not only more funny, he is a far sharper analyst of contemporary politics.
The pertinent question raised by Colbert's attention grab on the day before South Carolina's primary vote is why the four remaining Republican candidates are not drawing crowds as big and adoring as Colbert's. Yes, Colbert is a celebrity. He's an expert entertainer. And it's not too hard to get a few thousand college kids to skip class on any day of the week. But four years ago at this point in the campaign, both Barack Obama and Hillary Clinton were pulling in crowds as big or bigger. John McCain was packing the gymnasiums pretty well too. And, later in the campaign, Sarah Palin proved she could rock an arena.
This year's candidates are avoiding big events because they do not want to be photographed in half-empty halls. Gingrich actually refused to speak to the GOP leadership conference because so few Republicans showed up.
Instead, voters have most often been invited to meet the candidates in the cramped confines of restaurants where a few hundred or even a few dozen people can look like a lot on TV. An example of this small-scale café campaign is Newt Gingrich's schedule for voting day: 8 a.m. at the Grapevine Restaurant in Spartanburg, 10:45 at Tommy's Ham House in Greenville, 3:30 at the Chik-Fil-A in Anderson and 5:45 at Whiteford's Restaurant in Laurens.
The risk of booking a bigger venue was evident Friday, just a few miles north of Colbert's shindig, where Ron Paul was hearing his own voice echo through a nearly empty airplane hangar. Perhaps his young supporters had abandoned him for Colbert.
Republicans say they are stirred up. They say they are angry, worried and desperate to take their country back. But those passions rise from a dislike of the man in the White House, not from widespread excitement about any of the men who seek to replace him.
If Stephen Colbert were a real conservative and a real candidate, they'd all be in trouble.
ALSO:
Newt Gingrich stars in Republican debate show
Mitt Romney shops before the big debate
Newt Gingrich creeping up on Mitt Romney in a creepy way
---
A cure for the common opinion
Get thought-provoking perspectives with our weekly newsletter.
You may occasionally receive promotional content from the Los Angeles Times.