Whining Donald Trump failed to learn the rules of the political game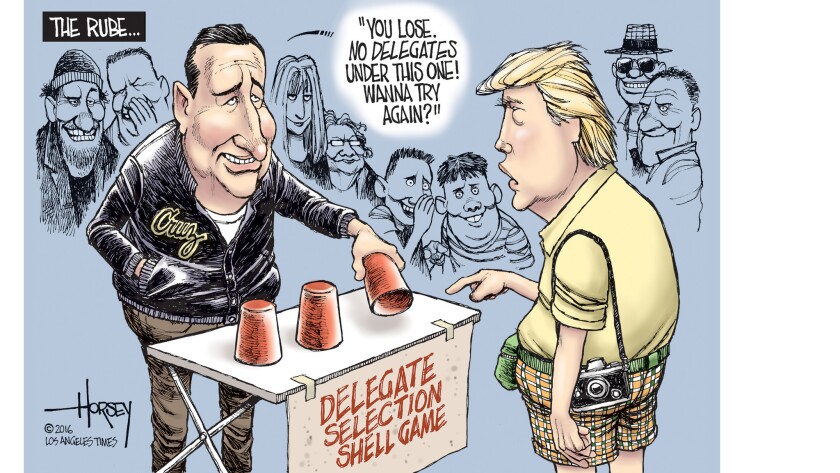 The news from New York is that two of Donald Trump's children, Ivanka and Eric, will not be able to vote for their father in the state's primary next Tuesday because they missed the Oct. 9 deadline for switching their party affiliation from independent to Republican. Like their dad who is whining about Texas Sen. Ted Cruz stealing his delegates, the kids failed to pay attention to the arcane, undemocratic rules that govern the presidential nominating process.
Ivanka and Eric are not alone in their slip-up. A significant number of independents were just as oblivious and now are shut out of the closed primary. You could say it is their own fault for not being aware of voting requirements, but, six months ago, only political junkies were that obsessed with the mechanics of the campaign.
The one person who should be embarrassed about not keeping track of the byzantine nominating procedures is daddy Trump. The Republican front-runner claims to be the world's smartest businessman, a master at cutting deals and winning with his negotiating savvy. In recent days, though, he has been looking like a chump who bought property in Florida without reading the fine print stipulating the land was underwater and infested with alligators.
Trump appears to have jumped into his campaign for president thinking all he needed to do was show up for the debates, call in to TV news shows and tweet out his random thoughts to a waiting world. Actually, thanks to the big boost he got from being a reality show celebrity, that approach did bring remarkable success in the early months of the presidential race. Now, however, he is getting snookered in many states where the Cruz campaign is far better organized and knows how to exploit the delegate selection rules.
Trump seems as surprised as his low-information supporters to learn that primary elections and caucuses do not pick presidential candidates. They pick the delegates who will pick the eventual nominee, and every state party has a unique method of deciding who those delegates will be. The more a candidate's operatives can master all the varying guidelines and get engaged at the grass roots in each state, the more they can assure that people sympathetic to their campaign will end up as delegates. Cruz has done this well; Trump, up to this point, has not.
Trump may have won the vote in Louisiana's primary, but Cruz came out with an equal number of delegates when the election results got sifted through the state party procedures. Cruz has pulled off similar maneuvers in numerous states. In Colorado, where delegates are picked at congressional district caucuses, Cruz has claimed all the delegates. In Texas, where Trump thought he had picked up 48 of the state's 155 delegates even though he lost to Cruz in the primary, the Austin American-Statesman reports that all 155 will be Cruz supporters. Yes, 48 of them will be required to vote for Trump for two nominating ballots at the Republican convention in Cleveland this July, but they are free to vote with Cruz on procedural rules and will go to Cruz if a third ballot comes around. Even in states where Trump came in first, including South Carolina, Florida, Georgia and Virginia, Cruz has gotten stealth delegates elected who will abandon the New York businessman for the Texas senator as quickly as they can legally do it.
In California, where the primary campaign will reach a grand climax on June 7, Trump now leads in polls, but he has to think about more than simply winning the statewide vote. Delegates are allocated to the winner in each congressional district. That means there are actually 53 distinct elections that will each choose three convention delegates. Winning the votes of the few Republicans in House Democratic Leader Nancy Pelosi's liberal San Francisco district is as valuable as winning the votes of the many conservatives in the San Diego district of U.S. Rep. Duncan Hunter, the first member of Congress to endorse Trump.
It will take a big, smart political organization to play this game in 53 district elections on one day in California. Cruz seems to have it; Trump is belatedly learning he needs it.
---
A cure for the common opinion
Get thought-provoking perspectives with our weekly newsletter.
You may occasionally receive promotional content from the Los Angeles Times.