Here's where each California Democrat stands on opening an impeachment inquiry on Trump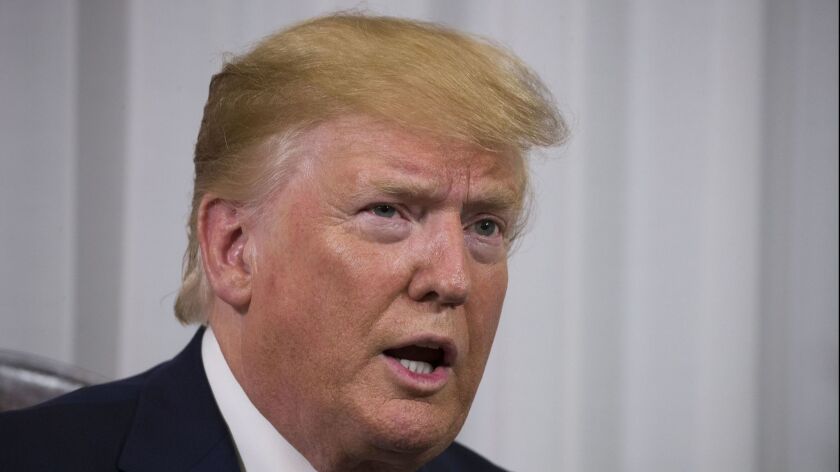 Among House Democrats, a majority do not currently support opening a formal impeachment inquiry, let alone an actual vote to impeach President Trump, according to members of Congress.
About one-quarter of House Democrats publicly support opening an impeachment inquiry against Trump. More say they are moving closer to that position as the White House continues to defy congressional demands for documents and witnesses.
These quotes are compiled from interviews with lawmakers and their staff and recent public statements.
House Democrats don't have a majority for impeachment, but support is growing »
Support an inquiry now
Nanette Barragán (D-San Pedro)
"I support an impeachment inquiry. No one is above the law and Congress has a constitutional duty to act."
Julia Brownley (D-Westlake Village)
"This is a pivotal moment in our nation's history, and I believe President Trump presents an existential threat to our democracy. I am, therefore, calling for the immediate opening of an impeachment inquiry of President Donald Trump."
Tony Cardenas (D-Los Angeles)
"After carefully studying the Mueller report and watching how this President instructs current and former officials to ignore Congressional subpoenas and to act unlawfully, Congress has no choice but to open an impeachment inquiry."
Mark DeSaulnier (D-Concord)
"Congress must do its job, which includes overriding the DOJ policy that protects the president under any circumstance, and beginning an impeachment inquiry."
John Garamendi (D-Walnut Grove)
Garamendi supports an impeachment inquiry, according to his spokesperson.
Jimmy Gomez (D-Los Angeles)
"I have voted TWICE to start debate on articles of impeachment. And I would do it again in a heartbeat."
Jared Huffman (D-San Rafael)
"What I hope is in the not-too-distant future for this house is the beginning of an inquiry that will include hearings."
Barbara Lee (D-Oakland)
Lee is a co-sponsor of Rep. Rashida Tlaib's impeachment resolution.
Mike Levin (D-San Juan Capistrano)
"My first priority is serving the people I represent -- not the partisan distractions in Washington. However, I can't ignore the corruption and obstruction we witness every day from President Trump. I now support an impeachment inquiry in order to get the truth for my constituents."
Ted Lieu (D-Torrance)
"What I'm saying, what some others are saying, is an impeachment inquiry. Which is we have to start these investigations to see if we should do impeachment. Those are very different issues."
Alan Lowenthal (D-Long Beach)
"Congress must hold him accountable. I believe the time has come to consider an impeachment inquiry."
Grace Napolitano (D-Norwalk)
Napolitano is a co-sponsor of Rep. Rashida Tlaib's impeachment resolution.
Scott Peters (D-San Diego)
"If we don't act, we send the message that criminal behavior is normal for presidents. Trump will be more emboldened to ignore Congress."
Katie Porter (D-Irvine)
June 17: "I can't claim to be committed to rooting out corruption and putting people over politics and then not apply those same principles and standards in all of the work I do. … Congress must continue the work of Special Counsel Mueller."
Harley Rouda (D-Laguna Beach)
Rouda had set a deadline of June 30 for the administration to comply with congressional inquiries before he would support an inquiry. On June 24, he said, "nothing's going to change between now and then. So theoretically, I'm there."
Jackie Speier (D-Hillsborough)
"I believe that an inquiry into impeachment is required at this time."
Eric Swalwell (D-Dublin)
June 13: "President Trump's admission yesterday that he would listen to and potentially take a foreign power's offer of 'dirt' on a political opponent rather than report it to the FBI is a brazen disregard for our rule of law."
Norma Torres (D-Pomona)
"Congresswoman Torres supports opening an impeachment inquiry," a spokeswoman said.
Juan Vargas (D-San Diego)
"We should start the impeachment process. I think it gets us to a place where we can get this information, and then frankly be able to make a determination," he told The Hill.
Maxine Waters (D-Los Angeles)
"Enough is enough. It's time to #ImpeachTrump. We can't wait for 2020. The time is NOW!"
Don't support an inquiry now
Pete Aguilar (D-Redlands)
"We'll follow the evidence and see where it takes us. No door should be closed."
Karen Bass (D-Los Angeles)
"A president who has no regard to the rule of law might force us to do that... but we're not there yet."
Ami Bera (D-Elk Grove)
He "believes we need to let the committees do oversight and build the case," a spokesman said.
Salud Carbajal (D-Santa Barbara)
"He will continue to reassess his position on beginning an impeachment inquiry as additional facts are brought forward," a spokesperson said.
Judy Chu (D-Monterey Park)
"The Mueller Report provided evidence of impeachable crimes. ...It is now the task for Democrats in Congress to lay out the facts through hearings and investigations."
Gil Cisneros (D-Yorba Linda)
"I think we need to continue the investigations."
Lou Correa (D-Santa Ana)
"We must continue to do our job of oversight."
TJ Cox (D-Fresno)
"It is important for Congress to continue the work of investigating, asking the tough questions, and holding the administration accountable."
Susan Davis (D-San Diego)
"Congress must continue its investigations to create a compelling case for the Senate."
Anna Eshoo (D-Menlo Park)
"I'm not discounting it. I think everything should be on the table."
Josh Harder (D-Turlock)
"The Mueller Report made it clear there are serious ethical violations and still many unanswered questions. We have to get to the bottom of what happened."
Katie Hill (D-Agua Dulce)
"The tipping point for me is if and when the Trump administration blatantly defies court orders," she told CNN.
Ro Khanna (D-Fremont)
"We should immediately take decisive action to censure him and keep all our options on the table."
Zoe Lofgren (D-San Jose)
"If the White House continues to stonewall Congress' investigation, we must next move to the courts to enforce our fact-finding efforts. After taking these steps, Congress can determine if other remedies are available."
Doris Matsui (D-Sacramento)
"We need to hear more from Special Counsel Robert Mueller, as well as White House and Trump organization officials that have been subpoenaed and failed to appear in front of Congress," a spokesperson said.
Jerry McNerney (D-Stockton)
"We need to continue with Congressional investigations to answer the questions that remain."
Jimmy Panetta (D-Carmel)
"All Congressional investigatory tools, authority of the judicial branch, and the laws of our nation, must be observed, enforced, and available to Congress."
Nancy Pelosi (D-San Francisco)
"When you're impeaching somebody, you want to make sure you have the strongest possible indictment, because it's not the means to the end that people think."
Lucille Roybal-Allard (D-Downey)
"I fully support the committees continuing their work, and pursuing the facts wherever they lead."
Raul Ruiz (D-Palm Desert)
"I support Congress's ongoing investigation into these issues, and I look forward to hearing the congressional testimony of individuals cited in his report."
Linda Sánchez (D-Whittier)
"Should the facts lead us to a strong case against the president, then I would support a motion to initiate impeachment proceedings."
Adam Schiff (D-Burbank)
"At this point the speaker has not reached the conclusion and I haven't either that that it's best for the country to put us through an impeachment proceeding that we know is destined for failure in the Senate," he said on ABC. "That calculus may change if the president continues to stonewall."
Brad Sherman (D-Northridge)
He has had an impeachment resolution since 2017 but "he leaves it to leadership as to what the official title of the [investigative] hearings are," a spokeswoman said.
Mark Takano (D-Riverside)
"I think impeachment is always on the table [but] the case is won or lost in jury selection," he said of the Senate.
Mike Thompson (D-St. Helena)
"The Special Counsel's statement...is yet another indicator Congress must continue with its investigations where he left off."
Will not say
Jim Costa (D-Fresno)
Did not reply to several inquiries.
This story has been updated as additional lawmakers have announced his or her support for an impeachment inquiry.
---
For reporting and exclusive analysis from bureau chief John Myers, get our California Politics newsletter.
You may occasionally receive promotional content from the Los Angeles Times.