Rep. Katie Porter is latest Democrat to support impeachment inquiry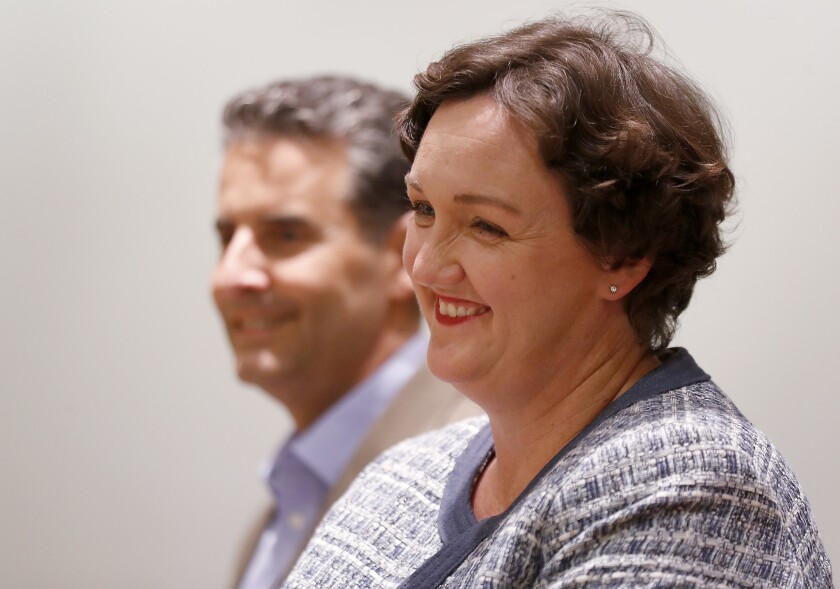 Reporting from Washington —
Rep. Katie Porter, the Irvine Democrat, on Monday called for an impeachment inquiry of President Trump, the first freshman House member from California to do so.
"After weeks of study, deliberation, and conversations with Orange County families, I've decided to support an impeachment investigation of the president," Porter said in a video posted on her social media channels. "I have not come to this easily. I come to this decision after much deliberation, and I know — deeply — what this means for our democracy."
Porter's support for an impeachment inquiry — which is in conflict with Speaker Nancy Pelosi's (D-San Francisco) opposition to moving forward with an inquiry — could mark a subtle shift in the lineup of Democratic lawmakers who support trying to remove Trump from office.
About 65 House Democrats support an impeachment inquiry, but the vast majority of them are Democrats from liberal districts, such as Reps. Maxine Waters of Los Angeles and Alexandria Ocasio-Cortez of New York.
Here's where each California Democrat stands on opening an impeachment inquiry on Trump »
Porter is now only the second House Democrat from a Republican-leaning district to come out in support of starting an impeachment inquiry. The first was Rep. Tom Malinowski of New Jersey, a fellow freshman lawmaker.
Pelosi has long been against opening a formal impeachment inquiry, arguing that trying to impeach the president without overwhelming evidence and bipartisan support would be politically foolish. Skeptics of impeachment worry that a victory in the Democratic-controlled House could serve to only embolden Trump and galvanize his base, particularly since the GOP-controlled Senate isn't expected to convict him and remove him from office.
Polls show that California voters are relatively in-line with Pelosi's position. A recent Berkeley Institute of Governmental Studies poll conducted for The Times found that only about 35% of California voters support an inquiry.
Porter's support for impeachment could have dramatic political implications for her. She won her district — the only Democrat to do so in its history — by only four percentage points. Republicans have already targeted it as a key seat they hope to pick up in 2020.
Porter had suggested in recent weeks that she was leaning toward supporting an inquiry. She said in her video that she didn't run for office to try to remove Trump, but "when faced with a crisis of this magnitude, I cannot with a clean conscience ignore my duty to defend the Constitution. I can't claim to be committed to rooting out corruption and putting people over politics and then not apply those same principles and standards in all of the work I do."
Porter is the 14th Democrat from California to support an impeachment inquiry but only the second Orange County-area Democrat to do so, the other being Rep. Alan Lowenthal of Long Beach, whose district includes parts of the county.
---
For reporting and exclusive analysis from bureau chief John Myers, get our California Politics newsletter.
You may occasionally receive promotional content from the Los Angeles Times.