Trump praises his 'great relationship' with Philippines' Duterte, ignores questions about human rights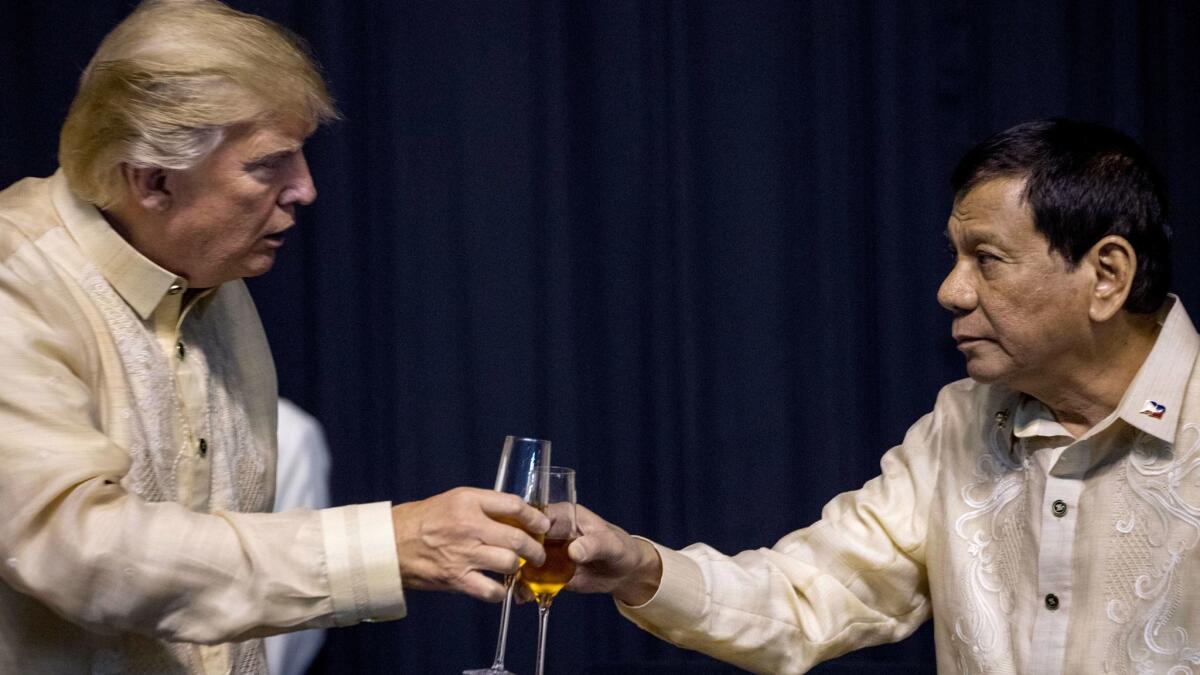 Reporting from Manila —
After 11 days of honor guards, dancing children, palace banquets, deference from Asian leaders and an audience with an emperor, President Trump on Monday seemed determined not to spoil the pomp and ceremony with a sticky dispute over human rights.
So as he met in Manila with Philippine President Rodrigo Duterte, a leader accused of overseeing a broad crackdown on suspected drug dealers that has left thousands of people dead without charges or trials, Trump ignored reporters' questions about human rights and instead focused on the hospitality.
"We've had a great relationship," Trump said as he and Duterte briefly met with reporters. Duterte, host of this year's summit of the Assn. of Southeast Asian Nations, dismissed the reporters as "spies" and didn't conceal his displeasure at their presence as he had them quickly hustled out.
Trump, in his later address at the summit, praised Duterte in an aside: "Rodrigo, I would like to commend you on your success as ASEAN chair at this critical moment in time, and in the association's history.
"And the show last night, the talent at that show — I assume mostly from the Philippines — was fantastic," he continued. "And you were fantastic."
The list of organizations condemning Duterte's human rights violations is long and includes the U.S. Congress, the European Union, the United Nations and the global group Human Rights Watch.
Trump joked with Duterte and enthused about the Philippines' great weather as their one-on-one meeting began Monday morning. He laughed when Duterte called reporters "spies" and had them ushered out of the room.
Press Secretary Sarah Huckabee Sanders said Trump briefly discussed human rights with Duterte in a conversation that focused on Islamic State, illegal drugs and trade. But Philippine government spokesperson Harry Roque denied that human rights came up at all.
"No, that issue was not raised," Roque said. "However, the president [Duterte] explained at length his war on drugs. President Trump seemed to be appreciative."
"From the body language of the U.S. president, he seemed to be in agreement," Roque added.
A joint statement of the two presidents that was released later by the White House included language nodding to human rights: "The two sides underscored that human rights and the dignity of human life are essential, and agreed to continue mainstreaming the human rights agenda in their national programs to promote the welfare of all sectors, including the most vulnerable groups."
That statement also committed the Philippines, where death squads have acted with impunity, and the United States to share "best practices" on preventing illegal drugs, enforcement and "transparency in investigations."
Trump made clear on Monday that he views the elaborate treatment he has received on his five-country trip through Asia as an important sign of American strength, and he has been eager to avoid upsetting the mood.
"It was a red carpet like, I think, probably nobody has ever received," he said Monday. "That really is a sense of respect, perhaps for me a little bit, but really for our country, and I'm very proud of that."
When Trump met last week with Chinese President Xi Jinping, who had been a favorite target of his on the campaign trail, he blamed his own predecessors rather than China for allowing economic practices that, as a candidate, he described as the Chinese "raping" American workers.
Though past presidents likewise have received respectful ceremonial welcomes during foreign trips, Trump has continued, as in the past, to suggest the shows of deference he gets from foreign leaders contrast in particular with the treatment given to President Obama, who Trump says was repeatedly disrespected. Before Trump's trip to Asia began, he mocked Obama for having endured profane insults — from afar — from Duterte.
"The previous administration was not exactly welcome, as you may remember," Trump told reporters before leaving Washington.
Roque, the Philippine government spokesperson, suggested that Trump and Duterte had shared their disdain for Obama in private.
"They [have] been very candid in their dealings, and it is very apparent that both of them have a person they consider as not their best friend," Roque said. "They have similar feelings toward former U.S. President Barack Obama."
The White House did not immediately respond to a request for comment.
When Trump and Duterte appeared before reporters ahead of the summit, Duterte cut off the shouted questions.
"We will be talking on matters of interest to both the Philippines and — with you around, guys, you're the spies," he said.
Trump's advisors have often argued that he is more effective raising human rights concerns in private, though — as Roque's statement suggested — it is unclear that he has done so.
And Trump said that although he thinks the issue is important, during the Asia trip, "I also raise issues on many other things." He said that in places such as China, he has an obligation to emphasize trade.
Trump has a history of embracing strongmen. On his Asian trip, he has had warm exchanges with China's Xi and Russian President Vladimir Putin. In the course of Monday's praise for Duterte, Trump also thanked Prime Minister Najib Razak of Malaysia for his "excellent" work as ASEAN's coordinator. "I really appreciate it," Trump said.
The U.S. Justice Department has accused Najib's associates of embezzling billions of dollars from a government investment account he oversees, which Najib has disputed. Najib, whom Trump hosted at the White House in September, has also been accused of cracking down on journalists and critics.
On Tuesday, Trump will attend a second conference, the annual East Asia Summit, before returning to Washington late that night.
Special correspondent Simon Roughneen contributed to this report.
Twitter: @noahbierman
---
UPDATES:
9:40 a.m.: This article was updated with language from the Trump-Duterte joint statement and time for Trump's return to Washington.
This article was originally published at 4:50 a.m.
Get our Essential Politics newsletter
The latest news, analysis and insights from our politics team.
You may occasionally receive promotional content from the Los Angeles Times.