Clinton ends her swing through California with a visit to Oakland to marshal her troops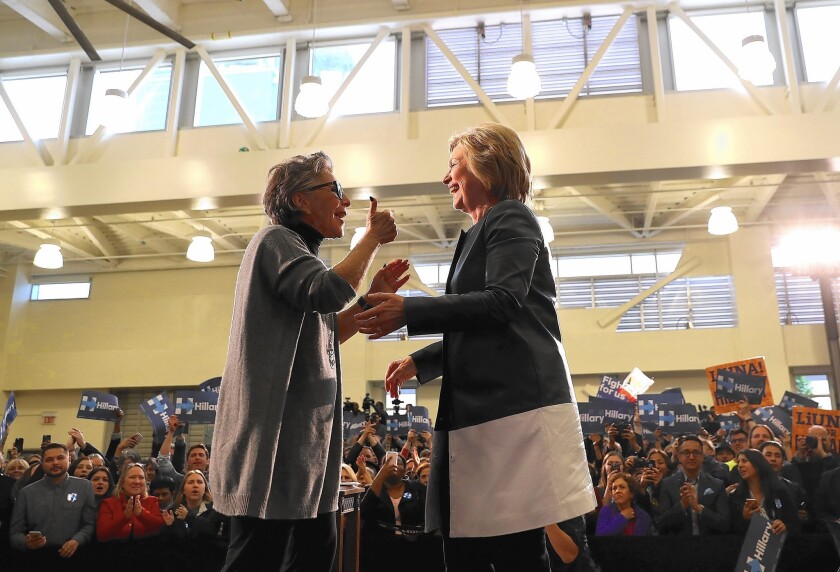 Reporting from OAKLAND —
Hillary Clinton finished her swing through California on Friday with a rally, a visit to her Oakland field office and a series of fundraisers — a triple-barreled approach to campaigning in the Bay Area.
Hundreds of supporters gathered at a school to hear Clinton rail against Donald Trump, who became the presumptive Republican nominee this week when his final rivals, Texas Sen. Ted Cruz and Ohio Gov. John Kasich, dropped out of the race.
The Democratic front-runner reminded her audience that Trump had pledged to deport immigrants who are in the country illegally and suggested that women should be punished for having abortions, a stance he later reversed.
Clinton reserved some of her harshest comments for Trump's behavior toward women.
"He doesn't think much of equal pay for women, because he doesn't think much of women," she said.
There was no mention of Bernie Sanders, the Vermont senator who is Clinton's rival for the Democratic nomination. He has pressed on with his campaign, despite having little chance of closing the delegate gap.
Before speaking at the Oakland rally, Clinton visited her downtown field office, the first of several the candidate has opened around the state. It was plastered with placards and homemade signs, and buzzing with volunteers.
Although California's primary is still a month away, mail-in ballots already are being distributed and supporters have been dialing voters in hopes of securing their support.
Election 2016 | Live coverage on Trail Guide | Track the delegate race | Sign up for the newsletter
"We treat every day from May 7 to June 7 as election day," said Arielle Goren, a Clinton campaign spokeswoman.
The campaign will be training volunteers on Saturday in Oakland, and they'll be enlisting female supporters to reach out to female voters on Mother's Day.
Reena Sekhon-Johl, 36, who lives in nearby Pleasanton, said she signed up to volunteer a few weeks ago after a distressing conversation with a longtime friend who is supporting Trump.
"I donated to Hillary Clinton's campaign. I bought a shirt. I signed up to volunteer," she said.
Sekhon-Johl said she hoped Democrats would unite around the party's nominee after the prolonged primary rivalry.
"We are not a 'Hillary or bust' campaign," she said. "We are for what's best for the nation."
It was a common theme among Clinton's volunteers here, who often spoke positively about Sanders while expressing hopes that his supporters would eventually rally behind Clinton.
"We need to be united," said Juan Cerda, 32, of San Francisco. "It's about bringing a great coalition together."
Cerda volunteered for Clinton in Iowa and brought his parents from Bakersfield to the Oakland field office to help make phone calls. His father, David Cerda, 66, a mechanic, said Clinton was the right candidate for farm workers.
"They want something new, they want someone to help their sons and daughters to have a better life," he said.
Clinton signed his hat as she shook hands and posed for photos with supporters.
Speaking alongside Oakland Mayor Libby Schaaf, Clinton urged the volunteers to "reach out to as many California voters as you possibly can."
"I cannot do it without you," she said. "We still have some work to do to remind people there's a big primary."
Twitter: @chrismegerian

ALSO
Obama to Republicans: Like it or not, you're stuck with Trump
Can Donald Trump redraw the political map? He must to win the White House
Why does Hillary Clinton elicit such negative reactions from both sides of the political aisle? Listen to her response
---
For reporting and exclusive analysis from bureau chief John Myers, get our California Politics newsletter.
You may occasionally receive promotional content from the Los Angeles Times.