Palm Springs elects an all-LGBTQ City Council, showing the power of gay politics
With its tolerant culture, Midcentury architectural style and lively arts scene, Palm Springs has for decades been a mecca for the LGBTQ community.
The city is ranked first in the state and third in the nation among cities with the most same-sex couples per 1,000 households, according to an analysis of U.S. census data by the Williams Institute at the UCLA School of Law.
For the record:
8:35 a.m. Nov. 15, 2017A previous version of this story misidentified Palm Springs Mayor Rob Moon as Ron Moon.
But now, the city is marking a new milestone in gay politics as well. When the two new members of the Palm Springs City Council are sworn in next month, every person on the panel will be a member of the LGBTQ community.
Lisa Middleton, a transgender woman, and Christy Holstege, a woman who identifies as bisexual, each won about 30% of the citywide vote to beat four other candidates and fill two vacant seats on the council. The pair will join three gay men on the five-person body.
It is a historic feat — decades in the making — for the town of 47,000 in the Coachella Valley that has slowly shed its conservative political identity that developed in the Rat Pack era and continued in the 1990s.
Ron Oden became the first gay person elected to the council in 1995. He made international headlines eight years later when he became the city's first gay mayor and ushered in the council's first gay majority.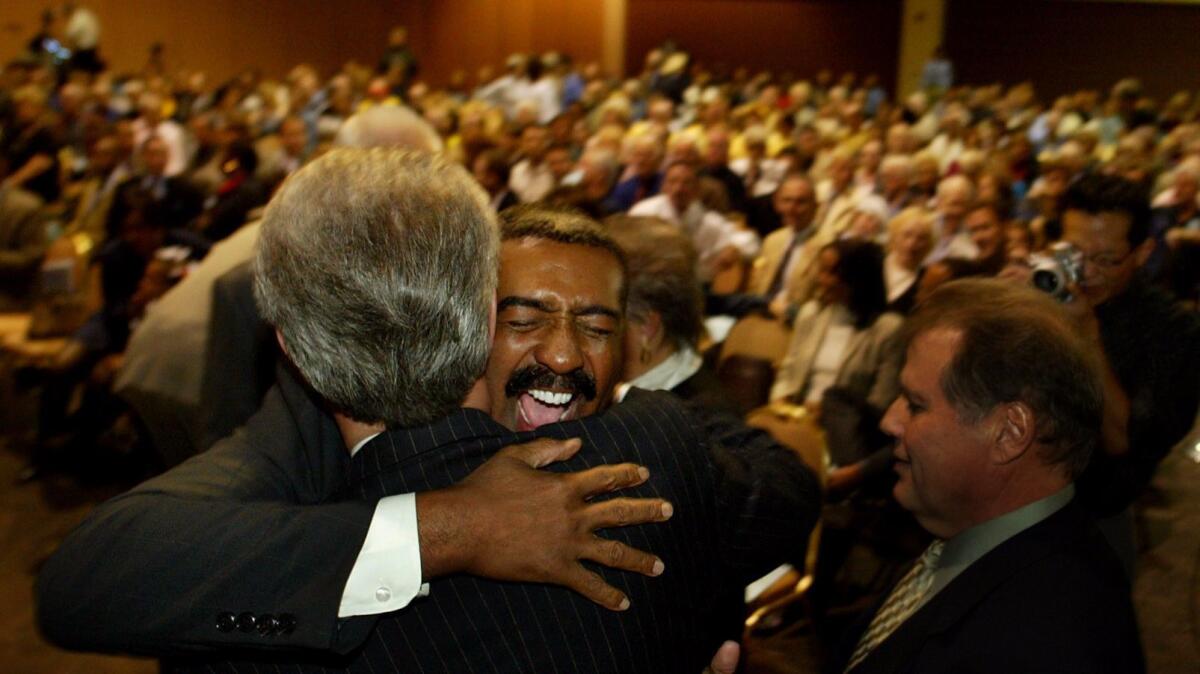 Middleton is also the first transgender person elected to a nonjudicial office in California, according to the group Equality California.
And while the Human Rights Campaign, a civil rights organization, doesn't keep nationwide data on the makeup of city councils, the Palm Springs council is believed to be the first in the country to be entirely LGBTQ. Rick Zbur, executive director of Equality California, said Palm Springs is the only city council in California comprised of all LGBTQ people.
Middleton, a retired auditor who worked for the State Compensation Insurance Fund, joins at least seven other openly transgender people elected to public office across the country last week, according to the Human Rights Campaign.
In Virginia, a transgender woman, Democrat Danica Roem, unseated an incumbent who sponsored a bill that would have restricted which bathrooms she could use. Middleton called the elections historic for transgender Americans.
"We have broken through," Middleton said.
Holstege and Middleton said identity issues never became a central part of the campaign, which focused more on environmental concerns, the city's growing homelessness population and how to tackle looming pension liabilities.
"We really focused on local issues, we are not running because of those identities," Holstege said. "But it is still historic for the movement. I do think representation matters, and we should continue to be a model city for civil rights."
Oden said he was pleased to see that voters had no qualms about electing an all-LGBTQ council.
When he ran for office two decades ago, Oden said he faced discrimination as he sought to become not only the first gay man but also the first African American elected to the council.
"I faced it the entire time, it wasn't overt but it was there," he said. "I am proud of the citizens of our city who looked beyond the surface and asked is this person qualified."
Oden said the city has always been a magnet for gays and lesbians since the 1950s, when celebrities would retreat to the desert for privacy. For decades, the Coachella Valley was also popular with some of America's leading Republicans including President Ford and Walter Annenberg, the publishing tycoon and advisor to President Reagan.
Oden said the desert city attracted many people seeking privacy, and that made gays feel welcomed.
"This was the place [celebrities] could come and they could meet and whatever they did was their business," he said. " What happened in Palm Springs, stayed in Palm Springs. Las Vegas has stolen the moniker, but it was true of Palm Springs."
David Wallace, author of "A City Comes Out: How Celebrities Made Palm Springs a Gay and Lesbian Paradise," said many older same-sex couples flocked to the area in the 1970s and 1980s to buy some of the mid-century homes that are now considered architectural gems.
"It is really hard to tell how these cultural things come about. If a place is friendly people tend to follow that," he said. "It is like refugees coming to a city: if they find a group of people who make them feel welcome they keep coming."
That is certainly true of Middleton, who moved to Palm Springs in 2011 after living all over California, including Los Angeles, Ventura and San Francisco.
She said being a transgender woman was never an issue for her as she climbed the ranks in city politics. Not when she ran for a seat on the neighborhood council. Not when she served on the planning board.
"Palm Springs is an incredibly affirming and exciting place for people to live," she said. "I have been welcome in this town like no other place I have ever lived."
The city's transformation into a LGBTQ stronghold comes as the Republican Party has lost its edge in the town. Between the two of them, Sonny Bono and later his widow, Mary Bono Mack, represented the area in Congress for 18 years until Democrat Raul Ruiz flipped the seat blue in 2012.
The new Palm Springs City Council will also be made up entirely of Democrats. Many credit that to the LGBTQ community's growth in the city.
"It is a process that has changed Palm Springs dramatically from the 1950s when it was probably one the reddest towns in California," Wallace said. "Now it is certainly not that."
The council is part of a continuing political reset for the city that started when former Mayor Steve Pougnet decided not to seek reelection in 2015 after his business dealings came under scrutiny. Pougnet and two developers were charged this year with a combined 30 felony counts of corruption, including paying and accepting bribes, conflict of interest, perjury and conspiracy to commit bribery.
Pougnet, who is gay, was replaced by another gay man in 2015, retired Navy Cmdr. Rob Moon, who ran on a pledge to increase transparency in city government. Two veteran council members decided to retire, opening the seats for Middleton and Holstege.
Moon and another councilman set up an ethics and transparency task force after Pougnet's ouster to make the city's business more open and clamp down on abuse. New policies should be in place by next year.
Middleton said she vowed to champion ethics reforms in the coming year and build upon the council's efforts to increase faith in city government.
"What I intend to do is stick to the important issues of local municipal government," she said. "None of those issues have anything to do with one's sexuality or one's gender identity."
Times staff writer Ben Welsh contributed to this report
Twitter: jpanzar
Get our Essential Politics newsletter
The latest news, analysis and insights from our politics team.
You may occasionally receive promotional content from the Los Angeles Times.