Biden slams GOP's 'cultish devotion' to Trump as he stumps for California Democrats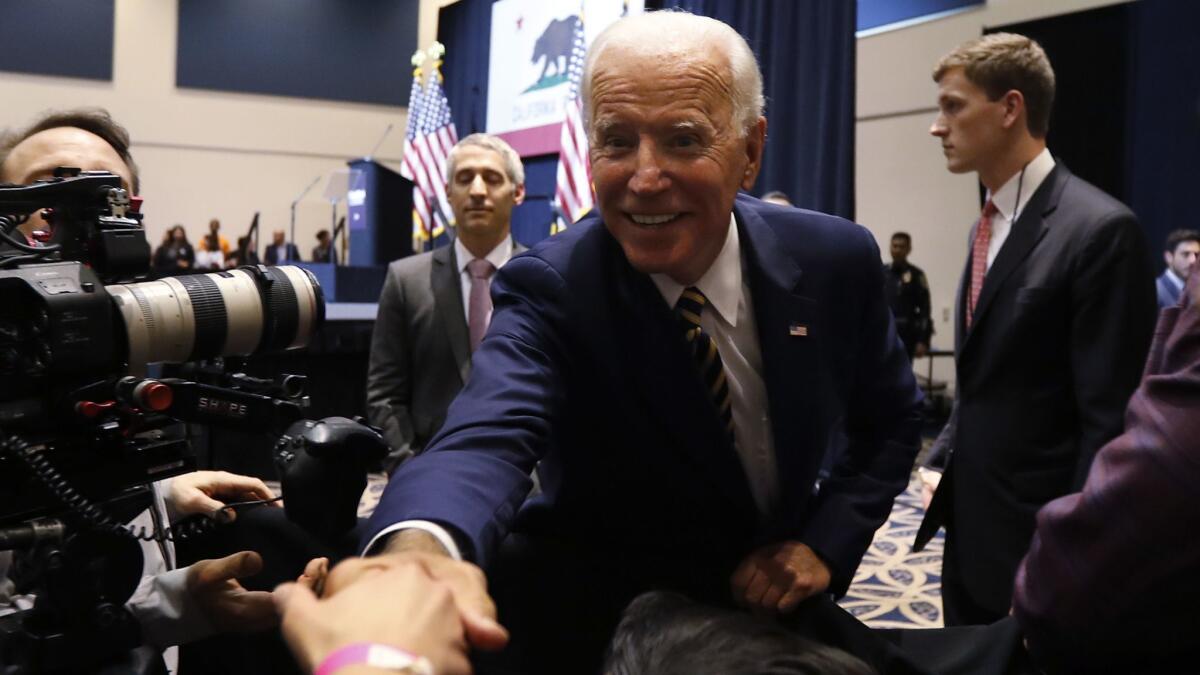 Former Vice President Joe Biden accused President Trump's Republican allies in Congress of choosing "party over country" as he campaigned in Orange County for Democrats running for the U.S. House.
"The truth itself is being thrown aside in favor of a cultish devotion to the whims of one man," Biden told hundreds of campaign volunteers Thursday at a Cal State Fullerton rally, citing the confirmation hearings of Supreme Court nominee Brett Kavanaugh.
"Look at the behavior of Republican senators during the recent testimony of Judge Kavanaugh. Look at the behavior of this president every day," he said. "Lies have never been more brazen. Blind rage and brute partisanship has never been more palpable."
Biden, a leading contender for his party's 2020 presidential nomination, was joined by four Democrats running in Orange County — Gil Cisneros, Katie Porter, Harley Rouda and Mike Levin — and another, TJ Cox, who is trying to unseat Republican Rep. David Valadao in the San Joaquin Valley.
Biden framed the Nov. 6 midterm election as a "battle for America's soul," urging voters to put a check on the president.
"Here's the good news: The folks standing with me here today, in a Democratically controlled Congress, are going to be able to take this president on," said Biden, who served 36 years in the Senate.
The event followed a similar rally former President Obama held last month in Anaheim with half a dozen California Democrats running for Congress.
California is one of the nation's main election battlegrounds as Democrats try to pick up the 23 seats needed to take control of the House. Their targets include seven now held by Republicans in districts that Trump lost in the 2016 presidential election.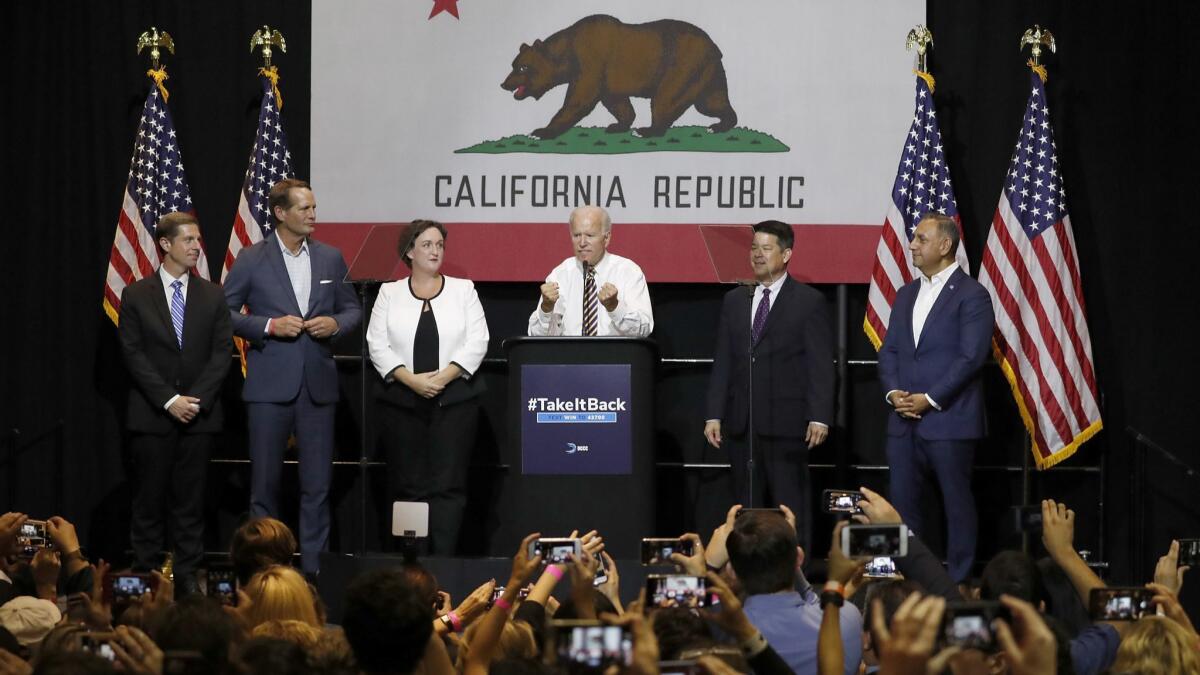 Biden attacked GOP Rep. Dana Rohrabacher of Costa Mesa for his friendly posture toward Russia. He called Rohrabacher's Democratic challenger, Rouda, "a fighter for California, not an apologist for the Kremlin."
Biden also berated Trump for his equivocation last year when neo-Nazis marched in Charlottesville, Va., chanting "the same exact anti-Semitic bile heard in the streets of Nuremberg in the '30s." He went on to conflate their ideology with Trump administration policies.
"Years ago, they stood like cowards behind sprays of fire hoses and flames of burning crosses," he said. "Today, they call refugees animals, prop up immigrants as a source of all our problems. They abide the sight of infants being ripped from the arms of their mothers on the border."
The rally comes at an awkward moment for Biden. The divisive drama over sexual misconduct allegations against Kavanaugh has revived criticism of how Biden led the Judiciary Committee's hearings in 1991 on the Supreme Court nomination of Clarence Thomas.
Biden, 75, has apologized for the way the all-male committee treated Anita Hill, who accused Thomas of sexual harassment. Senators subjected her to aggressive and embarrassing interrogations, and witnesses were blocked from testifying on her behalf.
In Fullerton, Biden called the Violence Against Women Act that he co-sponsored in 1994 "the proudest thing I've ever done it in my life." The law funded programs to prevent domestic and sexual violence against women.
He also recalled Obama administration efforts to combat sexual violence on college campuses.
"Guys, let me get something straight with you," he said. "Not a joke — I'm not kidding. It's your responsibility as much as it's anybody else's responsibility."
Eric Bauman, the state Democratic chairman, said he doubted that new reminders of Biden's admitted missteps in the Thomas hearings would affect his strong standing among party voters as the 2020 presidential campaign nears.
"I think he's still riding pretty high," Bauman said. "Some people were reminded of Anita Hill, but it also gives him a story to tell about growth. People have realized how bad our attitudes toward women were and how much better we have to do."
Twitter: @finneganLAT
Twitter: @mayasweedler
Get our Essential Politics newsletter
The latest news, analysis and insights from our politics team.
You may occasionally receive promotional content from the Los Angeles Times.