Donald Trump agrees to $25-million settlement in lawsuits against Trump University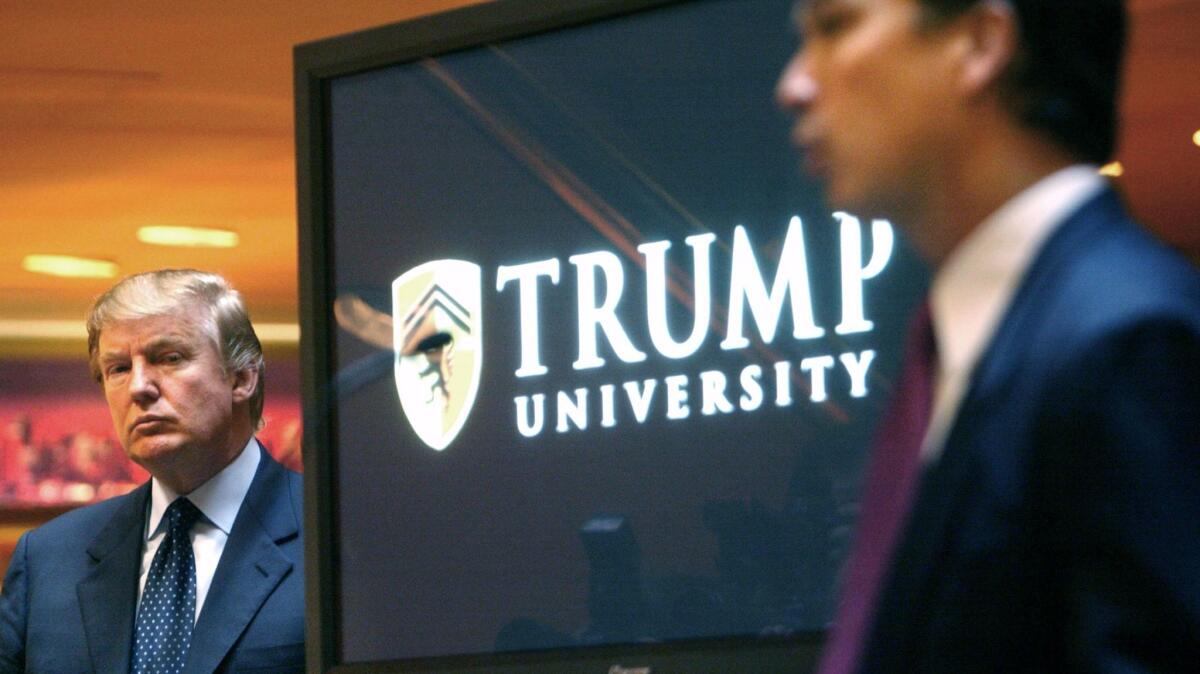 Reporting from San Diego —
A $25-million settlement was reached Friday resolving three fraud lawsuits filed against Donald Trump and his now-defunct Trump University, averting the prospect of a trial for the president-elect.
The settlement covers two class-action suits filed in San Diego and a third suit brought by the New York state attorney general. The deal comes 10 days after Trump was elected president and 10 days before the first of the cases was set to go to trial.
The lawsuits alleged that Trump had defrauded customers into thinking they would learn real estate secrets from professors he had "handpicked." The students said they learned little and instead were subjected to hard-sell tactics urging them to spend thousands of dollars on classes.
Trump does not acknowledge or admit any liability or wrongdoing as part of the settlement.
Under the terms, $21 million will be spread among the plaintiffs in the San Diego cases and $4 million will go to the New York case. The plaintiffs' attorneys agreed to waive their fees and work pro bono, maximizing the amount the students could recover.
"The attorneys won't be making money on this case. All will go to the students," said San Diego plaintiffs attorney Jason Forge.
The 7,000 or so eligible members in the class-action suits should be able to recover at least 55% — and possibly 100% — of the money they spent on Trump University, Forge said.
Some students had paid up to $35,000 on "elite" memberships that offered a year of mentorship and said they were encouraged to max out credit cards to pay for the instruction.
"Students will be very pleased to be able to pay their credit card bills and move on with their lives," said plaintiffs attorney Rachel Jensen.
One of those students was Sonny Low — a 74-year-old named plaintiff from Chula Vista representing California class members in the lawsuit that was to go to trial Nov. 28. He has been paying off a $9,000 credit card debt from Trump University and now will be able to recover that money, said one of his attorneys, Patrick Coughlin.
The law firm Zeldes, Haeggquist & Eck, which helped represent the plaintiffs, said in a statement Friday that it was "incredibly painful" to end the legal battle now.
"We stand behind their claims 100%," the firm said, "but there is always risk in taking a case to trial and that was particularly so here, when the defendant was poised to be the next president of the United States."
The lawsuits dogged Trump on the campaign trail, and he denied the allegations many times and said he would not settle the cases. He told supporters at a May rally that he would come to San Diego to testify after winning the presidency.
"I could have settled this case numerous times, but I don't want to settle cases when we're right," he said at the time. "I don't believe in it. And when you start settling cases, you know what happens? Everybody sues you because you get known as a settler. One thing about me, I am not known as a settler."
Trump attorney Daniel Petrocelli said outside court Friday — as seven protesters held signs behind him — that he was not sure what path the case would have taken had Trump not been elected.
"President Trump is pleased to have this case behind him so he can focus on every important issue facing this country," Petrocelli said. "He was willing to sacrifice his personal interests to put this behind him and move forward."
The terms were reached in the hours before a 1:45 p.m. hearing Friday in San Diego before U.S. District Judge Gonzalo Curiel, who is presiding over the two class-action lawsuits. Last week, Curiel suggested both sides meet with U.S. District Judge Jeffrey Miller, who had offered his services to see if a settlement could be worked out before Low's case went to trial.
Both sides spent all day Wednesday with Miller, and on Thursday worked to include the New York attorney general's office in the settlement, Petrocelli said.
"I am pleased that under the terms of this settlement, every victim will receive restitution and that Donald Trump will pay up to $1 million in penalties to the state of New York for violating state education laws," New York Atty. Gen. Eric Schneiderman said in a statement before the settlement was officially announced. "The victims of Trump University have waited years for today's result, and I am pleased that their patience — and persistence — will be rewarded."
Because it involves class-action litigation, the settlement still must be approved by Curiel. The judge said he needs to make sure it is "fair, appropriate and reasonable." That will take at least a month.
If Curiel grants preliminary approval, notices will go out to the class members, who can object or opt out of the agreement.
Forge on Friday made note of the attacks Curiel had faced over his role in the case, especially after Trump accused the judge of unfair or biased rulings against him during the campaign. Trump called Curiel a "hater" and "hostile judge," saying his Mexican heritage and membership in a Latino attorneys group conflicted with Trump's views on immigration and building a border wall.
"Outside this court, things have been pretty ugly, frankly," Forge told Curiel. "Inside this court, I haven't seen any hint of that. No bias shown on either side."
Curiel said that the settlement represented an important milestone in the lawsuits, and that he hoped it also said something about the postelection healing process "this country very sorely needs."
kristina.davis@sduniontribune.com
Davis writes for the San Diego Union-Tribune. Union-Tribune staff writers Greg Moran, Lauren Schroeder and Kate Morrisey and the Associated Press contributed to this report.
ALSO:
In Trump they trust: Why these Californians voted red
Texas was Obama's chief antagonist. In Trump's America, California is eager for the part
L.A. leaders just vowed to fight deportations under Trump. Here's what they've proposed
---
UPDATES:
8 p.m.: This article was updated with more comments by plaintiffs' attorneys and a statement by New York Atty. Gen. Eric Schneiderman.
4:55 p.m.: This article was updated with comments by the plaintiffs' attorneys and Trump's lawyer.
2:03 p.m.: This post was updated with details from San Diego court.
1:48 p.m.: This post was updated with details of the settlement and background of the cases.
1:25 p.m.: This article was updated with announcement that a $25-million settlement has been reached.
This article was originally published at 11:45 a.m.
Get our Essential Politics newsletter
The latest news, analysis and insights from our politics team.
You may occasionally receive promotional content from the Los Angeles Times.