Colorado: Voters are wary, anxious and divided over the race for the White House
Reporting from WHEAT RIDGE, Colo. —
D.J. Painter goes to work each day in a little slice of bike-riding heaven, a vast emporium selling every piece of cycling equipment imaginable.
Business at Wheat Ridge Cyclery, a 40-year-old family firm in the suburbs between Denver and the Rocky Mountains, has never been better — some models roll out the door for $14,000 — and Painter, a sales manager, is also doing well.
Still, he's nervous about the future and the country his 10-month-old daughter, Zoe, will inherit.
TRAIL GUIDE: All the latest news on the 2016 presidential campaign >>
"Is there going to be money for us when we retire?" said Painter, 41, a political independent who twice voted for President Obama. "Is there going to be Social Security? Is this all going to be on my daughter's shoulders?"
One year before the country chooses its next president, voters are anxious, wary and not terribly confident about what lies ahead — sentiments found in ample supply across Colorado, one of just half a dozen or so states that will likely decide the 2016 election.
With voters almost perfectly segmented — roughly a third Republican, a third Democratic and a third unaffiliated — neither party starts with any real advantage in Colorado, reflecting a presidential contest more wide open than any since the 2000 election ended in a near-tie.
Here, as nationally, the economy has improved considerably since Obama took office in January 2009 amid the worst downturn most Americans have ever faced. Unemployment, which peaked at 8.9%, has dropped to 4%, fueled by a construction boom and strong tourist trade.
But the memories of not-long-past hardship haven't faded, and looking forward doesn't inspire a whole lot of hope, either.
"Better than it was, but not as good as it should be," was how Democrat Napoleon Romero, 81, a retired steelworker, described things as he shot pool at the union hall in Pueblo.
For more than a century, a hulking steel mill was the center of life in the remote town on the south end of Colorado's Front Range, hiring successive waves of newcomers and immigrants. Now foreign-owned, the mill employs about 1,300 people, a fraction of the workforce before the steel market crashed in 1982; lately a thriving cannabis industry has grown up around Pueblo, taking advantage of the state's liberal marijuana law.
Technically, the Great Recession ended more than six years ago and the current economic expansion is one of the longest since World War II.
But for many it doesn't feel that way, even where the economy is supposedly surging.
In northern Colorado, Weld County sprawls across gently rolling plains from the Denver suburbs to the Wyoming border. Rural and unassuming, it is where Colorado works while others play, the snow-dusted Rockies looming on the horizon far from its farms and abundant oil rigs.
SIGN UP for the free Essential Politics newsletter >>
The region has enjoyed some of the strongest job growth in the country, thanks to its oil and gas industry and, more recently, a push into renewable energy; unemployment is a mere 3.3%, even with recent layoffs after gas prices plunged.
Yet the talk around the table at a recent Rotary Club lunch in Greeley was all about the growing federal debt, the soaring cost of college and neglect of the roads and bridges that knit Weld County's far-flung communities together. Few give Washington much credit for the economic improvement, or for doing very much at all.
"It's amazing how they can't agree to make anything happen, find a middle ground, move things forward," said Romia Pritchett, 35, a Republican who owns a car-detailing business in Greeley.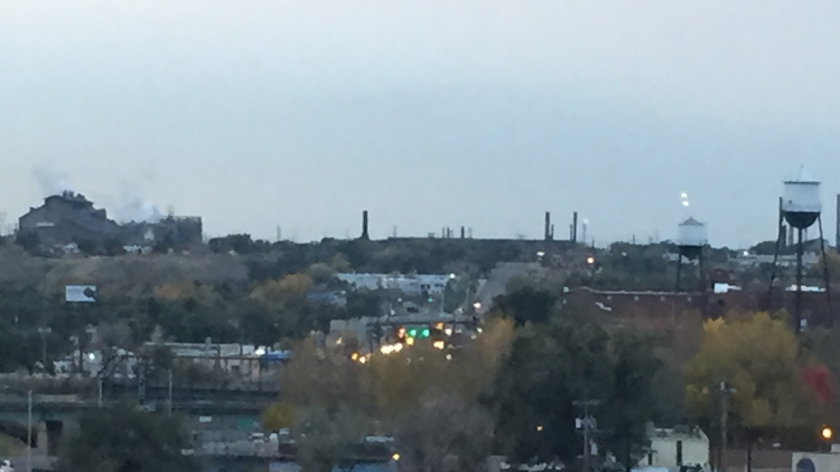 He's no fan of the national healthcare law passed under Obama, calling it costly and intrusive. But he still marvels that the federal government shut down for two weeks in 2013 in a fight over paying for the program. "I could never get away with something like that," he said.
Indeed, in dozens of conversations throughout the state, in conservative redoubts like Weld County, Democratic strongholds like Pueblo and Denver's swing suburbs, voters decried the dysfunction and ineptitude of their elected leaders, saying the country seemed more polarized than ever — even after electing two presidents in a row who pledged to end the partisan warfare.
They blamed politicians in both parties, while mostly pointing fingers at the other side.
From Adelaide Tillinghast's perspective, Republicans care about only one thing. "They would rather make Obama look bad than the country better," the 23-year-old Democrat said from behind the bike counter in Wheat Ridge. "He's done a pretty extraordinary job."
In Republican-leaning Colorado Springs, Larry Liston insisted the Washington stalemate was entirely Obama's fault. In fact, the 63-year-old former state GOP lawmaker said, he can't remember a more divisive president, ever. "When he won't honestly negotiate with Congress," Liston said, "you can't get anything done."
The rise of Vermont Sen. Bernie Sanders on the left and party crashers like Donald Trump and Ben Carson on the right have been among the biggest surprises this odd election season, but perhaps they shouldn't be. It's been more than a decade since a majority of Americans believed the country was on the right track — a pessimistic streak that has yielded one of the most turbulent stretches in recent American political history.
Colorado has mirrored that tumult. Control of its legislative chambers has passed back and forth. Weld and 10 other counties in the north tried and failed to secede. Two state lawmakers were recalled for supporting tough new gun restrictions, only to see their replacements defeated in the next election.
As the parties sort through their candidates, voters repeatedly said they were looking for one thing — someone who could actually get things done — but differed over who that might be.
For every voter attracted to billionaire Trump — "He's the only one who's going to have the guts to change the country around," said Kim Finnerty, 50, a Pueblo travel agent — there was another like Bill Jerke put off by his pugnacity. "I don't want a president as mean as he appears to be," said the 60-year-old Greeley farmer.
Carson has piqued interest with his soothing manner and inspiring rise from impoverishment to the top of the medical field, but has also raised concerns about his lack of government experience.
Several wanted to know more about businesswoman Carly Fiorina, another newcomer to national politics, as well as Florida Sen. Marco Rubio, especially after his strong performance at last month's debate in Boulder.
Among Democrats, there was almost a take-it-for-granted certainty surrounding the party's front-runner, Hillary Rodham Clinton, with varied degrees of enthusiasm. A few, like Painter, were more disposed toward Sanders. "No bull," said the cyclery salesman.
Democrat or Republican, there was near-consensus on one thing: Few seemed to think the next president, whatever the party, would have any better luck closing the partisan chasm, or making Washington any more productive.
"There isn't even a recognition of what the problem is," Republican Sean Conway, a Weld County commissioner, said over the clatter of dishes as a crew cleared away the Rotary Club lunch. "They can't even get in the same room together. How are you going to solve things if you can't even have a conversation?"
Twitter: @markzbarabak and @finneganLAT
MORE POLITICS NEWS:
Here's what California can expect from Congress' highway bill
Report: Ben Carson admits fabricating West Point acceptance
Nancy Pelosi's vineyard makes her fourth-richest Californian in Congress
---
Get our Essential Politics newsletter
The latest news, analysis and insights from our politics teams from Sacramento to D.C.
You may occasionally receive promotional content from the Los Angeles Times.