Meet the 6 governors leading the charge against the Senate health plan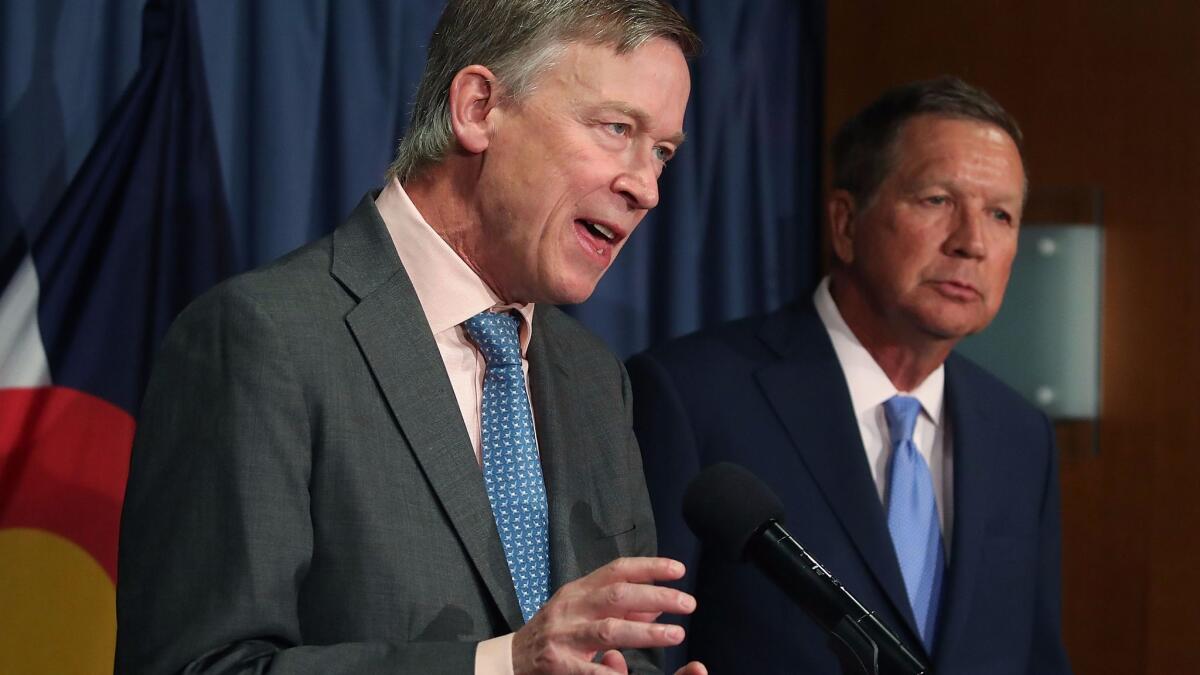 In today's political climate, it's rare to find bipartisanship. But as President Trump calls on Senate Republicans to pass a bill in the coming weeks that would overhaul the Affordable Care Act, governors from both sides of the aisle are unified in opposition.
The Senate GOP healthcare bill would cut Medicaid spending by $772 billion over the next decade, leaving millions of low-income people uninsured in states where Medicaid was expanded under the Affordable Care Act, commonly known as Obamacare.
The governors from states that took advantage of the Medicaid expansion have worked together in crafting letters, holding teleconferences with reporters and hosting private meetings with members of Congress. Some have called for no repeal, others a more measured approach. Who are they? Here's a look:
Ohio Gov. John Kasich (R)
Medicaid expansion: 2014
Ohioans covered since expansion: 682,922
Impact:
Expansion has helped increase coverage for those with mental health and substance abuse issues. Nearly a third of the enrollees covered by Medicaid in the state have depression or anxiety disorders, according to an Ohio Department of Medicaid study. The study found nearly a third of Medicaid recipients also had some sort of drug or alcohol dependence. Like many states, Ohio is dealing with an opioid abuse epidemic and some officials, including Kasich, fear cuts to Medicaid will hinder access to drug abuse treatment.
"I believe these are people who need to have coverage," Kasich said at a recent news conference, alongside Colorado Gov. John Hickenlooper. "If you don't have a system that does that, then you have a problem."
Political future:
Throughout the 2016 campaign, he assailed Trump for harsh rhetoric toward, among others, women and Muslims. After Kasich withdrew from the GOP presidential primary, he never endorsed Trump. Many political observers believe that if any Republican challenges the president in 2020, Kasich will be in the best position to do so. He's term-limited in 2018.
---
Colorado Gov. John Hickenlooper (D)
Medicaid expansion: 2014
Coloradans covered since expansion: 421,111
Impact:
Before Medicaid expansion in 2014, more than 14% of Coloradans were uninsured. That number is now about 6%, according to the nonpartisan Colorado Health Institute. Expansion has benefited many people who live in rural counties along the state's southern border.
Political future:
Hickenlooper's term ends in 2018 and in recent months he's been asked by reporters — on several occasions — if he plans to run for president in 2020. His response? Wait and see. The former Denver mayor, a quirky guy who was once a beer brewer, could also run for a Senate seat in 2020, challenging Republican incumbent Sen. Cory Gardner.
---
Nevada Gov. Brian Sandoval (R)
Medicaid expansion: 2014
Nevadans covered since expansion: 203,929
Impact:
The state's uninsured rate was 23% in 2012 — one of the highest in the country. By 2015 it had fallen to 11%. Sandoval was among the first Republican governors to enroll his state — where many lower-income workers are the backbone of the tourism and hospitality industry — in Medicaid expansion. "This is a way for me to protect these people," Sandoval told the Associated Press when he announced his support for expanding Medicaid.
Political future: A moderate Republican, Sandoval won reelection in 2014, but has not hinted about his plans once he exits office. Before Sandoval became governor, he served as a U.S. district court judge. He's currently the vice chairman of the National Governors Assn.
---
Arizona Gov. Doug Ducey (R)
Medicaid expansion: 2014
Arizonans covered since expansion: 416,349
Impact:
Like Ohio and other states, Arizona is dealing with an opioid epidemic. In June, Ducey declared a statewide health emergency to combat the growing number of opioid deaths in the state — about two a day last year. Healthcare officials estimate tens of thousands of Arizonans who rely on Medicaid to treat substance abuse could lose coverage if Obamacare is repealed. Although Ducey has repeatedly called Obamacare "flawed," he asked Congress to not repeal it without a solid replacement.
Political future:
Ducey, a former state treasurer, emerged from a primary field of a half-dozen GOP gubernatorial candidates in 2014 and easily won the general election. Ducey, 53, is relatively young for a governor and is running for a second term in 2018.
---
Montana Gov. Steve Bullock (D)
Medicaid expansion: 2015
Montanans covered since expansion: 70,000 (estimate)
Impact:
Medicaid expansion dropped the uninsured rate in Montana from 15% in 2013 to about 7% in 2016, according to the governor's office. Bullock and Louisiana Gov. John Bel Edwards held a joint phone call last month to urge the Senate to not pass its healthcare bill. Bullock said the bill would "disproportionately affect" rural states like Montana, and it would slash Medicaid reimbursements that help keep many rural hospitals afloat.
Political future:
Bullock was narrowly elected to a second term in 2016 as Trump won the state by 20-percentage points. Many political observers in Montana speculate Bullock might have sights on a possible 2020 presidential run. Or, perhaps, he could opt for Senate bid that year against incumbent Republican Sen. Steve Daines.
---
Louisiana Gov. John Bel Edwards (D)
Medicaid expansion: 2016
Louisianans covered since expansion: 300,000 (estimate)
Impact:
Joining the Medicaid expansion, Bel Edwards said, would prevent Louisianians from "slipping further into poverty and give them a fighting chance for a better life." It was a sharp departure from his predecessor, Republican Gov. Bobby Jindal, who opposed expansion.
Political future:
Before winning election in 2015, Bel Edwards had served in the state House since 2008. The state often votes Republican in presidential races, but a handful of Democratic governors have been elected since the early 1990s.
Twitter: @kurtisalee
Times staff writer Sean Greene contributed to this report.
ALSO
GOP's Plan B for Obamacare -- repeal first, replace later -- began with quiet push from Koch network
Trump administration struggles for strategy as Islamic State nears the endgame in Iraq and Syria
Democrats see California's new budget as an answer, and an antidote, to President Trump's plans
Get our Essential Politics newsletter
The latest news, analysis and insights from our politics team.
You may occasionally receive promotional content from the Los Angeles Times.