Irma wasn't the total disaster that was feared. But in parts of Florida, you could see disaster from there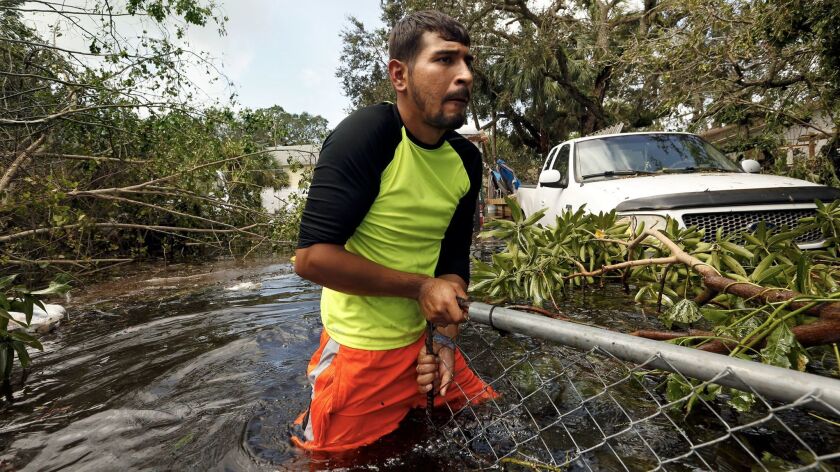 Reporting from NAPLES, Fla. —
The historic Naples Pier at the end of 12th Avenue was still standing. Some of the streetlights had flickered back to life. The pricey houses that line the sugar sand beaches, the ones everyone feared would be struggling to stand against a surging inland sea, were barely damp.
A day after Hurricane Irma made landfall near here in what forecasters warned would be one of the most destructive storms ever to hit Florida, the pretty little seaside town of Naples, near ground zero of the Category 3 storm's approach, found itself largely unscathed. Scattered palm fronds, fallen trees, a collapsed gas station canopy and several flooded streets seemed to be the main remnants of the hurricane's storied fury.
"I was expecting there to be a couple of feet of water inside my house," said Terry Klontz, who had anticipated spending the day pumping water out of his large home across the street from the beach in Naples. "I had thought of pulling out my fishing pole so I could catch some of those fish that were supposed to be swimming up the street."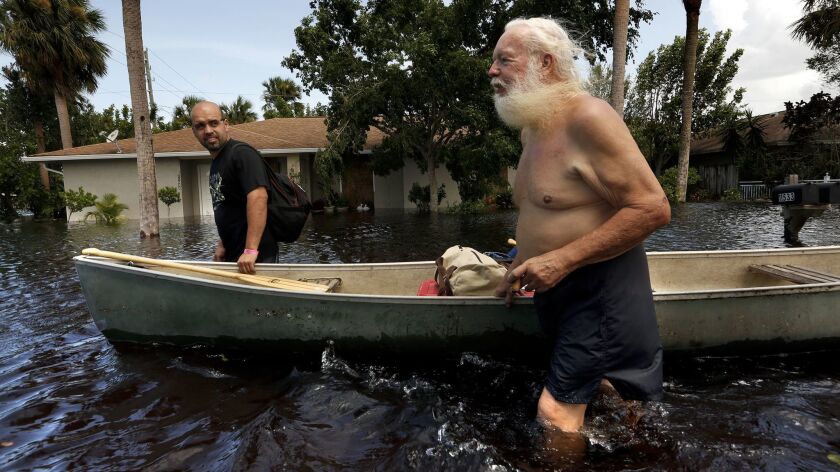 To be sure, the road in front of his house was knee-deep in water, and Klontz had to yell at gawkers cruising by in their pickups, pushing waves of water toward his house. So far, the water hadn't come past the front door.
"I'm getting all these calls asking, 'How bad is the damage?' " Klontz said. "It's mostly not that bad."
But southwest Florida did not emerge unscathed, and as Irma diminished to a tropical storm and blew into Georgia on Monday, many of those left in its wake were only beginning to assess the damage.
The scene in some parts of Bonita Springs, just north of Naples, was downright grim.
In a modest pocket of homes and businesses by the interstate, the water was waist-deep. Mobile home carports were strewn everywhere. Soaked mattresses stood propped outside front doors.
And even in parts of Naples, the weekend had been hairy.
John Jenkins twice found himself flying out the door into the screaming wind and punishing sheets of rain when Irma was at its fiercest to keep his neighbor's carport from slamming into his brand-new mobile home at Riverwood Estates in Naples. "Their carport was peeling apart and coming at our house," he said. "I was worried about all the debris."
Jenkins finally pulled off the metal sheeting and moved it out of harm's way.
With that menace gone, his home made it through Irma fine.
A friend drove by Monday to check on him and told him that his house had made it through the storm too. Jenkins reached in the driver's side window and gave his buddy a hug. "I love you," he said.
Residents in some of the similarly modest neighborhoods in Bonita Springs were not so fortunate.
Some returned from storm shelters and the homes of friends on higher ground to find their whole neighborhood deep underwater. They borrowed boats from friends and employers to retrieve what belongings they could, and assessed what happens next.
"It is horrible," said Andreas Tellez, 40, who waded blocks across the murky water with his wife to get some possessions out of a home overrun with storm flows. "It is like the house is sinking." He had no idea where he is going to find the money to fix his house.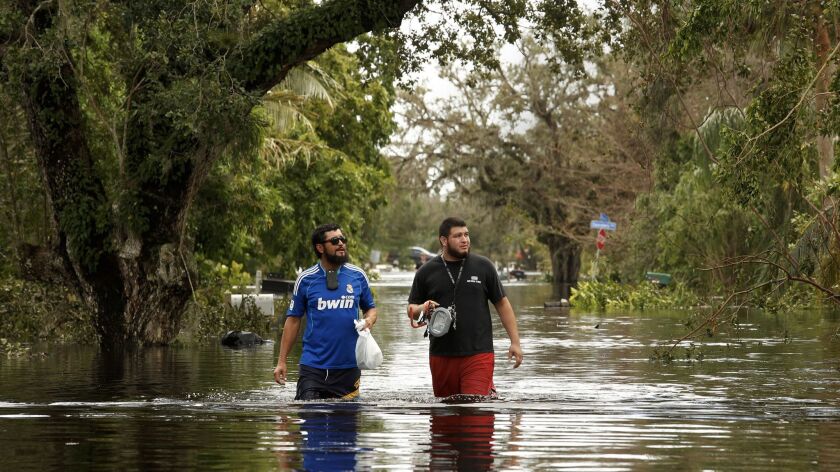 Jaime Garcia came paddling up to the road in a kayak on loan from the shore-side restaurant where he works. "Last time we had flooding, the water was here for a week," he said. "This is going to be at least two."
Garcia said things were bad but not catastrophic when he arrived at his home in the early morning to see how it had weathered Irma. But then the tide rose. A meager amount of flooding that was there at first suddenly expanded to an entire floor under nearly a foot of water.
In some cases, residents stranded upstairs in their soaked homes, where they had remained through Irma's pass, declined offers of help when a rescue squad came through on a motorized raft. There were only a few takers.
"They are happy stuck in their houses. They are saying, 'We have enough food and water. We are going to be fine,' " said Lt. Manny Hernandez of the Bonita Springs Fire Control and Rescue District.
Hernandez promised that this was not a one-time offer. The crew would come back if any of the holdouts thought better of their decision to stay.
No one needs to tell the homeowners in Bonita Springs that hurricanes can destroy. But the free pass many believe they got from Irma's glancing blow has prompted some to worry that the many, many homeowners who emerged relatively unscathed from what was supposed to be a punishing hit will get complacent when the next storm comes through.
"When it happens again, nobody is going to believe the weatherman, and they are going to think they will be fine," said Steven Giles, 58, who sells real estate in nearby Fort Myers. "They're not."
Follow me: @evanhalper
ALSO
Why didn't Hurricane Irma kill more Americans? Thank the meteorologists
'Never seen anything like this': European leaders view Caribbean islands devastated by Irma
Danger lingers in Florida as Irma moves into Georgia
---
Get our Essential Politics newsletter
The latest news, analysis and insights from our bureau chiefs in Sacramento and D.C.
You may occasionally receive promotional content from the Los Angeles Times.