Senate's lone black Republican blocks Trump judge accused of racial bias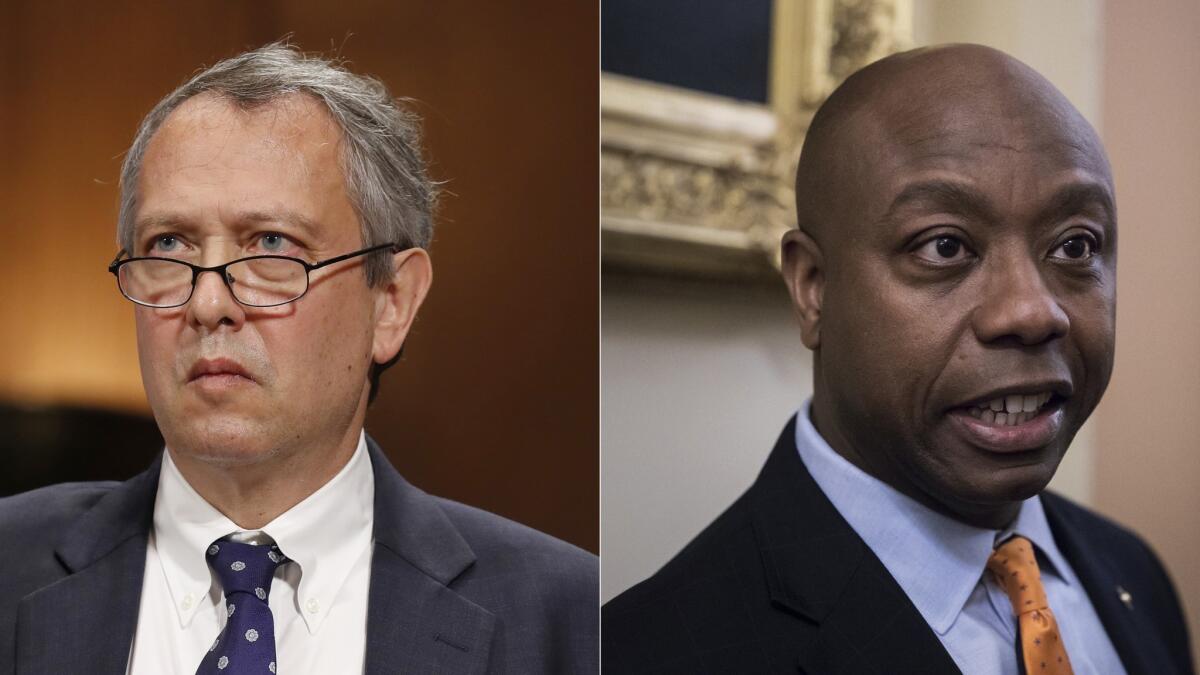 Reporting from Washington —
For 30 years, North Carolina's Sen. Jesse Helms earned his favored nickname as "Senator No" by blocking nominees, including African Americans, from becoming federal judges.
And though Helms died a decade ago, his legacy lives on in an unusually bitter battle over filling a long vacant federal judgeship in Raleigh and eastern North Carolina.
There, more than one-fourth of the population is black, yet no African American has ever served as a federal judge.
President Obama nominated two African American women for the seat: Jennifer May-Parker, an assistant U.S. attorney in Raleigh, and Patricia Timmons-Goodson, a justice on the North Carolina Supreme Court. Both were blocked by North Carolina's Republican senators.
Last year, President Trump nominated their preferred choice: Thomas Farr, a white Republican from Raleigh who had led the legal defense of the GOP-sponsored law that cut back on early voting and imposed a stricter photo ID rule at the polls.
The state law was struck down in 2016 by a federal appeals court that said its many provisions "targeted African Americans with almost surgical precision."
On Thursday, Farr's nomination failed when the Senate's lone black Republican said he would not vote to confirm him.
Sen. Tim Scott (R-S.C.) pointed to Farr's work as a young lawyer working for the Helms campaign in 1984 and 1990 when more than 120,000 postcards were mailed to black voters warning them they may face criminal charges if, for example, they gave inaccurate information about where they had resided recently.
The Justice Department's civil rights division brought a voting-rights complaint against the Helms campaign in 1991 for what it called a "postcard mailing program designed to intimidate and threaten black voters," including with false claims about the law.
The report repeatedly mentioned Farr, although it noted he was far more involved in the 1984 mailing than in the 1990 effort. Twice, Helms ran for reelection against Harvey Gantt, a popular black mayor of Charlotte, and his campaign highlighted racial issues.
That was enough to tip Scott from a tentative "yes" Wednesday to a "no" vote Thursday. Until then, it looked like Farr would fill the long vacant seat on a tie-vote in Senate, with Vice President Mike Pence ready to cast the deciding vote.
"I am ready and willing to support strong candidates for our judicial vacancies that do not have lingering concerns about issues that could affect their decision-making process as a federal judge," Scott said in a statement.
He referred to the 1991 "Department of Justice memo written under President George H.W. Bush that shed new light on Mr. Farr's activities. This, in turn, created more concerns. Weighing these important factors, this afternoon I concluded that I could not support Mr. Farr's nomination."
Civil rights groups praised Scott and outgoing Sen. Jeff Flake (R-Ariz.) for casting the key votes on the Republican side to block Farr.
"It would have been an enormous mistake to confirm Thomas Farr to the federal bench, a mistake that would have cast a shadow over both the Senate and the judiciary for decades to come. Farr was plainly unqualified for a lifetime judicial appointment, especially in the Eastern District of North Carolina, where he actively worked to suppress the vote and had ties to a white supremacist group," said Sherrilyn Ifill, president of the NAACP Legal Defense Fund.
Veterans of North Carolina politics said the state is still fighting over Helms' legacy and his racially-tinged brand of politics.
"Farr was a close associate of Helms, and after he was gone, he continued the voter suppression efforts," said Rep. David Price (D-N.C.), whose district includes Raleigh. "He is not a run-of-the-mill conservative. This was an egregious, in-your-face nomination."
Farr would have filled a district judgeship that has been vacant since a Reagan appointee stepped aside in late 2005. Farr had been nominated for the seat late in the term of President George W. Bush, but no action was taken on his nomination then.
The move to block Farr in the Senate was a rare setback for President Trump, however.
The Senate has already confirmed 84 Trump nominees to the federal bench, including Supreme Court Justices Neil M. Gorsuch and Brett M. Kavanaugh.
In just two years, Trump has appointed 29 judges to the federal appellate courts. By comparison, Obama named 55 appellate judges in his eight years in the White House.
During his final two years in office, Republicans held control in the Senate and confirmed only two of Obama's appellate judges and 18 district judges, leaving a large block of vacant seats to be filled by Trump appointees.
More stories from David G. Savage »
Twitter: DavidGSavage
Get our Essential Politics newsletter
The latest news, analysis and insights from our politics team.
You may occasionally receive promotional content from the Los Angeles Times.