In Palm Springs, a special sadness in the LGBT community for the Obama era's end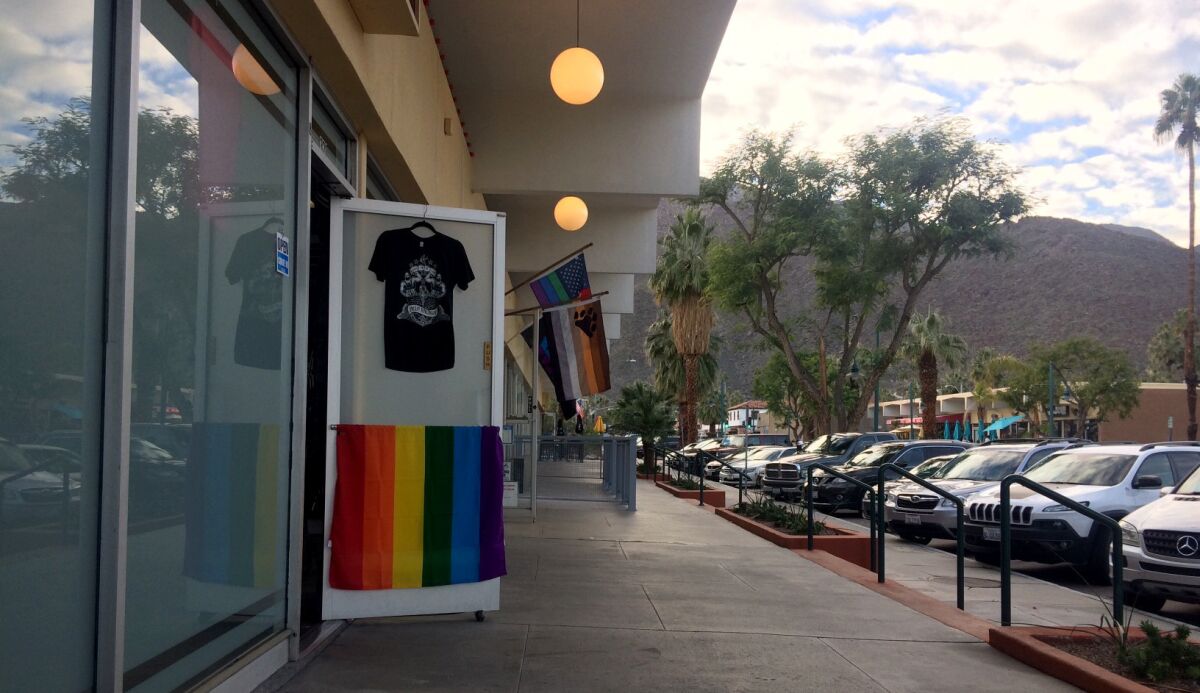 Reporting from PALM SPRINGS —
For Joe Hooper, it was a moment of glee accompanied by grief. Eight years ago, Hooper, the head pastor of the Center for Spiritual Living Palm Desert, cast a ballot for Barack Obama, proud to support a man he believed represented the best of America — diversity, inclusion, progress and change.
But as the nation elected Obama, Californians also voted to pass Proposition 8, which barred same-sex couples from marrying.
"It was difficult.… It was a celebration for Obama, but also a reality check that the fight continues," Hooper recalled. "The president has mostly been right there in the fight."
That fight often ended in success, and Hooper's life now is different in ways that were unimaginable eight years ago. Proposition 8 is no more, he's married, and he and his husband have raised a daughter.
As progressives nationwide mourn the end of Obama's tenure, here in the Palm Springs area — where the former president is vacationing with family as he embarks on life as a private citizen — his exit from the White House has special resonance in a vibrant gay community that's thrived for decades.
Every spring, thousands flock here for the Dinah Shore Weekend, a music festival that caters to lesbians. And in the fall, Cinema Diverse, an annual film festival, showcases the work of gay and lesbian directors and actors. Dozens of gay-friendly restaurants and bars dot the city.
We had a president who saw us and respected us. We're certainly going to miss him.
— Sarah McBride, national press secretary for the Human Rights Campaign
According to Census data crunched by the Williams Institute at the UCLA School of Law, Palm Springs is in the top 10 of cities nationwide with the highest number of same-sex couples per 1,000 people.
For Obama, his relationship with the LGBT community has evolved.
During the 2008 election, he did not voice support for same-sex marriage. Still, in his first term, Obama helped champion 2009 legislation that makes it a federal crime to assault an individual because of his or her sexual orientation or gender identity. The measure, named in honor of Matthew Shepard, a gay Wyoming teenager who died after being kidnapped and severely beaten in 1998, was lauded by many LGBT activists as the first major federal piece of gay rights legislation.
Obama's Affordable Care Act, along with mandating that insurers cannot discriminate against anyone because of preexisting conditions, also included a provision barring insurers from discriminating against people because they're gay or lesbian.
In 2010, Obama helped lead the repeal of the "don't ask, don't tell" policy that banned openly gay men, lesbians and bisexuals from military service.
Sarah McBride, national press secretary for the Human Rights Campaign, which advocates and seeks expansion of gay rights, said Obama has "done more for the LGBTQ community than any other president."
"We had a president who saw us and respected us. We're certainly going to miss him," McBride said.
While in office, Obama visited the Coachella Valley nearly a half dozen times, often staying at the Thunderbird Estates home of interior designer Michael Smith and his partner, James Costos, who served as ambassador to Spain under the Obama administration.
Still, it wasn't until months before the 2012 election that Obama came out in support of same-sex marriage, saying he "concluded that for me, personally, it is important for me to go ahead and affirm that I think same-sex couples should be able to get married."
It was welcome progress to Robb Wirt, who owns Bongo Johnny's, a gay-friendly restaurant, along a corridor here where many businesses fly rainbow flags.
"He made big steps," Wirt said of Obama as patrons packed an outdoor patio Saturday morning, sipping mimosas and munching on pancake sandwiches drenched in syrup.
Wirt, who has owned the restaurant for two years with his partner, described Obama's tenure with a simple phrase: positive.
"He was authentic and seemed to always speak from the heart, not just for the gay community, but everyone," Wirt said.
As Steve Mandeville walked along the corridor past a clothing store proudly named Gay Mart USA, he paused when asked if he would reflect on Obama's presidency.
"He's here, right?" said Mandeville, who is gay and is a librarian from Riverside. He was walking along the street showing a friend from Washington, D.C., local shops and restaurants.
"This is a city that prides itself on gay culture, and it's cool he's here to spend time in his first few days out of office," Mandeville, 51, said.
Hooper remembers how, after the Supreme Court decision that made same-sex marriage a right nationwide in 2015, the White House was lit up in rainbow colors to celebrate the ruling. Years before, lower courts had ruled Proposition 8 to be unconstitutional.
"All of this has been progress," said Hooper, who noted that about 20% of his church's congregants are gay or lesbian.
As for Obama, he's kept a low profile since arriving here Friday after attending the inauguration of President Trump. He and his wife, Michelle, have said they'll remain in Washington while their youngest daughter, Sasha, finishes high school. That hasn't stopped hopeful speculation here that the Obamas might be shopping for a house in the desert.
That would suit Hooper just fine. Obama, he said, will always be welcome here.
Twitter: @kurtisalee
ALSO
Trump boasts and attacks the media in solemn CIA setting
A history of political protest: A look at some of the nation's notable demonstrations
Here's what Trump's executive order really means for Obamacare
---
Life is stressful. Our weekly mental wellness newsletter can help.
You may occasionally receive promotional content from the Los Angeles Times.