How are Pennsylvania's GOP delegates selected? Most voters don't have a clue
Reporting from York, Pa. —
If this year's presidential primaries offer an education on the nation's byzantine voting rules, Pennsylvania may need its own extra-credit seminar.
The state is the largest among five voting Tuesday and will be crucial in deciding who secures the GOP presidential nomination, whether it's determined before or during this summer's Republican National Convention in Cleveland.
Yet voters here have little confidence their preferences will be carried out. And most don't even understand how the process works.
"You vote and you just sit back and wait and see how the pieces fall into place," said Abby Swank, a 30-year-old registered Republican from Lancaster.
Though 71 delegates are at stake in Pennsylvania, just 17 are bound by party rules to support the candidate who wins the primary here. The vast majority, 54, will be up for grabs when they arrive in Cleveland to help choose a nominee.
Election 2016 | Live coverage on Trail Guide | Track the delegate race | Sign up for the newsletter
Theoretically, voters will have a direct influence over those 54 delegates. Nominees for these spots appear on ballots in Pennsylvania, spread across the state's 18 congressional districts. Voters in each district select three.
Yet that has prompted numerous concerns: Will voters understand they need to vote for both a presidential candidate and a slate of delegates? Will voters figure out which delegates support their candidate? Will the delegates stick with their candidates under competing pressures?
Britt Gilbert, a 63-year-old from Ephrata who supports Texas Sen. Ted Cruz, was incensed as he pumped gas into his Nissan this week. He said he had no idea which delegate candidates in his district supported Cruz and was annoyed that the information will not appear on the ballot next to the presidential contenders' names, as it will for Democrats.
"That is a heap of bovine excrement," Gilbert said after initially uttering a few unpublishable words.
Pennsylvania is a model for a larger issue confronting Republicans — and to a lesser extent Democrats — across the country. Most of the state-by-state delegate rules have not been stress-tested in years because recent presidential primaries were settled long before the conventions. Many Pennsylvania Republicans have never even voted in a primary that mattered, given that they live in a state that traditionally is among the last to vote.
The system here is nevertheless arguably more representative than in some other states, which do not let voters have any say in naming delegates.
Donald Trump has made the differing practices a campaign issue, complaining that the system is rigged in places such as Colorado where party leaders and activists chose delegates loyal to Cruz at a series of conventions this month.
Party leaders argue that their rules have long been in place and that political parties, as independent organizations, are entitled to set them.
They are nonetheless under pressure to consider changing them before the next election. Pennsylvania Republicans already tweaked theirs ahead of this year's primary. In prior elections, none of the state's delegates were bound to support the winner of the popular vote.
In the meantime, candidates for delegate slots from Pennsylvania, a normally obscure job with little fanfare, are holding unprecedented campaigns — putting up yard signs and websites, glad-handing at forums, and sending out mailers. Strategists for Trump, Cruz and Ohio Gov. John Kasich are compiling slates of candidates to support and promote.
And party insiders are competing for influence in the event of a contested convention. Bob Asher, one of the state's two members of the Republican National Committee who gets an automatic spot as a delegate, said he is supporting a slate of delegates around the state who plan to keep their options open after the first ballot — "the more electable person" — in the event of a contested convention.
Voters are trying their best to press the delegate candidates to sign blood oaths to carry out their wishes, regardless of how long the balloting lasts in Cleveland.
This week, about 150 people showed up at a tea party club meeting at a firehouse in York County to hear from 10 of the 15 candidates on the ballot in their district. The candidates were a mix – an outsider in a Philadelphia Flyers jersey and baggy jeans, an ex-cop, a few aspiring politicians in suits, an influential party insider who has attended every convention since 1976. The moderator mispronounced several names, most of which were unfamiliar even to the crowd of activists.
Voters marked up questionnaires filled out by the delegate candidates with circles, notes and X's, trying to figure out who would stick with their candidate at the convention and for how long.
Trump is leading most public opinion polls here by wide margins. Three of the candidates for delegate won applause when they said they would stick with Trump no matter what in a contested convention. Their names also appear on a website created this month by a Trump supporter who complained that the Trump campaign is not doing enough to get the word out in Pennsylvania.
"Regardless of who you support, people should know who you're voting for," said Gabriel Keller, the website creator, who is also running for a delegate spot in a district north of Pittsburgh. Keller is worried that voters will simply select the first three names on the ballot, which were determined by lottery.
Other candidates at the York forum said they would vote the will of the district on the first ballot at the convention, with some indicating they might switch in subsequent ballots.
Almost all of them promised not to pick a candidate who did not run, such as Mitt Romney or House Speaker Paul D. Ryan.
"My position is very simple: who you vote, who you elect, that is who I vote the whole way through," said Tim Barker, a candidate from Springettsbury Township. Barker, a prosecutor, compared the election to a trial. "The evidence is your vote. I think it is highly irresponsible to disregard that."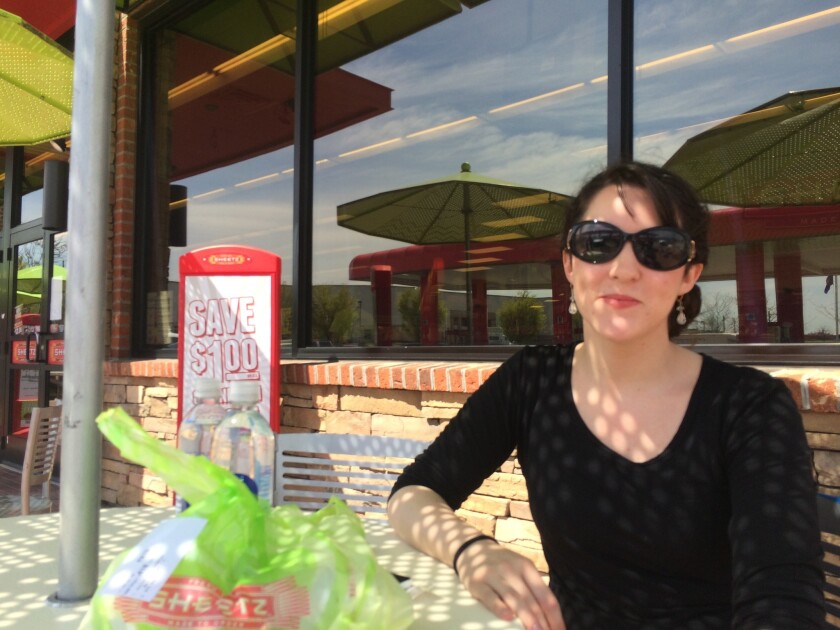 Though such statements drew nods of approval from many in the crowd, John Roland stood up and angrily denounced the whole process.
"Each of us has a vote," said Roland, a 79-year-old retired crane operator. "These gentlemen, each of them is going to have 100,000 votes. It just doesn't seem fair."
The county Republican chairman, Alexander Shorb, who is also running for delegate, did not argue with him.
"Sir, you are absolutely right," Shorb said. "It's an antiquated system."
Roland's wife, Lola, a retired IT analyst, said after the meeting she had voted for years without realizing that voters had little say in the outcome. Then she started reading about the process in recent days.
"I walked into the living room in tears and said, 'You're not going to believe this,'" she recalled. "I thought I was relatively savvy."
John Roland called it "the best-kept secret in the country."
"Why the [heck] do we get in a car and go vote when it is of almost no significance?"
Twitter: @noahbierman
ALSO:
Analysis: After New York battle, Clinton and Sanders temper their vitriol. But there are signs it won't last
Donald Trump starts shift toward November clash with Hillary Clinton
After New York drubbing, Ted Cruz shifts his message to attract moderate GOP voters
---
For reporting and exclusive analysis from bureau chief John Myers, get our California Politics newsletter.
You may occasionally receive promotional content from the Los Angeles Times.