Joe Biden has raised $21.5 million since April, his campaign says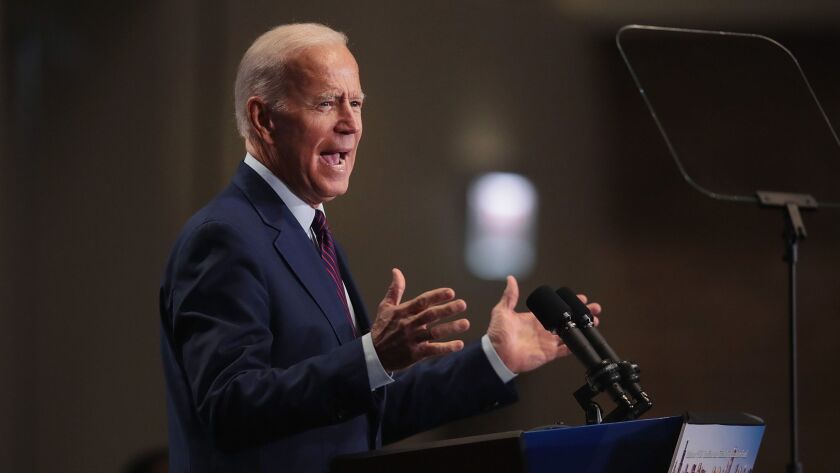 Former Vice President Joe Biden raised $21.5 million for his presidential campaign since getting into the race in late April, his campaign said Wednesday.
The total for Biden, who leads the 24 candidates in the race for the Democratic nomination, will put him among the top fundraisers. But Biden, who came into the race with name recognition from serving as former President Obama's vice president and from decades as a senator, raised several million dollars less than Mayor Pete Buttigieg of South Bend, Ind.
Buttigieg's campaign announced Monday it had taken in $24.8 million during the second fundraising quarter that runs from April through June.
Biden's campaign pointed out that he had raised more money per day than any of his primary rivals, having been in the race for 66 days when the quarter ended. The average donation was $49, the campaign said.
The campaign said it received 436,000 donations from 256,000 donors for the primary, while declining to accept money in advance for the general election.
Who won the Democratic debates? We're getting answers »
Since officially announcing his candidacy on April 25, Biden has tapped his supporters across the country — including his well-moneyed backers in the entertainment industry. In May, he raised more than $750,000 on a two-day trip through Los Angeles, according to the Associated Press.
One fundraiser was hosted by interior designer Michael Smith and his husband, James Costos, a former HBO executive who served as Obama's ambassador to Spain, the AP reported. The host committee included Dreamworks co-founder Jeffrey Katzenberg and director Rob Reiner.
Joe Biden pushed on the defensive by Kamala Harris and others at debate »
Buttigieg has also been courting Hollywood, with four events over two days in June, including an evening reception at the home of TV producer Ryan Murphy; another event drew Katy Perry and her husband, Orlando Bloom. The mayor's second-quarter fundraising total was more than triple what he raised during the first three months of the year for his surprise hit presidential campaign. The campaign said it had more than 230,000 new donors in the second quarter and that the average was just over $47.
On Tuesday, Sen. Bernie Sanders, the independent from Vermont, announced that his campaign had raised $18 million over the last three months, with the majority of his nearly 1 million contributors giving $100 or less. The senator's campaign noted that the average donation was $18.
Sens. Elizabeth Warren of Massachusetts and Kamala Harris of California have yet to announce their fundraising figures. Harris' campaign said it had received $2 million in the 24 hours following the senator's performance during the June 27 Democratic debate.
Sen. Michael Bennet of Colorado, meanwhile, disclosed Wednesday that his campaign had raised $2.8 million during the first two months of his presidential campaign. Officials in Bennet's campaign noted that his fundraising efforts were delayed because of his recent surgery for prostate cancer. The senator is among more than a dozen lesser-known candidates struggling to break through in the crowded Democratic field.
Quarterly fundraising figures don't have to be reported to the Federal Election Commission until July 15, but campaigns will often release numbers earlier if the totals are good.
President Trump's reelection campaign said that it, along with his joint fundraising entities and the Republican National Committee, raised $105 million during the quarter.
The RNC is providing big donors with VIP tickets to a publicly funded Fourth of July celebration on the National Mall at which Trump will speak and tanks and fighter jets will be deployed.
---
For reporting and exclusive analysis from bureau chief John Myers, get our California Politics newsletter.
You may occasionally receive promotional content from the Los Angeles Times.