Ex-Playboy model accuses her former lawyer of giving 'unconscionable' hush-money deal to top Trump donor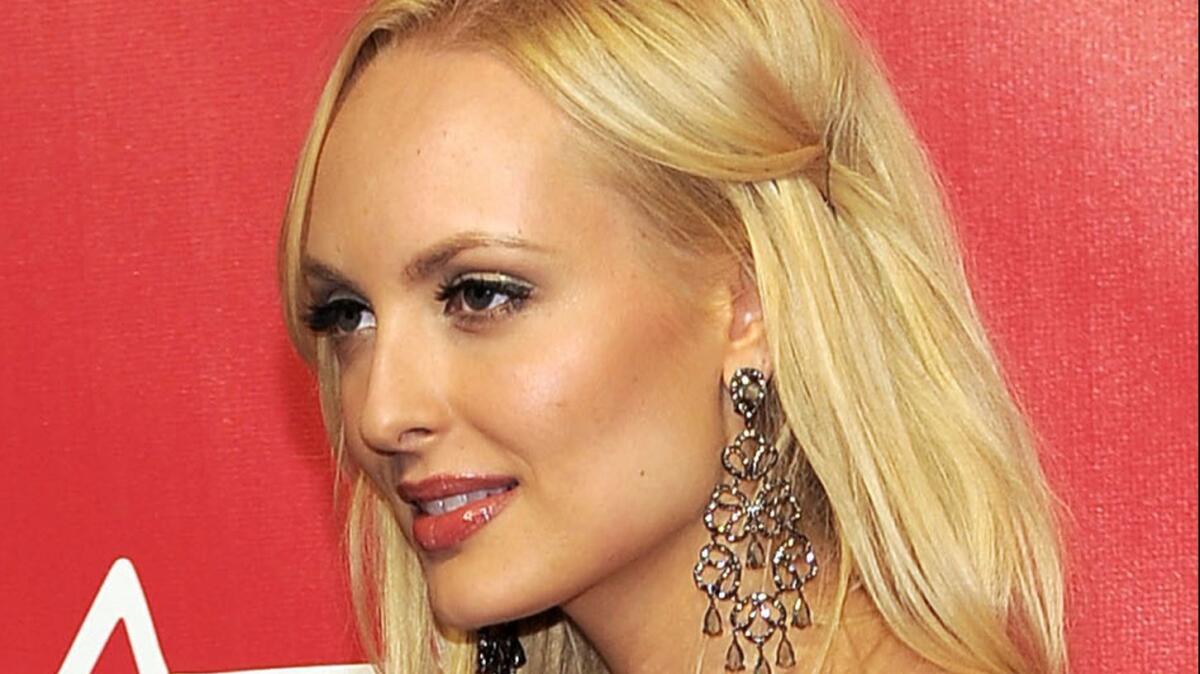 One of President Trump's top fundraisers secured a "crushingly one-sided" hush-money deal with a former Playboy playmate whom he impregnated, then withheld most of the $1.6 million that he promised to pay her, according to a lawsuit released Tuesday.
The suit filed by former Playboy model Shera Bechard on July 6 says the pact threatens her with financial ruin because it lets the Trump fundraiser, Elliott Broidy of Beverly Hills, collect up to $4.8 million in damages from her if she breaks its terms.
Bechard claimed in the lawsuit that her former attorney, Keith Davidson, deceived her about the terms that he negotiated with Broidy's lawyer, Michael Cohen, the former personal attorney of President Trump.
Broidy, who has acknowledged having an extramarital affair with Bechard, has given her $400,000. But in a July 1 story in the Wall Street Journal, an attorney for Broidy said that he would not pay the remaining $1.2 million because the existence of the pact had been leaked.
Bechard's complaint, filed under seal in Los Angeles Superior Court and released with redactions, blames Davidson and lawyer Michael Avenatti for making the deal public.
"Whatever transpired was not the fault of Ms. Bechard," the complaint says. "She did nothing wrong."
Paul Berra, Davidson's attorney, said he had seen no evidence of wrongdoing by Davidson.
"Helping his client achieve a $1.6-million settlement is a pretty impressive achievement given the facts of this case," he said. "I mean, she wasn't kidnapped."
Avenatti, who mentioned the pact on Twitter in April without naming Bechard or Broidy, said in an email on Tuesday: "When I am fully exonerated in this case because I did nothing wrong, I will be pursuing a malicious prosecution action against [Bechard's new attorney Peter] Stris and his client for their frivolous claims against me."
A Stris spokeswoman said Avenatti was "an appropriate defendant and solely responsible for his own predicament."
Representatives of Broidy and Cohen did not respond to email requests for comment.
In her complaint, Bechard says she hired Davidson last October, when she was seven weeks pregnant with the child of Broidy, then a top finance official at the Republican National Committee.
Much of what she told Davidson in the meeting is blacked out in the complaint released on Tuesday, but Avenatti, The Times and other media outlets are seeking a court order unsealing the rest of the document.
Davidson, Bechard says, recruited Cohen to represent Broidy. Davidson had previously negotiated a nondisclosure agreement with Cohen on behalf of Stormy Daniels, the porn actress who is suing the president to void the pact that bars her from talking about her alleged affair with Trump.
Daniels, whose real name is Stephanie Clifford, has also fired Davidson, replacing him with Avenatti.
When Davidson told Bechard that he had a relationship with Cohen, the complaint says, she responded, "Wait, he's your friend?"
Davidson said they were not friends, and she "had no reason to suspect anything was amiss," the complaint says.
Davidson presented her with the proposed $1.6-million deal, which required her to give up her right to sue Broidy and never talk about the affair, Bechard alleges in the suit. Davidson did not tell her about the Daniels hush-money deal that he'd worked out with Cohen, according to the complaint.
The suit says Davidson refused to let Bechard keep a copy of her nondisclosure agreement with Broidy, which included terms such as the $4.8 million in damages if she violated the pact. Bechard aborted her pregnancy in December, the suit says.
By early April, Broidy had paid $400,000. Davidson kept about $70,000 for legal fees, transmitting the rest to Bechard.
By then, the Daniels hush-money scandal had broken. And another former Playboy model, Karen McDougal, was accusing Cohen and Davidson of colluding on a hush-money deal to keep her alleged affair with Trump out of the news in the closing weeks of the 2016 presidential race.
Bechard "began to realize that something had gone seriously awry," the complaint says.
After details of Broidy's affair were published in the Wall Street Journal, he acknowledged the relationship, admitted the existence of the settlement agreement and said he wouldn't pay Bechard any more money because the confidentiality deal was breached.
"To be clear, Mr. Broidy did not allege that Ms. Bechard had personally breached the contract, nor even that she had intended for a breach to happen," the suit says. "Nor could he. Ms. Bechard had no incentive or desire to reveal any confidential information. And she has never done so."
Bechard claimed in the compliant that Davidson failed to disclose to her — or outright lied about — the deal's "unconscionable" terms.
Twitter: @finneganLAT
---
UPDATES:
10:45 p.m.: This article was updated with a statement from Peter Stris' spokesman.
This article was originally published at 7:35 p.m.
Get our Essential Politics newsletter
The latest news, analysis and insights from our politics team.
You may occasionally receive promotional content from the Los Angeles Times.