Housing official says she was demoted after raising concerns over Ben Carson's office redecorating costs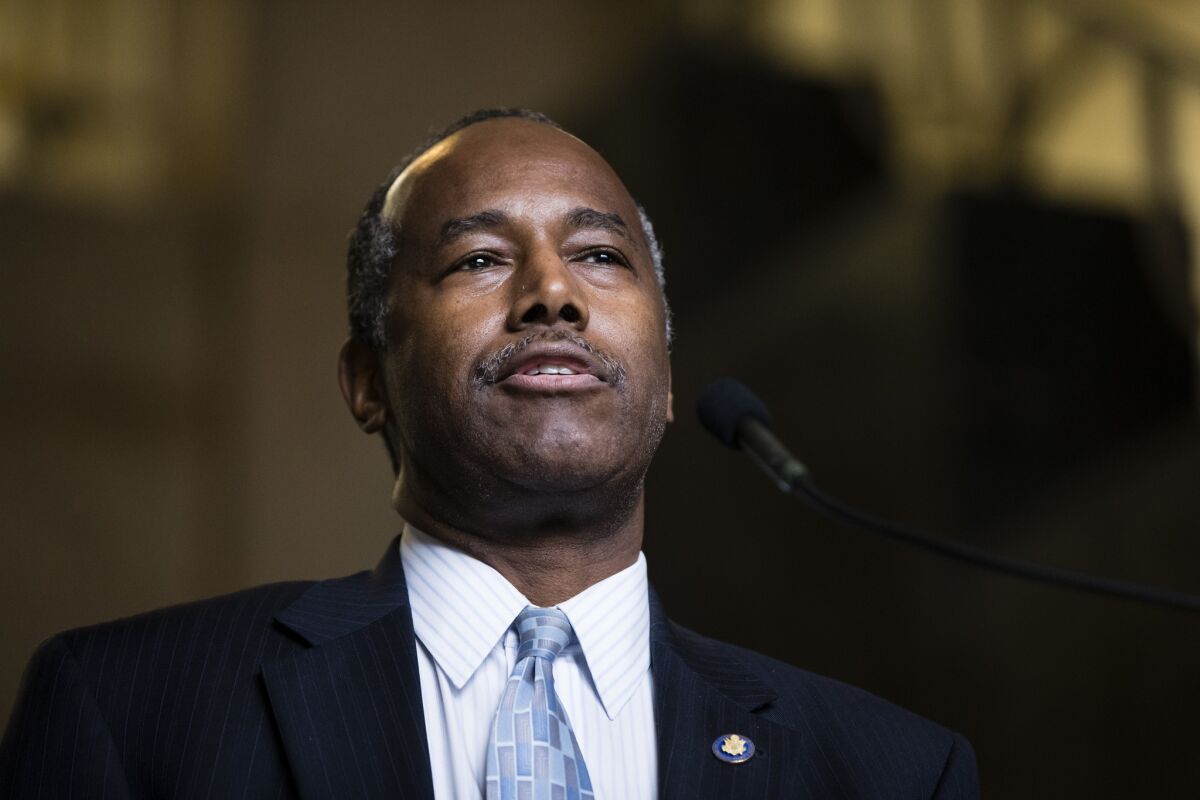 Reporting from WASHINGTON —
A week before Ben Carson was confirmed as secretary of Housing and Urban Development, a career official at the agency complained to a colleague about the hours she had to spend curtailing plans to redecorate his office.
Helen Foster, then HUD's chief administration officer, wrote in an email that she had to answer "endless questions about why I won't fund more than the $5000 limit" for redecorating the office. "I do like 3 meetings a day on that," she wrote on Feb. 22, 2017. "I hate this."
Foster was transferred to a new position in July, and she later told a watchdog agency that she believed she was demoted in retaliation for concerns she expressed about office expenses and potential violations of open-records laws. Foster said she had been excluded from handling Freedom of Information Act requests filed by the Democratic National Committee — even though she oversaw department FOIA responses as part of her duties — because one of President Trump's appointees believed she was a Democrat.
On Tuesday, HUD spokesman Raffi Williams denied that the department overspent to redecorate Carson's office, saying that used chairs were brought up from a basement and that blinds were replaced at a cost of $3,400. Williams said he could not address the specific allegations in Foster's complaint, including her charges that the redecorating effort was spurred by Carson's wife, Candy, and that the Democrats' FOIA requests received special treatment.
Foster's complaint is the latest indication of tension between some long-standing federal employees and Trump administration appointees. From the moment Carson assumed his post in early March 2017, the presence of his family members has rankled some of HUD's staff. Last summer, department lawyers raised concerns over the role Carson's son Ben played in organizing an agency "listening tour" in Baltimore.
In her complaint, Foster wrote that, shortly before Trump's inauguration, soon-to-be Acting Secretary Craig Clemmensen told her that Candy Carson wanted the office upgraded and instructed her to find money for the project. Ben Carson was nominated in December 2016 to lead the agency.
Foster told Clemmensen that under federal law the department could not spend more than $5,000 on decorating the secretary's office without providing advance notice to the House and Senate appropriations committees, according to the complaint. Clemmensen told her "$5000 will not even buy a decent chair" and instructed her to "find money," Foster wrote.
Foster did not return messages seeking comment. Williams said Candy Carson and Clemmensen were unable to comment because Foster's complaint is pending.
The complaint was first reported Tuesday by the Guardian. Foster's email to her colleague, obtained by the Washington Post, has not been previously revealed.
Late last year, HUD spent $31,561 on a conference table-and-chair set for a room where the secretary has lunch with guests. Federal records indicate the expense is for "secretary's furniture procurement," but Williams said the table was ordered by career staffers in charge of the building — not as part of the redecoration of the secretary's office — and replaced a table that was old and beyond repair.
Foster's complaint was filed on Nov. 3 with the Office of Special Counsel, an independent agency that handles employment complaints from federal employees. Foster charged that she was reassigned to serve as the department's chief privacy and FOIA officer, a lower position.
Foster's lawyer, Joseph Kaplan, wrote that she "has suffered much humiliation and loss of reputation, and harm to career advancement, as a result of this retaliatory assignment."
The DNC requests in February 2017 sought all records and emails related to the recommendation, selection and hiring of Lynne Patton, a senior HUD official who had worked for Trump before he was elected.
Foster wrote that in mid-February, a HUD lawyer informed her that the Office of General Counsel had been asked to "discretely handle two FOIA requests," outside of the standard process. She wrote that she was told the decision was made by Maren Kasper, the White House advisor to HUD.
Kasper and Patton were unable to comment because of the pending complaint, Williams said.
Foster said she warned officials that any move to process the DNC's request in a different way "could be construed as an attempt to contravene the statute."
A person familiar with the matter who asked not to be identified said a group of employees was tasked with processing the DNC's requests, which ultimately produced more than 1,700 pages of responsive documents. Kasper hand-delivered the department's response to the White House as it was being sent to the DNC, the person added.
In the Feb. 22 email exchange, after her colleague said she hoped she was doing well, Foster expressed concern about the lack of staffing to do basic "FOIA and records functions." Federal data show the agency received more than 2,000 public-records requests in a 12-month period toward the end of the Obama administration.
"I am still working just as hard (harder) but I am not allowed to achieve anything," Foster wrote. "Bet you are sorry you asked."
---
Life is stressful. Our weekly mental wellness newsletter can help.
You may occasionally receive promotional content from the Los Angeles Times.